5 Mistakes Guys Make When Proposing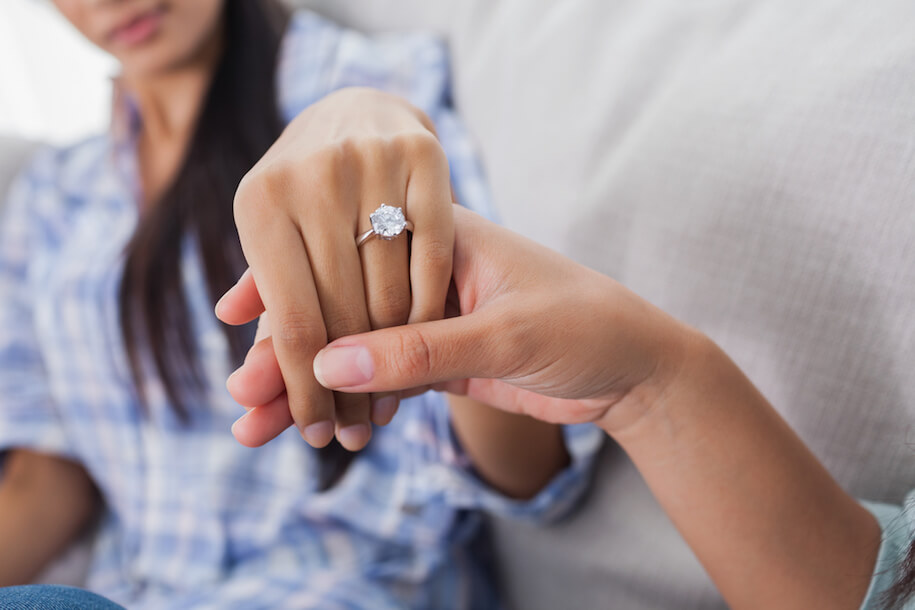 When a guy reaches that time in his life when he knows he has found the one, the one he wants to share his life with, and decides the time has come to find the perfect ring to propose with, this is considered by woman across the globe as the single, most sweetest and romantic gesture a man can make. This will make a girl weak at her knees, the thought of a man, her man, going to all this effort… just for her. 
The idea of your partner searching for that perfect ring, is what fairytales are made of. But, in the real world perhaps the ring or something along the way does not go quite to plan. When a guy sets out on this exciting journey, he will have spent a lot of time considering all aspects, the ring, the proposal, what you will say, what he will say, how will he propose? Even for the most organised and prepared guy something can go wrong. It maybe a minor hiccup, like bad weather on the day or it could be something much worse. 
With much experience in guiding these men through the journey of finding the perfect ring, we, at Larsen Jewellery, have also been there to hear how the much anticipated 'proposal' was pulled off. For the most part, successfully! However, as mentioned, every now and then there can be a little glitch… This can often be avoided. So for the
guys out there preparing to propose
or for the ladies out there anticipating that the day is just around the corner… Here are 5 mistakes that men make that could easily be avoided!
1. The Research… Or Lack Of…
Some guys make the mistake of paying attention to what other women are wearing and forget to consider his own partners taste. Yes most women may have a white gold
diamond engagement ring
, but if your partner only wears yellow gold perhaps this is a better metal choice for her. Seek advice from those closest to her; friends, sisters and mothers are usually the priceless resources when surprising your partner with an engagement ring.
2. The Finger Size…
Believe it or not, not all women's finger sizes are the same and, no, your jeweller is not going to be able to guess the perfect size without having sized her finger. It is not expected that you are going to get it exactly right, and you can resize most engagement rings but, you do want to guess the closest fit. Ask a close girlfriend, borrow one of her rings and have it sized… For more ways visit our
helpful guide on getting the correct finger size.
3. Be Discreet and Cover Your Tracks!
Keep in mind when searching online that with the internet being so advanced it is more than likely after spending countless hours researching engagement rings you will suddenly be the target for engagement ring ads. This will give your secret away in an instant. Also, be sure to tell the jeweller to correspond via email or only to your work phone. You would hate for your partner to accidentally pick up when your jeweller calls to tell you the ring is ready!
4. Don't Break the Bank
Don't spend above and beyond your
budget,
causing unwarranted stress after the proposal! This should be one of the most exciting time of your life! 
5. Time Management!
If you are planning an extravagant proposal, make sure you leave enough time for the making of the ring!
Custom making
an engagement ring can take time. The last thing you want is to rush the design process because of your time restraints!
Related Posts