How to Choose a Custom-Made Engagement Ring
Engagement ring designs are endless, it only takes a moment browsing the web to discover how many options there are for you. There is an engagement ring for everyone and there are many roads to finding the perfect one.
Some may walk into a shop, pick a ring and then, in no time at all, the process is over and they have an engagement ring within an hour. Others find the perfect ring shopping online and choose to purchase without leaving their home. Somewhat surprisingly, in this generation of instant gratification, more and more people are turning their heads to custom-made engagement rings, craving the interaction and personal experience of having a ring custom made.
If there is one purchase you make that is deserving of a more intimate process, it is the selection of an engagement ring. Allowing yourself the time to design a ring that is perfect will be a source of great pride for many years to come. An engagement and wedding ring is the most sentimental purchase one will make and by choosing to customise it, you are embarking on a journey that will bring to life a ring that is unique to you.
When the decision is made to have your engagement ring custom-made, the next question is "Where to start?".
The first thing to do is research, find out what styles you like and what you don't. Gather visual images of rings you love and then find a common theme within them. You might find that naturally you are drawn to vintage style designs, embellished with details or you may prefer refined, minimal classic designs.
Next, work out your metal colour preference and the kind of diamond or gemstone you like. You don't need to narrow this down exactly but you will notice whether you love round shapes like brilliant cuts, pears and ovals or more geometric cuts such as princess, asscher and emerald cuts. Most prefer white diamonds but there is a growing trend of people choosing for coloured gemstones. If you have a favourite colour or gemstone then consider including this in your design, it doesn't have to be your centre stone, coloured stones make great accent stones on diamond rings too.
The last piece of research to do before making an appointment is to brush up on some diamond terminology. The 4c's (colour, carat, cut and clarity) is the grading system used to determine the quality of a diamond.  During the appointment, your jeweller will show you a range of diamonds up close while talking you through the 4'cs. It is a good idea to familiarise yourself with this so that you are able to make an informed decision rather than find yourself utterly overwhelmed!
Once you have a clear idea of the style, it is a great idea to work out your budget. Walking into a jeweller can be exciting and overwhelming all at once so having an idea of what you can afford will help. Your jeweller can then guide you in the right direction and not tempt you with things that exceed what you planned to spend.
To assist you in gathering your inspiration, we have put together some of our favourite designs from the traditional to contemporary and the unique:
The "Pirouette"
The 'Diamond Sky'
The 'Bliss'
The 'Serenity Emerald'
The 'Grace'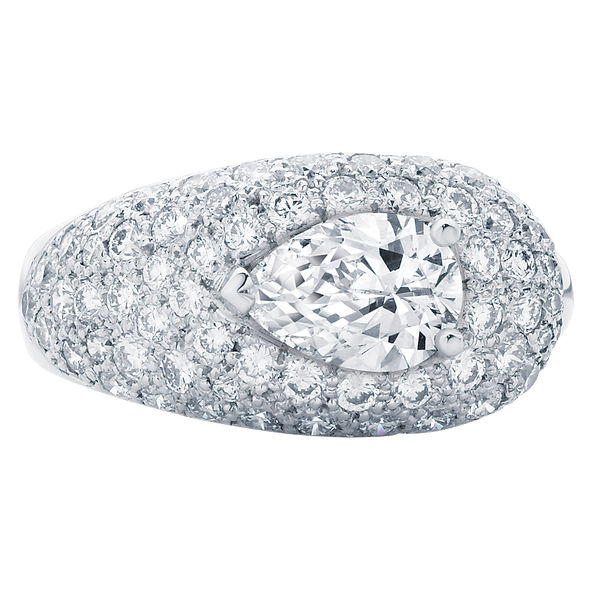 The 'Pear Pave'
Browse more designs in our Custom Engagement Ring Gallery here.
Related Posts