Cushion Cut Diamond Engagement Rings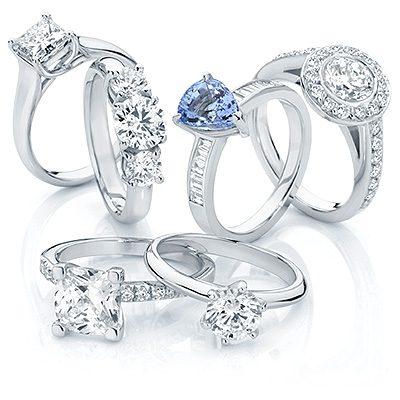 Cushion cut diamond engagement rings, tremendously popular over a century ago, are becoming trendy again in modern rings.  With the sensual shape and subtle sparkle, they are a sophisticated alternative to flashier designs, yet do not sacrifice either the beauty or romance that symbolises the love a couple shares.
Larsen Jewellery sells loose cushion cut diamonds and specialises in custom made engagement rings.  Click here to view a range of engagement ring designs.
Cushion cut diamonds have rounded corners, large facets and are available in shapes ranging from square to rectangular.  It is a pleasant alternative to emerald, oval or princess cuts, since it incorporates similarities between all three shapes.  Choosing a square or rectangular proportion is completely up to personal preference, and cushion cut diamond engagement rings can be found in a range of shapes and proportions.
For couples interested in a vintage style ring, cushion cut diamond engagement rings may be the perfect choice.  With an antique flair paired with a soft, romantic shape, these diamonds make stunning yet unpretentious engagement rings.
A cushion cut diamond has approximately 60 facets – up to 20 or more facets fewer than in other diamond cuts.  This cut is not as fiery or brilliant as many of the modern cuts, but it has a marvelous romantic and classic look and definitely stands out from the crowd of round brilliants.  Because the stone has fewer facets, clarity is especially critical – even minor flaws will be more noticeable.  Similarly, the colour of the stone is also a crucial characteristic of its quality.
Cushion cut rings are still quite rare in normal jewellery retail stores.  For a couple that wants to design their own cushion cut ring, the best option is to find a suitable loose stone from a place such as Larsen Jewellery and have it set it an appropriate mounting.
Related Posts