Design Your Own Beautiful Birthstone Ring
When you are stuck for gift ideas, one of the most beautiful and sentimental gifts you can give is a beautiful piece of birthstone jewellery. Each month has a respective birthstone and every gemstone holds special energetic qualities; many promote good health, prosperous lives, balance and positive energy. Whether you believe in the energetic qualities a gemstone holds or not, there is no denying that a piece of custom made gemstone jewellery is a thoughtful gift that will be cherished for years to come.
At Larsen Jewellery, we can source birthstones such as Aquamarines, Rubies, Sapphires and more. We can then help you create a beautifully designed, meaningful piece of jewellery. The chosen gemstone will determine which type of jewellery is most suitable. Some gemstones such as Sapphires are a more suitable choice for rings, whereas others with a lesser hardness may be more suitable in earrings or pendants. 
Your jeweller will be able to advise you as to whether a specific gemstone is suitable to be set into a certain design. What to be mindful of when choosing gemstones for rings which are to be worn daily, is whether they will hold up to everyday knocks and bumps. A beautiful dress ring worn on special occasions is an example of the perfect piece to include a fabulous, vibrant gemstone with a lesser hardness.
Creating a piece of birthstone jewellery is an opportunity to let your creative juices and your imagination run free. Let's take a look at some of the most beautiful pieces of birthstone jewellery: 
The "Eve" a stunning ring for May babies, featuring a beautiful Emerald with exquisite ornate details.
Ruby is the birthstone of July and our "Affection" is a perfect example of a stunning Ruby ring.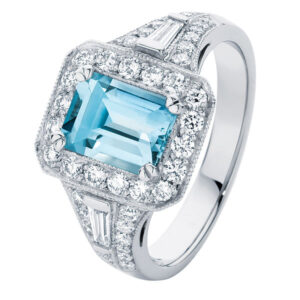 The 'Andromeda' a stunning Aquamarine dress ring for those born in March.
April babies are lucky to be blessed with the diamond as their birthstone. Take this opportunity to create something truly special like our "Pear Pave" diamond dress ring.
Sapphire's are the birthstone of September and since they come in all colours of the rainbow there is one for every September baby, such as our "Belle" engagement ring featuring a round Pink Sapphire.
Related Posts