Engagement Rings made from Platinum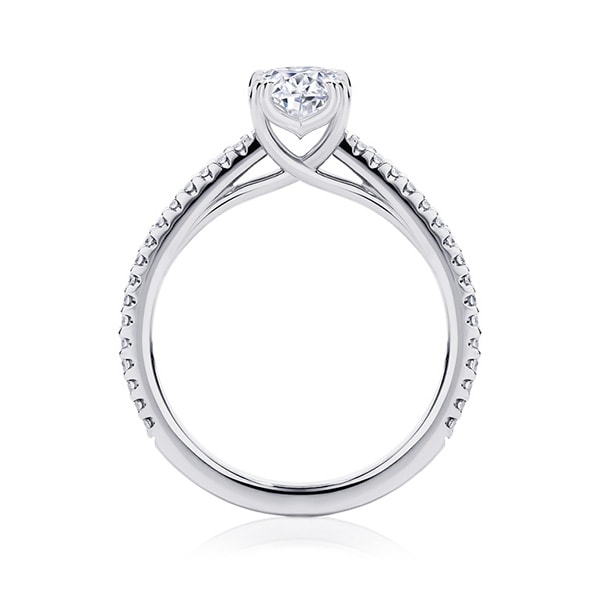 Both more rare and less traditional than gold, platinum is a superb option for engagement rings. Platinum differs from gold in several ways. Like gold, it is known for being visually appealing, malleable, and fairly resistant to acids and other corrosive elements. It is heavier than gold, and has a higher melting point. While platinum does not feature the permanent glitter found in gold, its rarity and resistance to tarnishing give it a unique allure.
Though platinum jewellery has experienced a resurgence in popularity in recent years, platinum rings are not a modern idea. This precious metal has a long history of being used in symbolic jewellery, and has been made into rings since the 19th century. It was first called platina del Pinto by the Spaniards, for its resemblance to silver, and has since become known for its silvery-white, radiant colouring and its status as a symbol of prestige and rarity.
For example, the majority of Queen Elizabeth's crown, made for her coronation as royal wife to King George VI, was crafted from pure platinum. The choice of platinum to commemorate a royal union was a sensible one, since this precious metal symbolises elemental love and enduring connection. Unlike baser elements, it won't change color, fade, or tarnish over time.
At Larsen Jewellery, our jewellers have a wealth of experience crafting beautiful rings with platinum. We can design and create a breathtaking engagement ring for your fiancée, which will allow her to express her individuality with class and timeless elegance. Contact us in Sydney on (02) 9223 2006 or Melbourne on (03) 9662 3005 to arrange a private appointment.
Related Posts