Engagement Rings… When Less is More
The expression, "less is more" applies to a wide range of topics, often it is referred to when styling advice is given. You have probably heard or read somewhere "when you are finished getting ready, remove one item". This 'less is more' rule can also apply to engagement rings. For some of us, simple is better.
In actual fact the majority of women prefer the classic choice when it comes to an engagement ring. What is the classic, simpler choice? The solitaire engagement ring usually falls under this umbrella. A solitaire engagement ring is undeniably timeless and beautiful. This style can make the perfect choice for those who are classic in style or those whose style changes with the seasons. The solitaire will adapt and blend with your future looks.
One misconception about the solitaire engagement ring is that they all look the same. Let's set the record straight and remove this idea right away. From quite obvious differences such as unique shaped diamonds or gemstones to subtle details such as the setting styles and details around the diamond, there are many ways to make your solitaire engagement ring unique to you.
Here are some of our favourite classic style engagement rings:
The Classic Solitaire: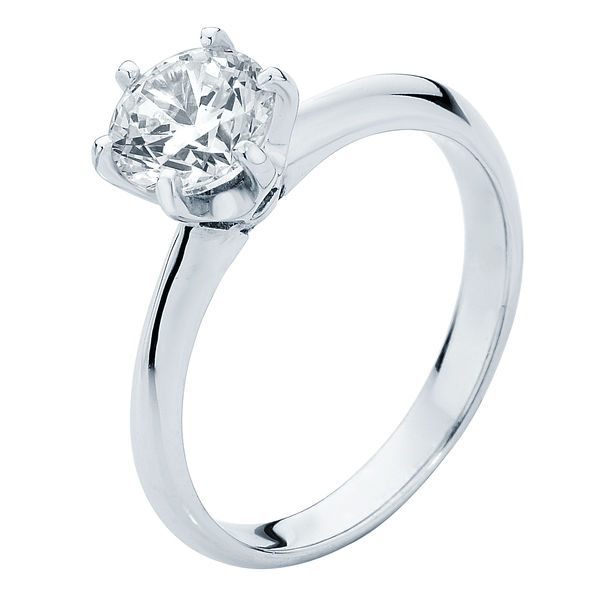 The classic round brilliant solitaire is the a very popular choice of engagement ring. To many this is the epitome of timeless elegance, one beautiful, sparkling diamond housed in a four or six claw setting mounted on a narrow band.
The Fancy Shaped Diamond
As mentioned, a solitaire engagement ring does not have to be a round brilliant solitaire engagement ring, there are many other diamond shapes to choose from. Some that we think look stunning on their own are princess, asscher, pear, marquise and the increasingly popular, emerald cut.
A Nod to Old Techniques
A solitaire engagement ring does not mean you cannot include other design details. Consider adding a beautiful hand engraved pattern or filigree to the surface of your ring.
Coloured Gemstone Solitaires
Diamonds are not for everyone, some of us prefer a splash of colour no matter how subtle or bold. Sapphires make a great choice for solitaire engagement rings and come in a vast range of colours, shapes and sizes. If you love colour but want to honor the tradition of having a diamond solitaire, why not have a look at coloured diamonds? From cognac to yellow to pink, these are strikingly beautiful and will make a real talking point as many people aren't aware of the many colours available.
Related Posts