Engagement and wedding bands that fit together
Deciding on a wedding ring can be a straight forward process for some ladies, often their engagement ring has been designed with the wedding ring in mind and there is one that will complete a perfect set. However, this predetermined option is not for all women, some prefer the idea of mismatched, contrasting rings and others like the idea of just one fabulous ring that is both the engagement and wedding ring.
We are open to all options, but we can't deny that we particularly love the chance to design a perfect set. Engagement and wedding rings that fit together can be as classic and refined or creative and bold as you wish. The only rule to follow is that they fit like a perfect pair, an obvious match, two rings that nestle next to each other to create a whole.
One thing we advise is not to get too concerned about the wedding ring when choosing your engagement ring. Some people work themselves up into quite the state, worrying if the wedding ring is going to fit perfectly. This concern can ultimately end up hindering the ability to think clearly and choose what you really want. You should treat the selection of your engagement ring as any thing else; be true to yourself, your style and if you wish for a traditional wedding ring to fit, just mention this to your jeweller, it is likely they will ask anyway. Remember, jewellers are skilled at creating engagement and wedding ring sets, they have the knowledge and skills to come up with a solution to make sure your wedding ring fits perfectly with your engagement ring.
There are a few styles of engagement and wedding ring combinations. The most popular is the flush wedding ring, where a straight wedding ring sits flush against the band of the engagement ring. For this to be possible, look for an engagement ring which has a raised setting. Many engagement rings already have this, so choosing a wedding ring will be easy for you.
The Flush Wedding Ring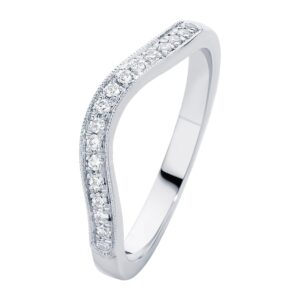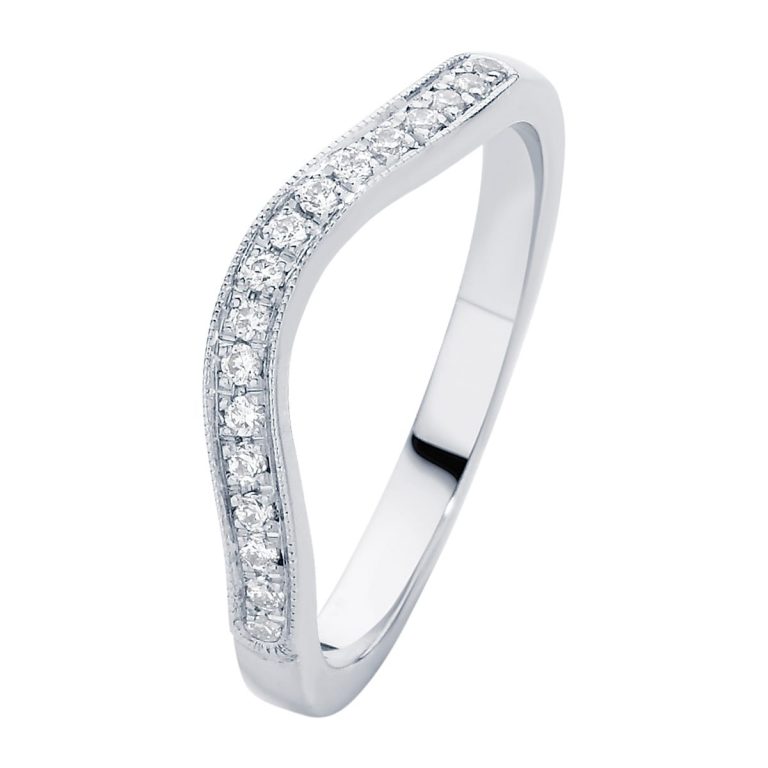 The Contoured Wedding Ring
A contoured wedding band is one of the two most popular fitted wedding ring styles. They provide a solution for when a straight wedding ring won't sit flush. The contoured ring is designed with a curve that follows the profile of the engagement ring. The engagement ring will generally determine how exaggerated or subtle the curve will be.
The "Notch" Wedding Ring
This is the second most popular style of fitted wedding ring. It is when a "notch" is literally filed into the profile of the ring to allow the engagement ring to lock into place, creating a perfect fit.
Related Posts