Fairtrade Gold Wedding Rings at Larsen Jewellery
At Larsen Jewellery we are proud to announce that we are now a licensed provider of fair trade gold wedding rings.
From the outset, our vision at Larsen Jewellery was to create a business where the highest quality and ethical standards are at the heart of everything we do. We ensure that all of our diamonds are conflict free and more recently, we committed ourselves to donating at least 10% of our profits to charitable causes every year. In 2015-16 we donated over 20% of all profits by donating custom-made pieces for charity fundraisers.
One of our long-term goals at Larsen Jewellery, was to offer custom made wedding rings using Fair-trade gold. At Larsen Jewellery we have always been committed to sourcing our materials in a responsible and ethical way.
What makes gold Fair-trade?
Fair-trade gold has been mined by artisanal and small-scale mining operations meeting the Fair-trade gold standards for Gold and Precious Metals. The certified organisations for Fair-trade Gold are SAMA and MICODEPRO in East Africa and MACDESA in Peru. Miners of Fair-trade gold receive minimum price and premium. This ensures the responsible development and impact of social, environmental and economic conditions and assists communities to work themselves out of poverty.
Certified Fair-trade miners receive an additional US $2000 premium per kilo.
At Larsen Jewellery, by striving to become a leader in the sustainable jewellery industry, we hope to educate the wider public and create an impact on the industry standards.
As a new initiative, in its early stages, we are proud to offer Fair-trade gold for our custom made wedding rings. Down the track, we hope to become a licensed producer of other Fair-trade jewellery including engagement rings.
What kind of wedding ring can you make with Fair-trade gold?
Fair-trade gold wedding rings are available in 18-carat yellow, rose and white gold. To be stamped Fair-trade gold, your wedding ring needs to be handmade which means some complex designs may not be possible. The excluded designs are some rings that are fully set with diamonds, complex fitted wedding rings, some two-toned designs and unique combinations like Mokume wedding rings however, most wedding ring styles are possible.
If you love the idea of purchasing Fair-trade gold wedding rings, here are some examples of the many designs you can choose from:
The Classic Yellow Gold Wedder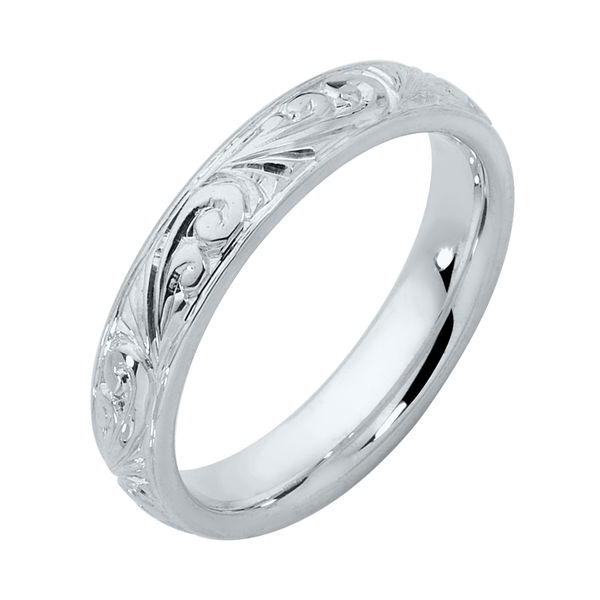 The 'Inscription' hand engraved wedding ring
The 'Hammertone' rose gold wedding ring
The 'Gypsy Secret' wedding ring
The 'Fingerprint Engraved' wedding ring
Related Posts