Fancy Diamond Engagement Rings
Fancy shaped diamonds are considered to be all those shapes other than a round. The round is the most popular, but it is certainly not the only. In fact, we are seeing a growing trend of women looking towards alternative shaped diamonds for their engagement rings.
For those that are looking for something unique, it is truly worth exploring fancy shaped diamonds.
The advancement of technology has resulted in the development of some of the most spectacular cuts, all with their own complex faceting pattern. All cuts are uniquely distinct, but the one thing in common is their sparkle!
With so many different shapes to choose from, it can make it hard to make your final choice! Some of the most popular shapes today are Emerald, Oval, Pear, Asscher and Cushion cuts. Recently we have seen a rise in the popularity of Emerald cuts in particular, partially thanks to the rise in celebrities opting for this striking shaped diamond. Each of these cuts are vastly different and most will find themselves naturally drawn to one over another. Some love the symmetry and lines of Emeralds and Asscher cuts, whilst others prefer the gentle curves of Oval, Pear and Cushion cuts.
When purchasing a Fancy cut diamond, the grading system is slightly different to Round Brilliant diamonds. The most important factors are the colour and clarity, as well as the overall proportions and cut. But often it comes down to personal choice as well. It is always a good idea to ask a diamond expert to show you a range of options, talk you through all the differences, so that you can truly understand and are able to make an informed choice.
Here are some of our favourite fancy cut diamond engagement rings:
The 'Ivy' featuring a Marquise shaped diamond.
The 'Deco' featuring a Emerald cut diamond and graduating baguette diamonds.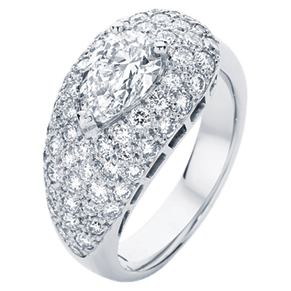 The 'Pear Pave' featuring a Pear shaped diamond and pave set round brilliant diamonds.
The 'Peony' featuring a Oval shaped diamond surround by Australian Blue Sapphires.
The 'Zen' featuring an Asscher cut diamond.
Related Posts