How to create his and her wedding rings that match without matching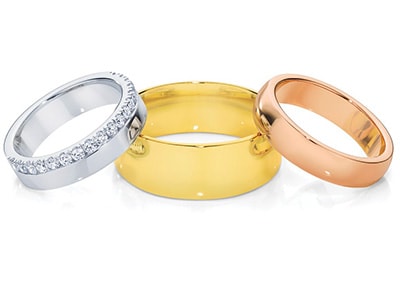 There is a misconception that choosing matching wedding rings means they have to be identical. Of course, if this is what you wish for then go for it but there are many ways to create his and her wedding rings without needing to compromise your own taste. Adding small details into both designs can be what weaves your love story into your rings so that forever, they are two halves that make a perfect set.

Engraving
One of the most commonly used techniques to tie two rings together is to include an engraved message into the inside of your ring. Usually, your names and the wedding date are included, but you may also include a short love message. Or for a unique and sentimental touch you can have each others finger prints engraved onto the surface of your ring.
Gemstone or Diamonds
Include the same diamond or gemstone into both of your rings. It may just be one or a row of diamonds. Or discreetly set one in the inside of your rings. A little secret detail that is shared between just the two of you.
Metal
The one consistent detail between both of your rings may simply be the metal colour you choose. The designs themselves might be completely different, but the main element, the metal, ties them together.
Texture
A highly polished surface is the classic choice for a wedding ring but there are many lovely and unique ways to finish your wedding ring. You can add texture onto the surface, beaten bands, matte finishes or etched surfaces are popular choices. You might also consider choosing a symbolic pattern to have hand engraved around the outside of both of your wedding bands.
Themed Wedding Bands
There are many eras of design to draw inspiration from. Perhaps you both love Art Deco architecture and design or maybe it is a particular style such as gothic, vintage or modernism. Entwining your mutual appreciation for a design aesthetic into your rings can create a beautiful story that links your wedding bands together.
Related Posts