How to Start Looking for an Engagement Ring – a Perfect Guide for the Future Bride or Fiancée
One of the strongest and most powerful feelings to ever be experienced by one person is love. As one of the best romantic movies of all time said, "the best love is the kind that awakens the soul; that makes us reach for more, that plants the fire in our hearts and brings peace to our minds" – yes, that would be the movie, The Notebook.
So, you are at that stage in your life where you are either nearly engaged or have recently become engaged, how lucky are you? But now you want to find the perfect engagement ring so you can "shine bright like a diamond", literally with a diamond on your finger. Sometimes it can be daunting trying to find what you like, but here at Larsen Jewellery, we want to make this experience exciting and fun, not confusing and overwhelming.
We have put together some tips to help you decide what will signify your love and make you smile every time you look at your ring! Plus, you want to have plenty of time to drop hints on what you like – just in case!
Don't have time to read all this? You might want to visit our Engagement Ring Guide instead!
Understanding the Ring
When we think of an engagement ring, we think of diamonds and the 4Cs (colour, clarity, carat weight and cut) and we think of all this before we even shop for the style we like.
The 4Cs was formed to quantify the quality of a diamond which also happens to determine its price tag. Now, when you're showing everyone your ring, you're not showing people based on the 4Cs, you are showing it off because it's beautiful, it's yours and you're marrying the person you love.
So, it is important to always focus first on your perfect style, then make some decisions on the diamond. Every style lends itself a particular size and shape diamond and loving the ring ultimately makes the diamond choice easier to make.
Choosing diamonds or gemstones
Firstly, you need to decide how many diamonds you want and if you would like it to add colour with gemstones. So, let's have a look at the different types:
• Do you like to keep it simple? Maybe something refined and elegant such as a diamond solitaire. This is a single diamond showcased on a plain band, very effective and really highlights the diamond.
• Or maybe you like a little bit more dazzle? If so, consider a ring with side diamonds or perhaps even a coloured gemstone might be more your style.
• The halo ring could also speak your language, these designs feature one larger diamond in the centre surrounded by a halo smaller diamonds.
• Lastly, you might want something that makes more of a statement, a custom designed showstopper. If you like colour, you might want a gemstone to feature with diamonds around the band.
If you can't quite decide if you want colour or not, the shape might help make your decision easier.
It's All About the Shape
When it comes to shape, you might want to go classic or experiment with different shapes to match your personality. Some of the classic shapes for engagement ring diamonds include: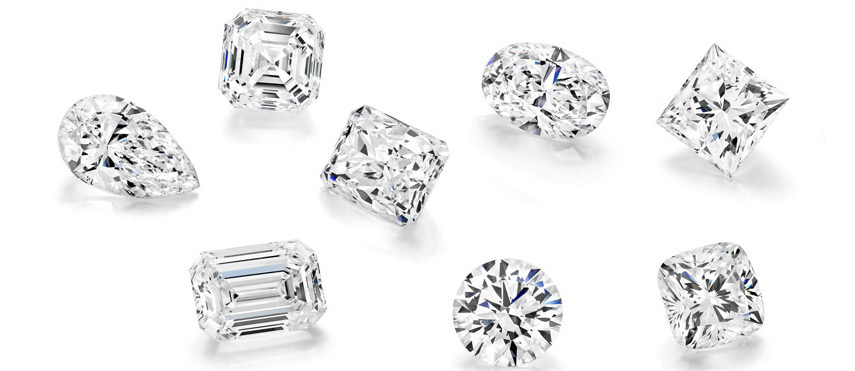 • Round
• Princess
• Emerald
• Marquise
• Oval
• Pear
• Radiant
Pick a shape that speaks to you and will make your engagement ring one of a kind. But it isn't over yet, next stop, the metal element of the ring. Read more about the different diamond shapes here.
Now to Decide on the Metals
The metal type of your engagement ring can change the overall look of the piece. You can either stick to the classics or add some more colour.
So, what would you prefer?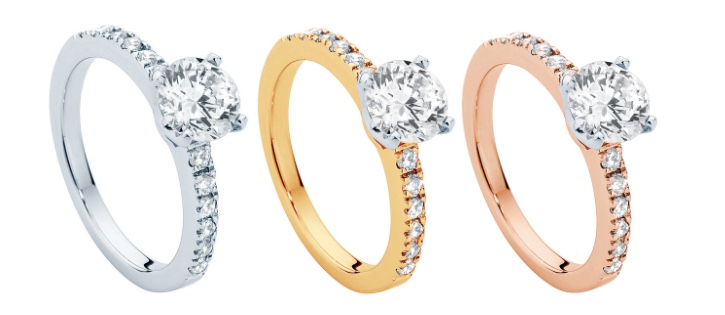 • Platinum: a pure, modern look
• White gold: A soft more contemporary style
• Yellow Gold: an old classic, yet fashionable
• Rose Gold: a new statement with a romantic look
You can even choose a combination of metal types to best flatter your design choice, maybe a rose gold band with a white gold setting to highlight your centre diamond. Or even a platinum ring with a yellow gold setting showcasing a yellow diamond!
The Setting of the Ring
The way the diamonds and gemstones are set can change the look of any engagement ring, you will want to choose the right setting for you.
These include: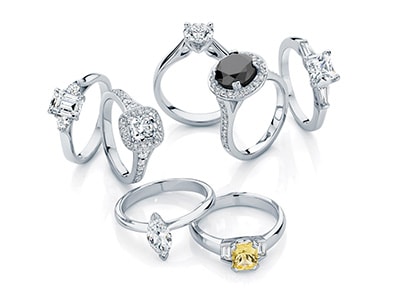 • Clean and crisp claw setting
• Sleek and modern with channel setting
• A contemporary look with bezel
• A vintage flair with millgrain detail
Determining the setting style can also help you decide if you want to add gemstones or keep it purely just set with diamonds.
Time for Style
You want the style of your engagement ring to show your personality, you can start by narrowing it down to:
• Vintage
• Modern and individual
• Minimal and clean
• Ornate with glamour
• Traditional
• Unique and dramatic
You can really have fun with refining your style to make it more of a unique piece.
Establishing the 4Cs for Your Budget
Once you have picked the style, metal, shape and what stones you want, it is now time to choose the size and quality of your main stone based on the potential budget of the engagement ring. Put simply, when it comes to diamonds, the better the quality the more beautiful. Quality is determined by the characteristics below known as the 4Cs:
• Colour: the best diamonds are perfectly colourless, D grade is the whitest and they become slightly more tinted as the grades move down through the alphabet. Most people pick up a visible colour tint around the colour grade H.
• Clarify: this indicates the number of imperfections within or blemishes on the diamond.
• Carat weight: this has the most significant impact on the price, the heavier the diamond, the more expensive it is.
• Cut: the cut of the diamond impacts how well the light is reflected by the diamond, we always recommend looking for a diamond with an excellent cut grading.
Deciding on what is right for you will depend on where you choose to spend your money on the quality of your diamond.
What Next? Apart From Dropping 1000 Hints…
So, you've educated yourself and researched the different types of engagement rings and now we hope you have more of an idea of your perfect engagement ring. But what is next?
Apart from the whole proposal thing, you want your partner to choose the right jeweller to buy from.
Here at Larsen Jewellery, we offer the best quality engagement rings of any style, colour, cut – you name it we can help. We can make it a carefree and fun experience for you and your partner and really bring out your personality in your dream ring.
So why wait? Have a browse at the amazing collection, print off some pictures of your favourite rings and secretly place them around so your partner doesn't forget what you want. We are joking – kind of.
We wish you all the very best with your engagement and a long healthy future marriage full of love.
Related Posts