The Radiant Cut and Five of Our Favourites
The radiant cut, one of the beautiful fancy cut diamonds, is perfect as a centre stone. Its striking shape is reflective of the princess and emerald cut, but its brilliance has been taken from the sparkling round brilliant diamond.
The radiant cut is a sophisticated, elegant choice, the facets of this cut have been designed to maximise brilliance. If you love clean lines and symmetry and also love your diamonds to sparkle wildly, then a radiant cut might just be the perfect choice for you!
When choosing a radiant cut your options are many. There is no set width to length ratio, so some stones will be square in shape while others are more elongated. An added bonus to choosing a radiant is that being a part of the fancy cut diamond family, there is a good chance you will be able to afford a larger diamond for your dollar when compared to purchasing a round brilliant diamond.
We love radiant cut diamonds and coloured gemstones at Larsen Jewellery. There are so many ways to incorporate this wonderful shape into an engagement ring, whether set as a solitaire or surrounded by diamonds the options are endless. Some of the most extravagant engagement rings have been designed with a radiant cut are Anna Kournikova's radiant yellow diamond ring, the infamous pink radiant diamond ring Jennifer Lopez received from Ben Affleck and of course Khloe Kardashian, who once wore a 12.5ct radiant cut diamond whopper!
We have been fortunate to design some incredible radiant cut rings for some of our wonderful customers. Here are five of our favourite:
The Tzarina, featuring a square radiant diamond, is a perfect example of how stunning this cut can look in a contemporary, solitaire design. This design is a wonderful choice for those that love clean design where metal is a more prominent feature than your typical engagement ring. Plus, if you are an active type, then this design which features a secure bezel setting, is particularly great for you!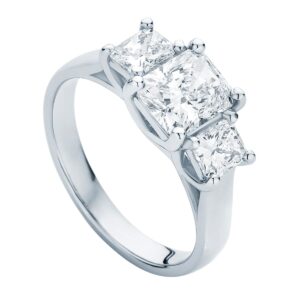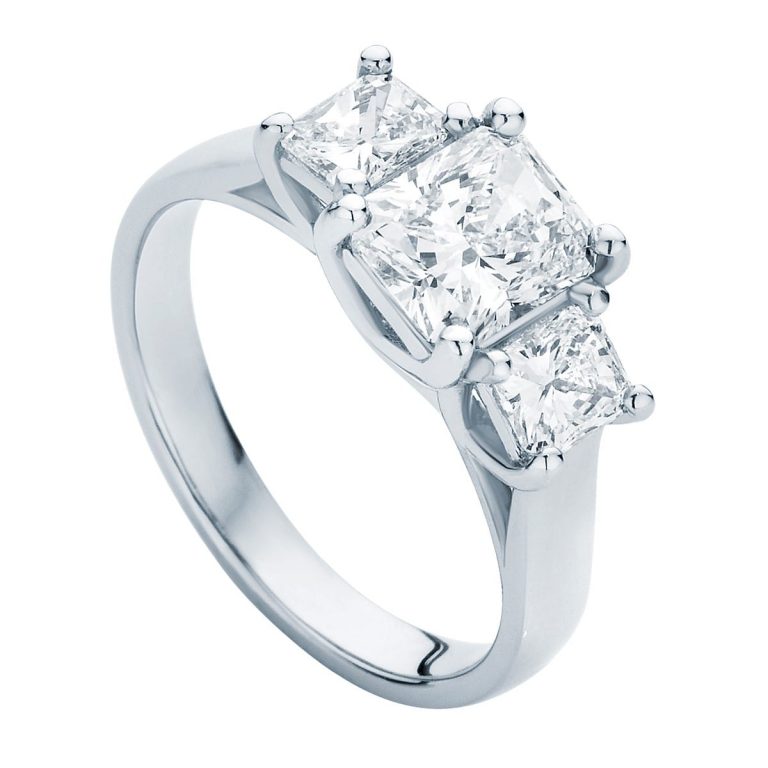 If you love diamonds that stand out and make a big statement, then the Allure might just be the right fit for you. A three stone design that features two princess cut diamonds claw set either side of the perfect centre piece, a 1.2ct rectangular radiant cut diamond.
The radiant cut is not exclusive to diamonds, you can find some of the most stunning coloured gemstones cut into a radiant shape. Our 'Radiance' is a perfect example of how refreshing a yellow radiant sapphire can be. This beautiful stone is complemented by two tapered baguettes.
The 'Joy', a solitaire featuring a 0.70ct radiant cut yellow diamond, shows that sometimes less is more when teamed with yellow gold.
For those that love a vintage touch, the 'Venetian' is a solitaire design saluting a time once passed with its shoulders sweeping up into a beautiful scroll feature.
Related Posts