Custom Made Rose Gold Engagement Rings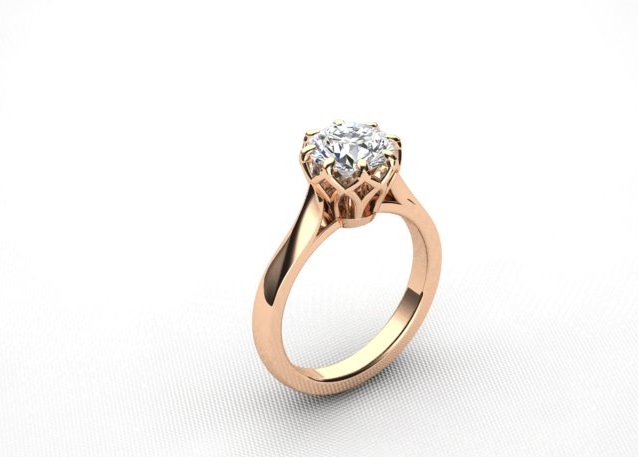 Rose Gold is a beautiful choice for engagement rings and is quite often overlooked as an option for contemporary style engagement rings. Historically speaking rose gold was a very popular choice for engagement and wedding rings, in particular in the 19th century and especially in Russia. Often rose gold is chosen today to re-create antique looking pieces. However, we should remember that rose gold looks stunning in sleek and contemporary designs as well. It looks beautiful when set against a bright white diamond but also is a lovely option when matched with coloured gemstones in particular a beautiful pink sapphire or diamond.
To give rose gold its pink colour, copper is alloyed with gold.  The percentage of copper alloyed will determine the intensity of the rose / pink colour. Typically the standard proportions are approximately 75% gold to 25% copper.  As copper does oxidise the rose colour can slightly change over time.
The wonderful thing about rose gold is that it suits almost any skin tone and looks beautiful against other coloured metals especially white gold. For these reasons it is a perfect choice if you are after something that is going to set your bride-to-be's engagement ring apart from more classic choices.
At Larsen Jewellery we can make any of our classic designs in Rose Gold for you.  We can recreate an antique style ring like our 'Symphony' design which can be viewed on our website; or we can help you create a bold modern piece.  Please click here to view our rose gold engagement ring designs.
Related Posts