Solitaire engagement rings with diamond bands
If the solitaire engagement ring is considered the most popular style, then a close second is the solitaire engagement ring with a diamonds set into the band. This style is perfect for many ladies who can't shy away from a touch more sparkle. It is equally perfect for women who are not so partial to the more solid look of a metal band which some women find appears too heavy.
Adding small diamonds to the shoulders of your ring, or half, or the full way around, is a great way to enhance your centre stone, particularly if your centre stone is on the smaller end of the scale. Adding small side diamonds to your engagement ring will not only create extra sparkle but it can also create the illusion of a larger stone.
When searching for a diamond ring with side-stones, be sure to look into all the design options available. There are many beautiful and classic choices, there's a round brilliant diamond with small round diamonds set into the shoulders or a vast array of fancy cuts such as baguette cut shoulder diamonds either side of a stunning Asscher cut centre diamond.
A solitaire with sides-stones opens the door to many creative options, particularly when you have one custom designed and made just for you. You could put 10 ladies in a room who all have diamond rings with side-stones and each would have a different engagement ring. There are so many elements that make up a ring and with each choice, your ring becomes unique to you. There are different coloured metals and even the option of mixing metals, not to mention all the different shaped diamonds and coloured gemstones can choose from, the list goes on and on…
To give you a taste of how you can create a solitaire engagement ring with a diamond band true to your style, take a look at these 10 engagement rings with side-stones that prove that no two are the same:
The 'Entwine'
The 'Azure'
The 'Eve'
The 'Zen'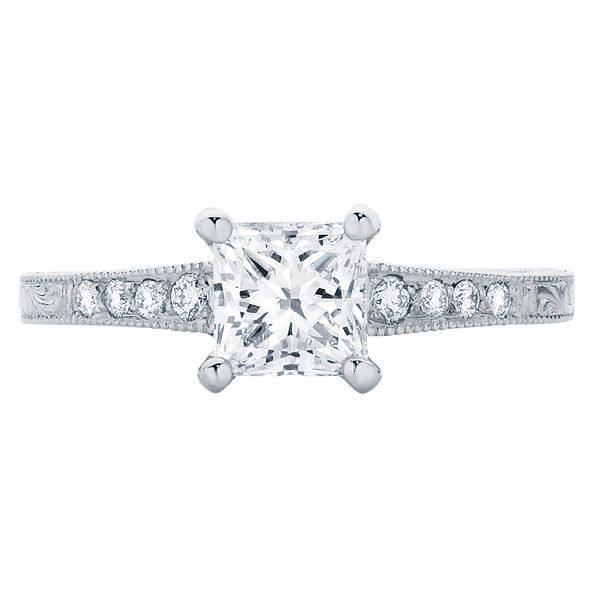 The 'Baroque'
The 'Athena'
The 'Amore'
The 'Rose Amore'
The 'Poppy'
The 'Encore'
Related Posts