The Victorian Era
The Victorian era, when Queen Victoria ruled from 1837-1901, was considered a golden era for jewellery. With a love of precious jewels and impeccable style for her time, Queen Victoria set trends and created an appreciation and understanding for the finest handcrafted jewellery.
This period coincided with the industrial revolution, a time of prosperity, where fine jewellery became more widely accessible to the middle class. Jewellery was worn in abundance, especially by the more mature aged women. Queen Victoria was always adorned with exquisite jewellery and did not shy away from wearing layers of jewellery, her fingers were often stacked with rings.
Jewellery from this period, particularly the early Victorian period, had a romantic feel, a reflection of the love between her and Albert. Designs often told stories and had symbolic meanings incorporating beautiful motifs of flowers, hearts, bows, and birds.
During this time coloured gemstones became more widely available and were hence incorporated into designs. These gems often took centre stage but were sometimes used as accent stones to complement rose cut or old mine cut diamonds popular during this time.
Over the Victorian era, there was a transition of styles broken up into the early Victorian, also known as the Romantic era, the Grand and the Late. The beginning of the Grand period was when Prince Albert sadly died, this saw the beginning of her period of mourning. Queen Victoria mourned for many years and would wear jewellery that reflected this. Jewellery appeared darker in nature compared to before, lighter stones such as emeralds and soft blues were replaced by black stones such as onyx and deep red garnets. Influenced by this time, mourning jewellery became widely popular.
Following the Grand period was the Late Victorian era when Queen Victoria transitioned out of mourning. Her jewellery mirrored this change and flaunted her fortune and the prosperity of this time. Jewellery was heavily embellished with motifs featuring flowers, dragons, serpents, insects, and birds; along with the beautiful use of diamonds and coloured gemstones.
When it comes to engagement rings from this time, designs often tell stories and are typically ornate in appearance, embellished with exquisite details including floral motifs, coloured gemstones, and stunning hand engraved details. The Victorian era provides a wealth of beautiful pieces to draw inspiration from. If you love antique, decadent jewellery that tells a story then an engagement ring inspired by the Victorian era could be the perfect fit for you. Here are some of our favourite designs to inspire you: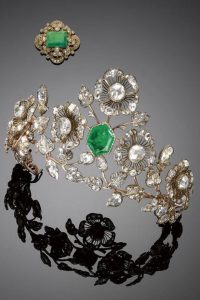 Queen Victoria's antique floral tiara featuring a emerald and diamonds
A custom made vintage inspired rose gold engagement ring with matching wedding ring
Queen Victoria's sapphire and diamond floral necklace
Larsen Jewellery's blue sapphire and diamond engagement ring
Related Posts