Three Stone Trio Diamond Rings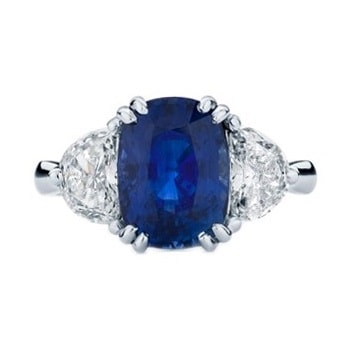 Rings featuring three gemstones, usually diamonds are known as three stone or trio diamond rings. This kind of design is commonly used for engagement rings and can be created using any shape of diamond or coloured gemstone by the expert Jewellers at Larsen Jewellery in Sydney and Melbourne. Your design options are endless and upon appointment we can show you a beautiful selection of diamond to choose from to create your own unique 'trio' design.
A vital element to consider is that the two gemstones placed on the outer-sides match each other perfectly in terms of colour, cut and overall look; otherwise one stone will clearly stand out from the other which is not ideal. The centre gemstone, however, can completely differ from the side gemstones without taking away from the design.
Another recommendation is to keep the side gemstones proportionately smaller than the centre stone, even if the difference is only slight, as this will keep the attention on the centre stone which should always be the main focus.
The wonderful thing about choosing a three stone ring is that you have the opportunity to incorporate colour into your design, without sacrificing a diamond. For example, you could use a diamond for the centre stone and then add your favourite coloured gemstones such as sapphires or coloured diamonds on either side.
If coloured gemstones aren't for you, keep the design elegant and classic by selecting all white diamonds. You can then play around with the many different combinations of diamond cuts that we have available for you.
If you appreciate antique design, or are passionate about the art deco movement then a few simple additions such as mill grain detailing and diamond placement added by our jewellers will turn your trio diamond ring into a work of art.
To view our large range of three stone diamond ring designs, or to arrange an appointment to view a selection of diamonds and coloured gemstones, please give us a call on 02 9223 2006.

Related Posts