What colour Sapphire best suits you?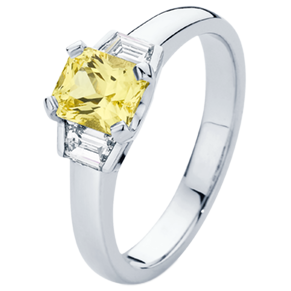 Sapphires have quickly become the second most popular choice of centre stone for engagement rings after diamonds. Why would you choose a Sapphire for your engagement ring? Well, if you are after a splash of colour and/or a larger stone that is not going to break the bank without compromising durability, then a Sapphire could be the perfect choice for you.
Firstly, if you are surprising your partner with an engagement ring, choosing a coloured gemstone can potentially be a risky choice. Make sure you are confident with your choice and know that this is a stone/colour that she loves. It might be a wise idea to ask one of her close girlfriends, a sister or her mother before you make a final choice. There is nothing wrong with taking extra precautions so that you ensure that your wife to be gets her dream ring; the last thing you want is a disappointed fiancée!
If you have your heart set on a Sapphire, or you know that it is the right choice for your partner, the next step is deciding on which colour. What you may not realise is that Sapphires are found in an array of colours; from the ever popular royal blues and pinks to the lesser known greens, yellows and soft peaches.
So what kind of Sapphire will suit the perfect engagement ring to surprise your partner with?
Traditional in Style: If you are after something more traditional or vintage in style, you may find inspiration in, Princess Diana's engagement ring, arguably one of the most iconic Sapphire rings in recent history, now worn by Kate Middleton. This beautiful Royal Blue Sapphire engagement ring has proven to be one of the most popular non-diamond engagement rings choices amongst women all over the world.
Feminie Touch: For those ladies who are after a more feminine touch, the lovely shades of pink or soft peach might be your preference. Rose gold looks particularly good with soft pinks. Not a Sapphire, but a great example of this lovely colour combination is Blake Lively's engagement ring. One of Larsen Jewellery's favourite celebrity rings, Lively's ring features a stunning pale pink diamond set into rose gold. Most of us can only dream of receiving an engagement ring with this kind of price tag, but choosing a soft pink sapphire will offer a very similar look and will create an equally stunning engagement ring.
Fresh, Vibrant and Modern: A yellow Sapphire might be the perfect choice for you, if you are after something that is unique, modern and refreshingly bright. Yellow sapphires come in all shades, from soft canary yellows to bright sunflower yellows. They look fabulous set in both white and yellow metals.
Dreaming of a large centre diamond? : If you have your heart set on an engagement ring with a large centre stone but your budget is more conservative, then a little known option is a colourless or white Sapphire. This is a beautiful option that will offer a very similar look to a diamond, without breaking the bank!
Before rushing into making your decision, take the opportunity to have a look at a variety of different Sapphires. They are truly beautiful when viewed up close. When you have discussed your options with your jeweller and made your final choice, there will be no doubt that your engagement ring will stand out on its own as an exquisite hand made treasure!
Related Posts