What is an art deco engagement ring?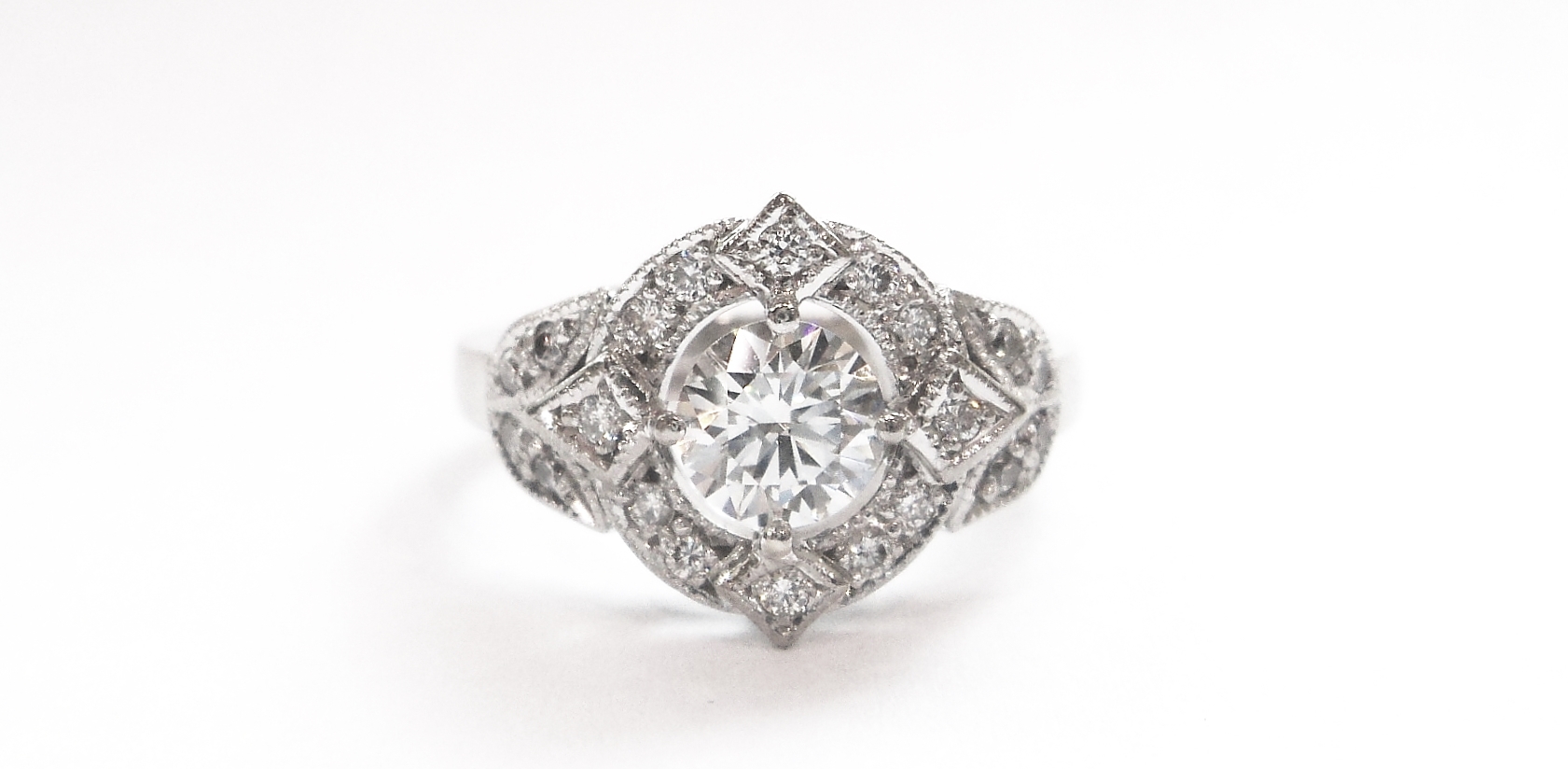 Has your partner tried to tell you that she has her heart set on an "Art Deco" style engagement ring? Possibly you are feeling a bit lost as to where you should start!
The term 'Art Deco' is used to describe a particular style of jewellery that came to life during the 1920's. A monumental period in the history of art and design, the era of Art Deco has and still does influence many artists, architects and designers.
So, what is an Art Deco engagement ring you may wonder? Understanding a little about the period of Art Deco design will help you in your hunt for the perfect art deco ring for your partner. 
Now, we don't want to overwhelm you with a history lesson, but here is a short summary:  It was in France in the 1920's through to the 1930's that the Art Deco period begun, following on from the Art Nouveau period of design. When we think of France we think of style, class and extravagance. This embodies the era and captures the culture that influenced the design at this time. Jewellery was overstated & bold with elegant geometry and gorgeous, defining sweeping curvaceous lines; strong use of colour was also an important part element.
Original antique Art Deco rings are very rare to come by and with any antique jewellery purchase you should always be aware of the potential fragile nature of the piece and the up-keep involved for the life of the ring. The next and perhaps the best option would be to draw from this wealth of inspiration that Art Deco offers and create your own inspired design. 
Art Deco engagement rings
are usually pattern based. Designs will include exquisite geometric patterns, often made up of strong linear lines with princess cut and emerald cut diamonds and commonly surrounded or paired with smaller baguette diamonds. Or the softer curved lines were used for a softer and vibrant floral effect. Strong lines can also be mixed with curved patterns. Diamonds might be your preference, but also consider including
coloured gemstones
as a centre stone or smaller side stones. Sapphires, emeralds and rubies are all stones that can be found in Art Deco engagement rings. 
Just remember guys, there are NO rules! Whatever you decide, your jeweller will help you come up with your own stunning Art Deco piece to win the heart of your loved one!
Related Posts