Yellow Diamond Engagement Rings
The most popular gem choice for an engagement ring is a white diamond, this is followed by the blue Sapphire however a favourite of ours is becoming increasingly popular, this is yellow diamonds. Yellow diamonds are a beautiful and refreshing choice, they vary from soft pale shades of yellow right up to fancy intense yellow.
When it comes to coloured diamonds, yellow diamonds can be one of the more affordable coloured options. Pinks, blues and even greens are the most expensive with the most lower priced options being the cognac and champagne coloured diamonds. Yellow diamonds sit somewhere in between, so for many, they fit the budget perfectly.
In recent years we have seen the popularity of yellow diamonds continue to rise. This has been helped by several stars sporting stunning yellow diamond rings; Heidi Klum, Adele, Jessica Alba, Megan Fox and Carrie Underwood are a few standouts.
Yellow diamonds look fabulous set into both yellow and white metals. If you are olive in complexion then yellow gold and yellow diamonds are a match made in heaven for you, combine this with small white diamonds set into the halo or the shoulders of your ring and you have the perfect combination. If you like the sound of this, have a look at the stunning 10-carat cushion cut ring Heidi Klum received from once-upon-a-time husband Seal and you will know exactly what we mean. For those with softer skin tones then yellow diamonds combined with white metals are a beautiful option.
If a yellow diamond price tag is just out of reach, then don't worry, there is an alternative for you. Yellow sapphires are a beautiful option, these are another hugely popular gem. Yellow sapphires are an exquisite and durable alternative. Being more affordable means you may also be able to afford a larger stone in comparison to a yellow diamond.
If you too have fallen in love with yellow diamonds or sapphires, ask your jeweller to select a range for you to choose from. If you are not so sure on the tone you are after, it is a good idea to request to see options from soft yellows to fancy and intense. Seeing the differences in real life and against your own skin tone, will make it easier to identify which shade you are naturally drawn too.
Here are just some yellow diamond engagement rings that just might be the perfect source of inspiration for you!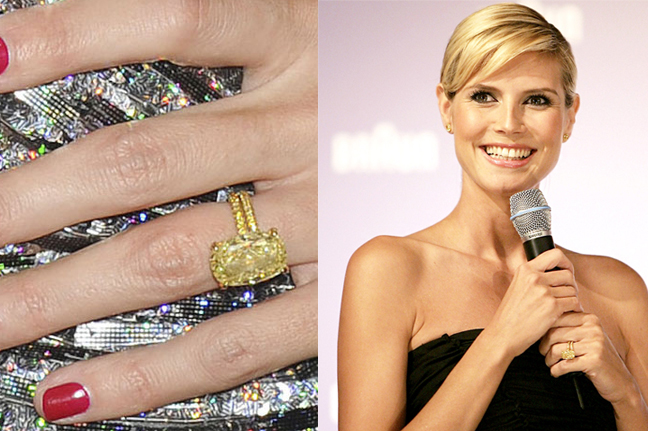 Heidi Klum's exquisite yellow diamond cushion cut engagement ring
Carrie Underwood's decadent yellow diamond engagement ring
Adele's "rumoured" yellow diamond engagement ring
Related Posts