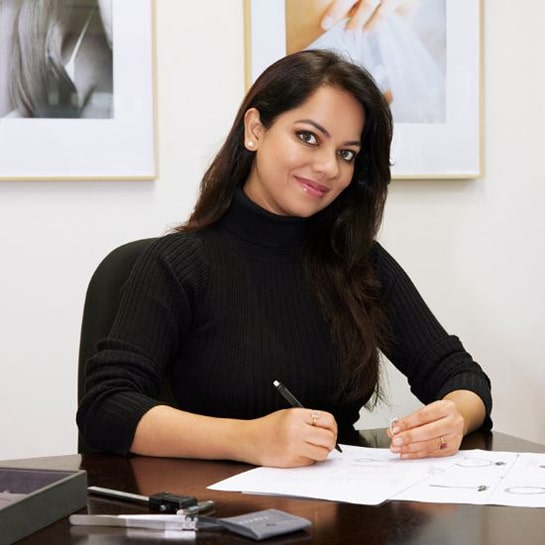 Although her fascination with jewellery began at an early age, it was not until she began her tertiary studies at the National Institute of Fashion Technology in India, that Soukata began to hone her craft in the pursuit of a career in the jewellery industry.
Now with over 15 years of experience in fine jewellery, Soukata has enjoyed an illustrious career as an independent design creative, and has had the privilege of working with a plethora of global industry pioneers. Her work has been featured in various international jewellery publications and has won several prestigious design awards including, The Artisan Awards by GJEPC in 2019, HRD – ANTWERP Design Awards in 2020, and the Design Sketch Render award in 2018.
Soukata's design philosophy is deeply rooted in storytelling. "Jewellery always has a unique story to tell. May it be the story embedded in the design process, a narrative connected to the artisan, or the story attached by the wearer."
Her favourite design to date, is an ear cuff design named Make a Wish. Inspired by the magic associated with wishing upon the stars, her design features bright shooting stars that wrap around the ear. The design serves as reminder to the wearer that the universe is always speaking to them, and by listening and believing in their wishes, their dreams can come true.
Soukata joined Larsen Jewellery in 2023, bringing with her an array of talents and a warm, welcoming nature. "It is great to be a part of a very talented team who share similar values, passion, and love for fine jewellery. I am extremely fortunate to be working among colleagues with unique expertise and feel that I am learning something new from each team member every single day."