With This Ring – Sydney Bride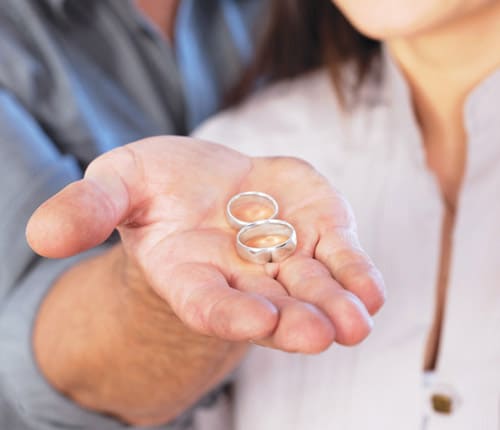 If you're looking to add a personal touch to your wedding rings, why not make them yourself?
Larsen Jewellery offers a "make your own wedding ring" experience where you can enjoy crafting unique wedding rings under the guidance of a jeweller.
Larsen's Wedding Ring Experience takes about four hours to complete and because Larsen Jewellery intends to offer an intimate experience, the sessions are available to couples by appointment only.
Owner Lars Larsen says the one-on-one experience is a personalised and romantic way for couples to get involved in an important part of their wedding planning.
"You end up wearing the ring that your partner has made with you, which is really special," he says.
No prior knowledge or creative skills are required to complete the ring making – the process has been set up so that anyone can take part.
The ring-making process involves traditional handcrafting techniques, including milling, bending, soldering and the finishing touches of filing, buffing and polishing.
According to Lars, it's also a great way for men to get involved because the workshop involves "getting your hands dirty" and using tools to handcraft the rings.
"It's a lot of fun on the day and is a really romantic bonding experience."
Lars says a common starting point for people who want to create their own rings is to let them try on a range of designs and see what they like. This may come down to the shape, width or profile of the band, or whether a flat or rounded finish better suits your hands.
"It's important (for women) to match the band to the engagement ring," Lars says, adding that quite often the wedding ring needs to be fitted up against the engagement ring and match elements like the shape, size and style. 
Related Posts