Celebrity Engagement Rings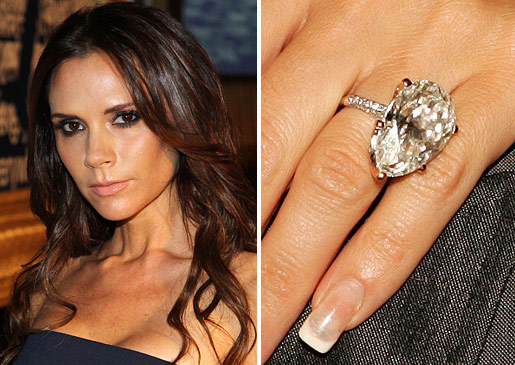 Reported engagement ring specs from the world of celebrity.
Jennifer Lopez
Heart cut 6 carat pink diamond, framed with two white baguette diamonds on a platinum band. This famous engagement ring was given to J.Lo by Ben Affleck, sparking a worldwide desire for precious pink diamonds once Hollywood caught on to their exclusivity.
Heidi Klum
Oval cut 10 carat fancy yellow diamond, claw set with a canary yellow diamond pave set band, 2.5mm wide. Seal proposed with this unique choice, which he designed himself as a statement of his love for Heidi.
Beyonce Knowles
Emerald cut 18 carat flawless diamond, set in a Platinum metal band. This striking statement piece was given to Beyonce by Hip-Hop mogul, Jay-Z. There is nothing understated about this talented duo and the ring is a perfect representation of their expensive style.
Mariah Carey
Emerald cut 14 carat pink diamond, featuring one half-moon diamond on either side. The singing diva expects nothing but the best and is known for her expensive taste, so this stunning and unique choice is well suited to her personality and style.
Christina Aguilera
Round brilliant cut 5 carat diamond, with a channel set diamond band. This beautiful and classic design is a rather safe choice for an A-list celebrity; however this design will remain forever stylish.
Kristin Cavallari
Square cut 5.2 carat diamond, with a four claw setting and a channel set diamond band. The diamond band is a lovely addition to the 'wow factor' of this modern design.
Katherine Heigl
Pear cut 3 carat diamond, with a pave set band diamond band in Platinum metal. A portion of the Platinum used in Katherine's band came from her mother's own engagement ring.
Have the diamond engagement ring of your dreams created for you by your own personal jeweller at Larsen Jewellery in Sydney and Melbourne.
Related Posts