Creating the Perfect Filigree Ring
Filigree ring designs evoke a sense of old-school glamour and vintage beauty. Filigree is unique and delicate, and may be perfect for you!
What is a Filigree Ring?
Filigree is a style of intricate metalwork as a detail on a ring. Seen commonly on vintage, Victorian era, and Edwardian era rings, filigree adds a beautiful element to engagement rings, wedding rings, and dress rings. It appears as wires and tiny beads incorporated in an open space and is often floral, spiralled, or flourishing in style.
Filigree Ring History and Popularity
Filigree has been included in jewellery and ornamental objects since time immemorial. Originally seen in ancient pieces of decorative and usable artwork as examples of exquisite workmanship, nowadays it's considered a design feature synonymous with vintage style engagement rings. This design feature is popular in evoking old-world glamour and you can also incorporate it in modern ring designs as well as designs that borrow heavily from antique styles.
Filigree Engagement Rings
Filigree is often used in engagement rings with diamonds or coloured gemstones. In designs with multiple stones, it may also be a combination of both! Your perfect engagement ring may be crafted out of gold or platinum – both have historically been used extensively with filigree work.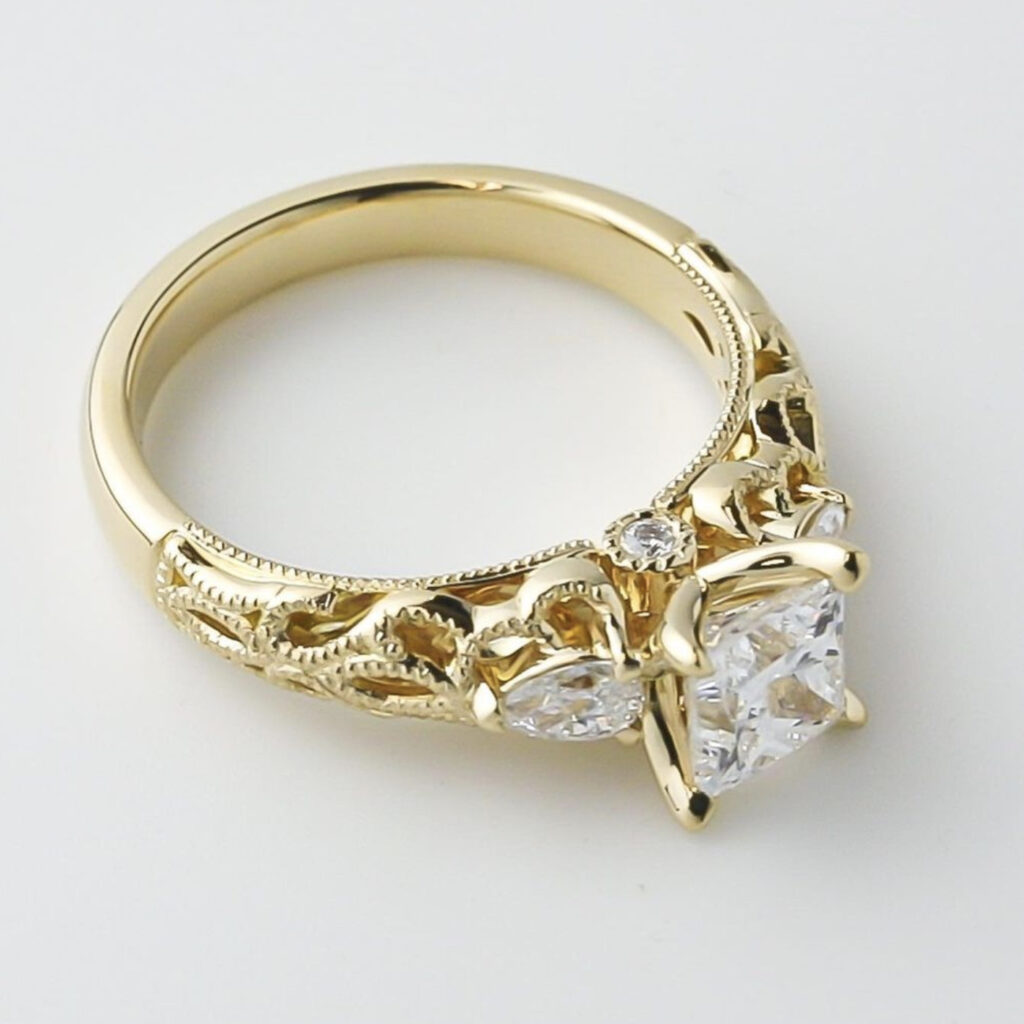 Diamond Filigree Rings
A popular filigree ring choice includes a centre diamond with grain-set diamonds along the band to create a gorgeous vintage style engagement ring. Our Baroque design is a stunning example of a filigree ring that includes a modern centre setting with graduated grain-set diamonds along the vintage style band. We embellished the ring with filigree under the settings and specially hand-engrave details which make it the perfect blend of old and new.
Filigree Wedding Bands
Filigree can be a lovely addition to wedding bands as well for elegant and delicate wedding rings. These may be bands with diamonds or gemstones set in them, or simply plain bands with filigree work on the top or through the sides of the ring. It may be minimal detail, or it could envelop the ring to make a truly outstanding design.
Filigree Ring Metals
Gold Filigree Rings
Gold is often used to craft engagement rings. As a precious metal, an engagement ring will usually be crafted from white gold, rose gold, or yellow gold. The choice of colour often comes down to personal preference and taste.
Yellow Gold Filigree Rings
Many consider yellow gold to be the classic engagement ring option. Bright and shiny, this is the warm and traditional gold colour. Yellow gold contrasts well against white diamonds and also suits green, red, deep blue, and yellow gemstones. Our beautiful Florence design incorporates a filigree basket with some simple, flowing design features reminiscent of palatial Italy.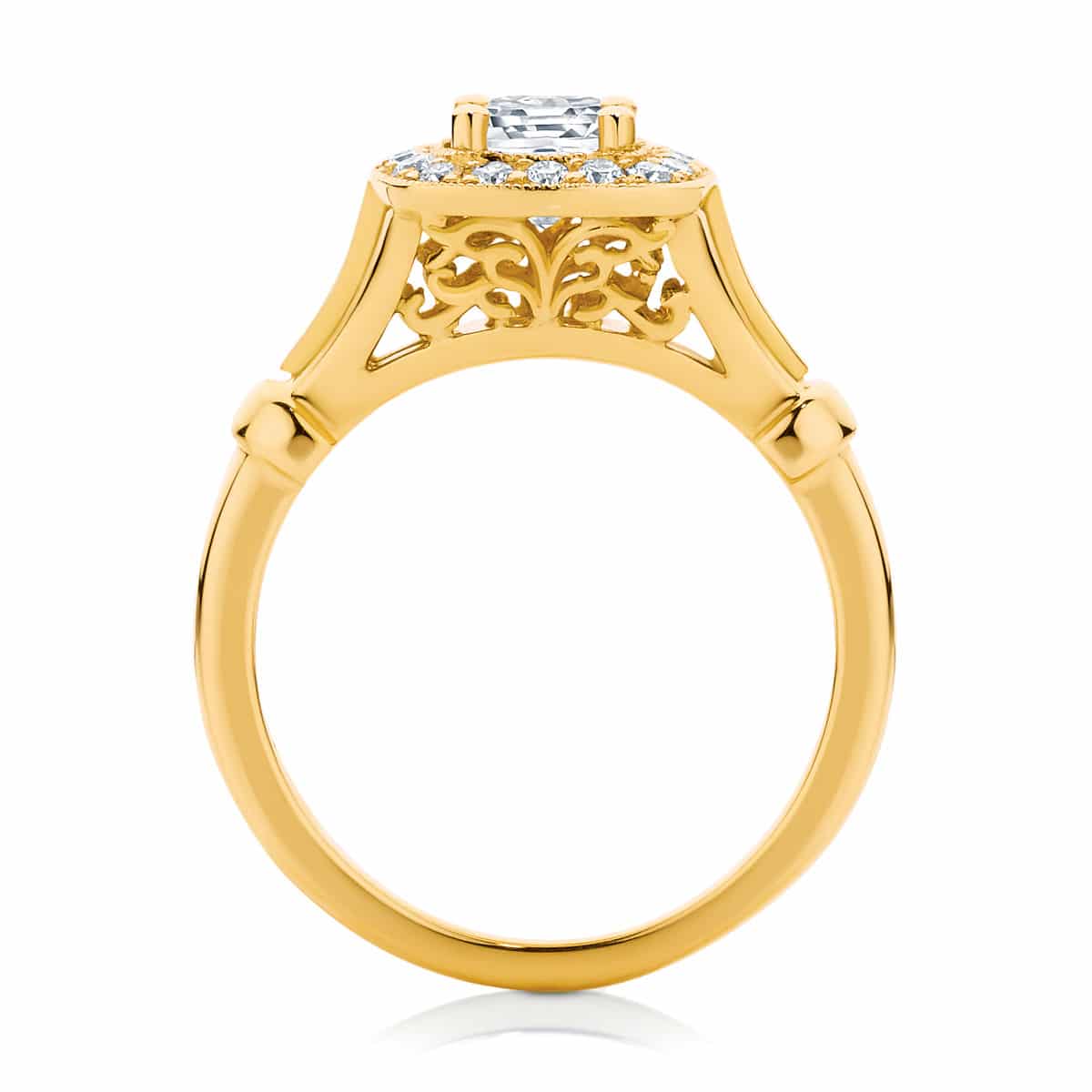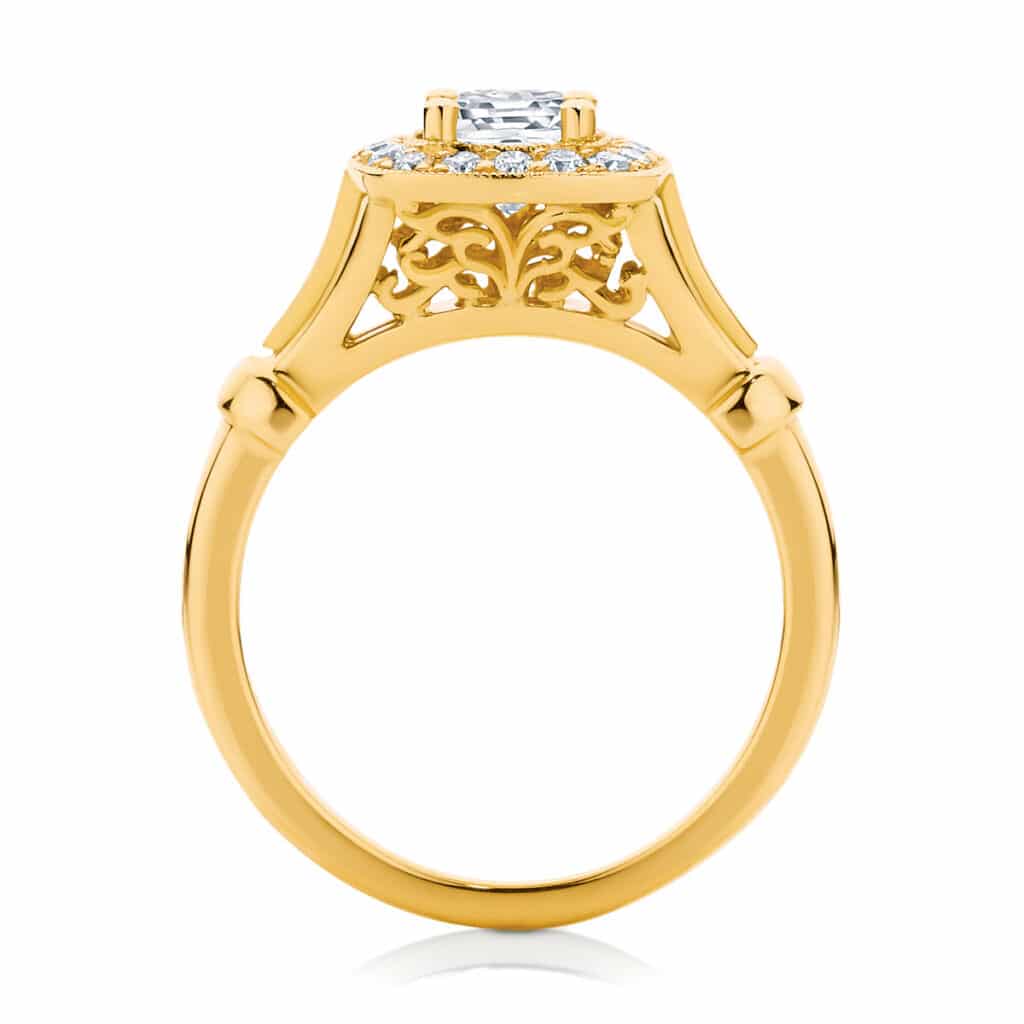 Rose Gold Filigree Rings
Rose gold is a feminine and romantic choice for an engagement ring. This gold colour is created by adjusting the formula of the gold combination to increase the copper contained within the gold, resulting in a pink, lustrous tone. Rose gold contrasts against white diamonds and suits pink, orange, champagne, purple, and blue gemstones.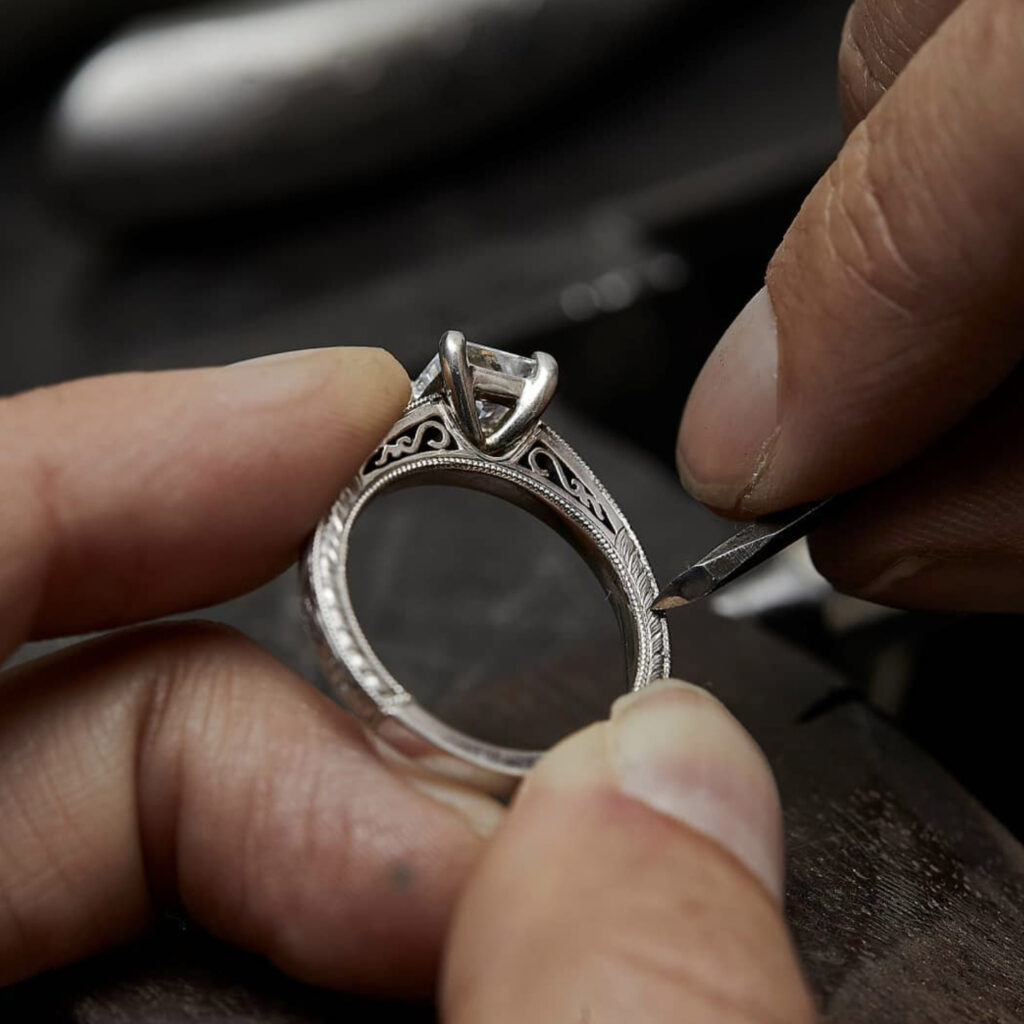 White Gold Filigree Rings
White gold is bright and suits most skin tones. The colour is created by adding more white metals to the gold and removing other tones like copper, and then it is plated with a whiter metal to disguise the soft underlying gold tone. White gold has been a popular choice since the 1940s and shows no signs of slowing down. White gold blends with white diamonds, making them appear brighter and whiter and contrasts with darker gemstones. If you were considering featuring a coloured stone or birthstone in your ring, white gold will allow these stones to command the attention they need!
Sterling Silver Filigree Rings
Although popular for dress rings and statement pieces, sterling silver is a soft metal and not suitable for the daily wear and tear that an engagement ring will be subject to. Not all rings are made for everyday wear, and there are some precious metals that are more suited than others. For an alternative to white gold, you may consider platinum. Rather than the white gold which has a high percentage of gold which affects its underlying colour accordingly, platinum is a pure silver coloured metal. It won't show an underlying gold tone like white gold, and it's incredibly durable.
Popular Filigree Ring Stones
Many custom-made filigree rings include the intricate wirework of filigree as well as some special artisan elements picked especially for your own taste and story. This may be a special motif, a birthstone, a favourite colour, or a suite of different factors that draw you in.
Amethyst Filigree Rings
Amethyst is the birthstone for February and is the purple variety of quartz. It ranges from a light pinkish-purple through to a deep royal purple. For an everyday ring, it would be better use as smaller accent stones in filigree engagement rings rather than a prominent centre stone, as it may be subject to wear and tear over time.
Garnet Filigree Rings
Garnet is the birthstone for January and although many think of it as a dark red or brown-red gem, garnet lovers will be glad to hear that it comes in a wide range of colours! As well as the traditional red, garnet can also be pink, orange, green, yellow, purple, and an attractive reddish-brown. Garnet has similar durability to amethyst, so it can be suitable as a centre feature in an everyday ring as long as you take good care of it.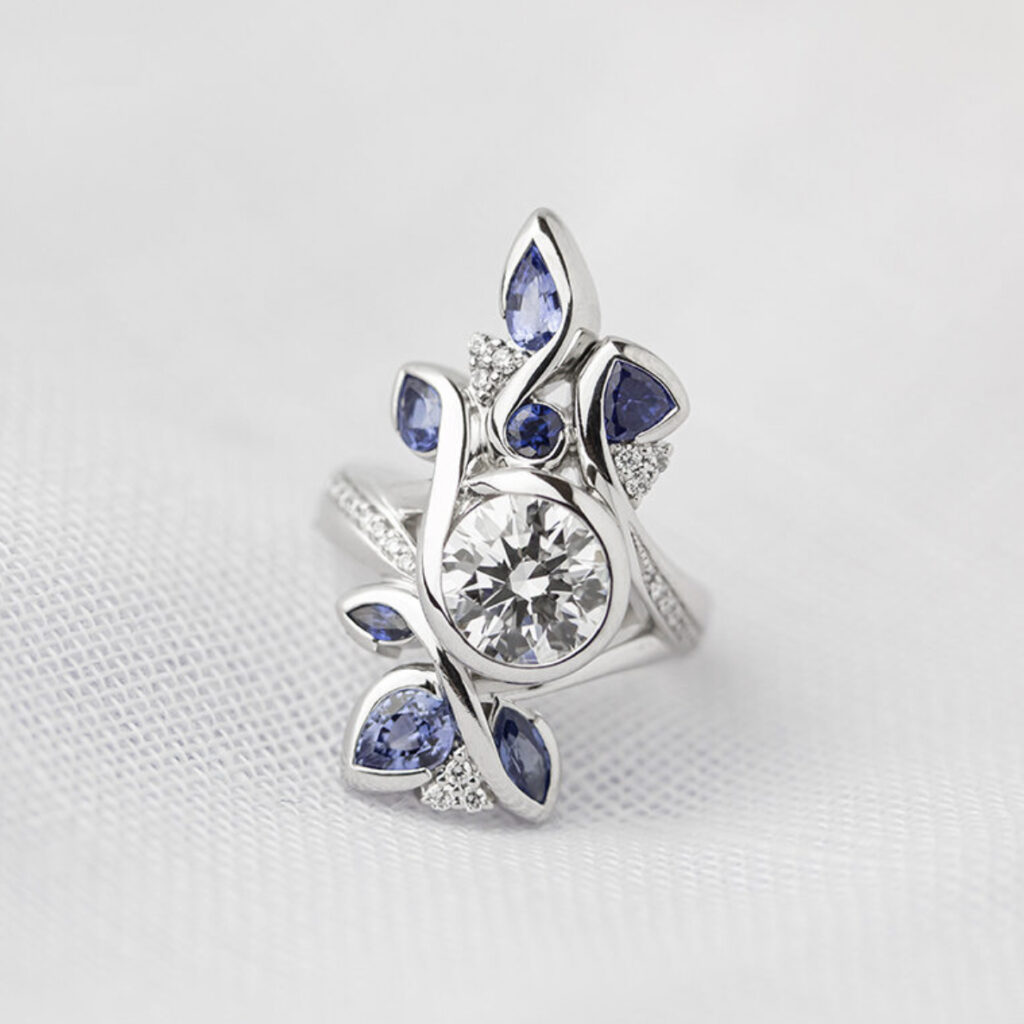 Sapphire Filigree Rings
Sapphire is the second hardest gemstone to diamond which makes it perfect in everyday rings! Many rings produced in the Edwardian era feature a combination of rich blue sapphire and diamonds. Famous for the rich royal blue of which sapphires are usually, they also come in every colour of the rainbow and in deep and pastel shades. Teal sapphires are surging in popularity and it looks like demand for these blue-green sapphires will continue well into the future. We think this colour would combine modern and antique elements perfectly in a filigree ring!
Finding a Vintage Filigree Ring
You can usually find true vintage filigree rings by perusing a vintage store or estate shop. Be mindful that these rings often have significant wear due to the wear they received in their previous lives. With vintage engagement rings, it is generally best to purchase them as occasional pieces rather than everyday rings. You can evoke the inspiration and spirit of vintage filigree rings by having your very own ring custom-made.
At Larsen Jewellery, we have a collection of our own designs that beautifully encapsulate the essence of filigree rings. You can also choose to have a ring made bespoke just for you in our very own on-site workshop. Our experienced jewellers can design special pieces for you to suit a range of preferences, styles, and price points.
Related Posts