Meet Our Brisbane Jewellers
Did you know that in January 2022, Larsen Jewellery opened its newest studio? We are finally bringing our high quality, ethical jewellery to Brisbane!
About Our Brisbane Jewellery Studio
Our new studio promises to bring Larsen Jewellery closer to our Queensland customers. If you are searching for the perfect engagement ring or a custom design, you can now find it at Larsen Jewellery in Brisbane! Our brand new studio offers all our classic designs, custom engagement rings in Brisbane. While the studio has a fresh new look, you can expect the same exceptional service. Our custom pieces are made in-studio in Brisbane to the same Larsen Jewellery standard.
Our unique wedding ring experience is also available in Brisbane. Now there is no need to travel to Sydney or Melbourne to create this special memory of creating each other's wedding rings with your partner!
Our new studio is located in the heritage-listed National Australia Bank building at 180 Queen Street. Right in the heart of Brisbane, it is close to trains, buses, and parking for ease of access. The building also includes a wheelchair lift and other accessibility features. It is 100km from the Sunshine Coast, 70km from the Gold Coast, and 40km from Ipswich. Remote consultations are also available for other locations in Queensland and Northern Territory.
Our Brisbane team is made up of Queensland locals and includes two of our most skilled jewellers, Ben and Alex. Ben and Alex are invaluable members of the Larsen team and have created many beautiful engagement rings in our Melbourne studio over the years. Now, with over 50 years of industry experience between them, they have returned to their roots in Brisbane.
You can learn a bit more about each of our Brisbane jewellers below.
Ben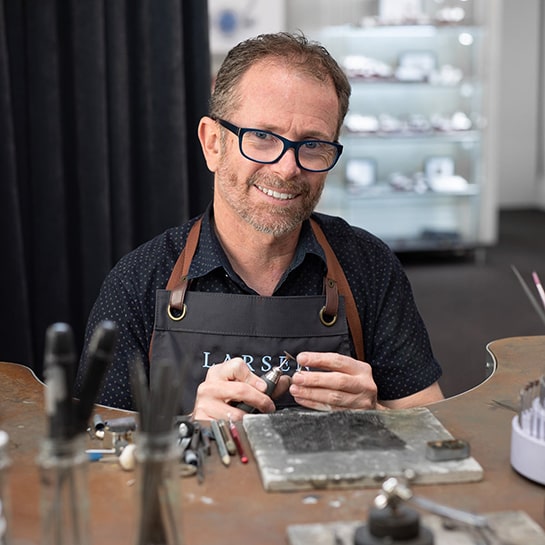 Meet the manager at our new Brisbane studio, Ben.
Ben is a master of balancing the best aspects of design and functionality in his work. He specialises in creating gorgeous custom jewellery and timeless engagement rings.
Ben's journey with jewellery design and production began in his home city of Brisbane. Having always loved intricate hobbies, he began a jeweller's apprenticeship at fifteen. It was the perfect career choice and sparked a life-long passion for jewellery.
Ben commenced his training at the now-defunct Kangaroo Point TAFE in 1987. Here he learned traditional techniques and how to create jewellery by hand. For a short time after completing his apprenticeship, he was Queensland's youngest jeweller. He practised his craft at a small jeweller in Brisbane's south side.
In 1998, Ben began work with a large manufacturing company. This experience taught him how to pair his existing skills with more modern methods. He also trained four apprentices, before moving to Perth in 2007.
After leaving Brisbane, Ben worked in one of Perth's leading high-end jewellers. He further honed his skills while crafting many exquisite, artistic pieces there. His work combined fine metalwork with unique stones such as Argyle pink and cognac diamonds. He would also train two further apprentices in Perth, before moving to Melbourne in 2016.
It was at this point that Ben joined Larsen Jewellery. Since then, he has further added to his extensive experience at our Melbourne studio. Ben would become assistant manager for this studio before returning to Brisbane.
Alex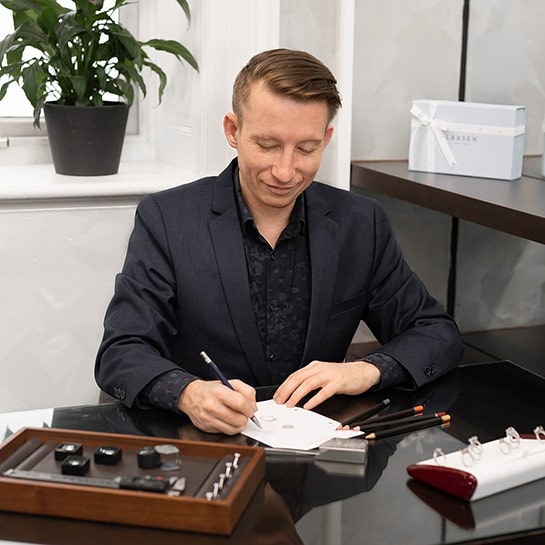 Meet Alex, an experienced jeweller at our new Brisbane studio.
Alex is an expert at designing unique jewellery pieces. His speciality is transforming the classics with an unexpected modern twist. You can be sure an engagement ring designed by Alex is one-of-a-kind.
A second-generation jewellery tradesman, Alex also grew up in Brisbane. He began his apprenticeship in 1998. Like Ben, he trained at Kangaroo Point TAFE before its closure. During this time, he would learn both handmaking and bespoke design.
A talented craftsman, Alex's skills have led him to earn several awards and accolades. This includes recognition at the Jewellers Association of Australia (JAA) Australasian Jewellery Awards. These awards recognise exceptional design skills and artistry within the Australian jewellery industry.
Alex's designs have reached the finals of these awards five times. In 2006, Alex won the Coloured Gemstone category. His winning entry was a distinctive white and rose gold sapphire ring.
His favourite creation so far is his entry for the 2014 JAA awards, for which he was also a finalist. The ring features brilliant black and white diamonds set into 18ct white and rose gold.
Alex joined Larsen Jewellery at our Sydney studio in late 2014. Shortly after, Alex would move to our Melbourne studio. After eight years at Larsen, Alex has returned to his home city to create many more gorgeous pieces as part of our Brisbane team.
Book an obligation-free appointment with Ben or Alex today at our new Brisbane studio! Contact Larsen Jewellery Brisbane on (07) 3051 0839 or send us an email at brisbane@larsenjewellery.com.au. We can't wait to hear from you!
Related Posts