Melbourne's Best Small and Intimate Wedding Venues
You can surely say there are unique and intimate wedding venues in Australia, if you want to exchange your wedding rings in Melbourne.
There have been a myriad of reasons for engaged couples to keep their wedding intimate or small over the last few years, whether it be only friends and family, a micro-wedding or even an elopement. In Melbourne, people are forgetting about the grand ballroom venues and instead are getting married in some unique and intimate locations.
Whether you're looking for a small wedding venue for you and some family and friends or some micro-wedding ideas, it is important to remember that this special day is for you and you should be thinking about what you want to make your day special!
In saying that, there are a variety of things that you can do if you're looking to get the most out of your wedding experience.
Small Wedding Venues Melbourne
When looking for a small wedding venue, you may need to get creative with how you want your day to go. Is it going to be an affordable, small wedding or will it be extremely extravagant with all the bells and whistles? Much like choosing an engagement ring!
If you're looking for unique wedding venues in Melbourne, it may benefit you to look at some lesser-known venues that are tucked or hidden away. Whatever reason you are using a small venue for, make sure you choose the right one for your style of wedding.
The Altar Electric
One of the top small wedding venues, The Altar Electric, has been in the intimate wedding space for years and is the perfect venue for an intimate ceremony and reception.
Hidden within the industrial backstreets of Collingwood, The Altar Electric is full of character and can cater for parties of up to 30 people. Their venue has been updated and aesthetically designed by local party heroes, the Good Day Club, which makes this venue a funky and affordable place for you to have your wedding in Melbourne.
If you're looking to make your ceremony more intimate, you can always organise a shotgun wedding with just you and your witnesses present. The best part is that it's one of the few smaller wedding venues where the cost is under $100 per person.
Rupert on Rupert
Another local Collingwood small wedding venue, Rupert on Rupert is in industrial surroundings and can be described as one of Collingwood's hidden gems. Accommodating both larger and smaller wedding celebrations via the use of its three different areas, it is very unique in how it can be scaled to suit any size celebration for couples and their guests.
Draw-cards for this venue are its combination of cosy corners, expansive spaces and communal tables that create a whole spectrum of memorable moments for patrons. The main attraction of this venue is the exuberant indoor garden, quirky vintage furniture, and collection of steel, copper and glass that creates an ambient sun-drenched warmth.
This wedding venue combines the aesthetic of a mysterious sanctuary with an undiscovered backstreet gem being a hospitality nexus within Collingwood's inner city.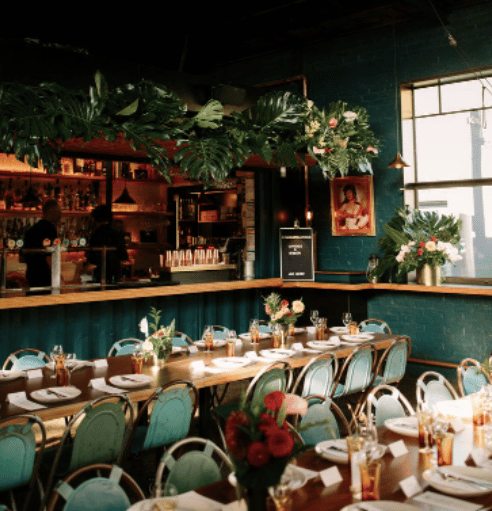 Two Ton Max
Located in North Melbourne behind an unknowingly anonymous street front, Two Ton Max is a blank canvas style warehouse space that has been repurposed for unique wedding ceremonies.
Two Ton Max is one of the best small wedding venues in Melbourne with its freedom of choice in decoration and furnishing to the choice of caterer and entertainment. This space is the perfect venue if you have a clear vision of what you want to create for your special day and have the means to do that. There are also some great outdoor spaces including exposed brick walls, aesthetic alleyways and beaming sunlight within the warehouse.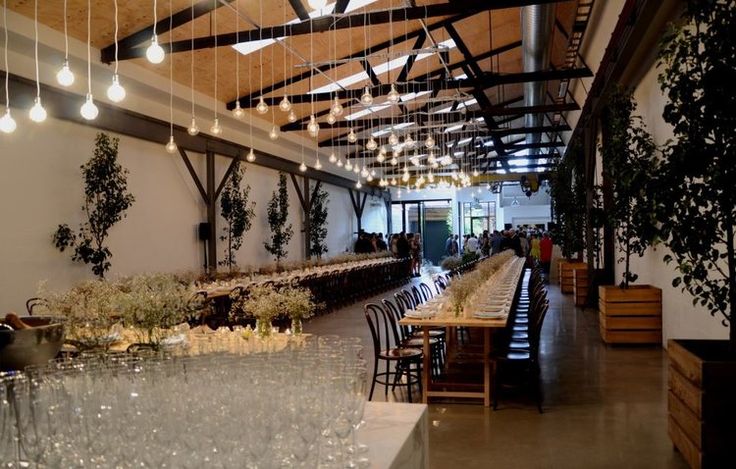 Similarly to other venues, Two Ton Max can be compartmentalised to cater for between 20 – 50 people and beyond to accommodate weddings that vary in size. The venue offers you the opportunity to create an extremely unique event as you make it to exactly your style.
Prince Deck At The Prince Hotel
The Prince Deck is one of Melbourne's most well-known waterfront wedding and event venues. Located in St Kilda, the angular layout of the space makes it ideal for enjoying the heavenly setting of picturesque, waterfront location panoramas matched with the Melbourne skyline.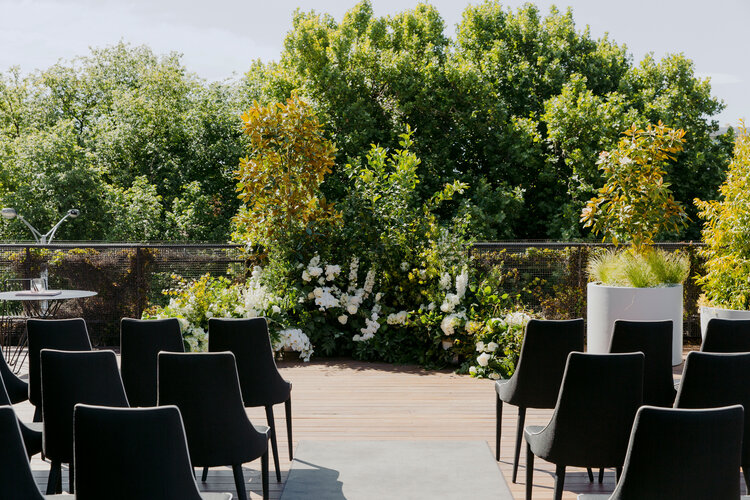 Being superbly stylish and modern in design, this venue is prepared for any type of wedding or event with minimalistic yet natural detailing both inside and outside of the venue for a boutique feel. The extravaganza continues as entertainment can also be supplied by Prince Deck making it an extremely classy yet tailored venue for couples to tie the knot.
The Prince Deck also offers a private dining room for after the romantic wedding ceremony and is one of the only wedding venues that offers a beautiful view of Port Phillip Bay.
Seaview Room At The Brighton Savoy Hotel
Looking for a beachfront style wedding ceremony for your dream wedding? Brighton Beach hosts the Seaview Room at the Bright Savoy Hotel which is one of Melbourne's most beautiful locations. Only 12km from Melbourne's CBD, the beachfront venue is home to the iconic beach boxes, luxurious golden beaches and the even more tranquil waters of Brighton.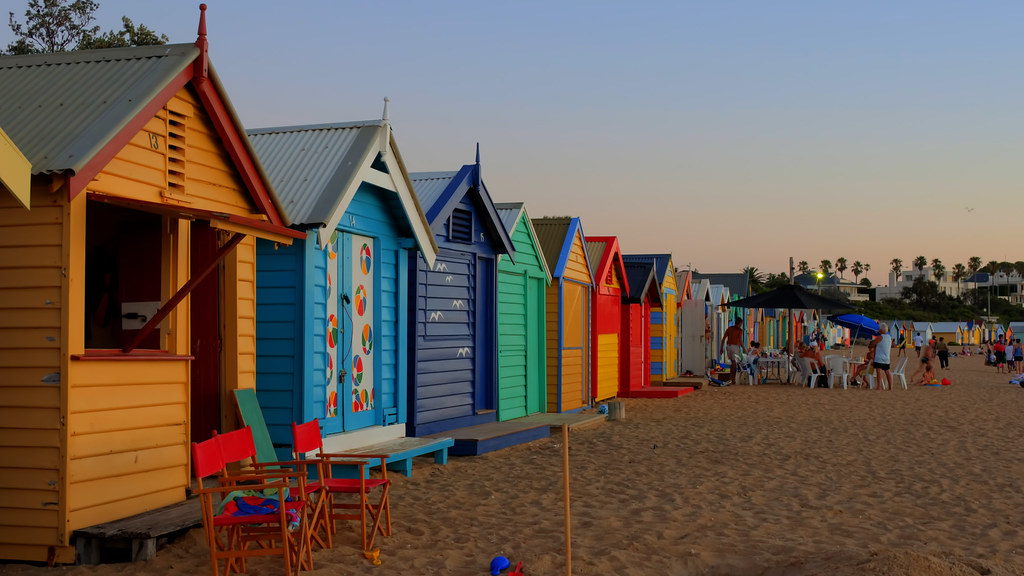 The opulent Brighton Savoy Hotel can more than accommodate your wedding guests and has plenty of wedding reception options. The Seaview Room specifically has unmatched views of Port Phillip Bay setting the tone for a wonderful day and evening with sand and sea just steps away.
Within their wedding packages, they also offer beach ceremonies to give you the opportunity to feel the sand between your toes and the ocean just metres away as you say I Do. Of course, the option of a ceremony on the Seaview Rooms lawn surrounded by lush tropical trees and your loved ones is also an option.
ALTO Event Space
ALTO Event Space is one of Melbourne's premier venue specialists offering a boutique wedding for any style. Including extravagant packages are filled with options a dance floor, sit down dinner or unique, stylised wedding ceremonies for you and your partner.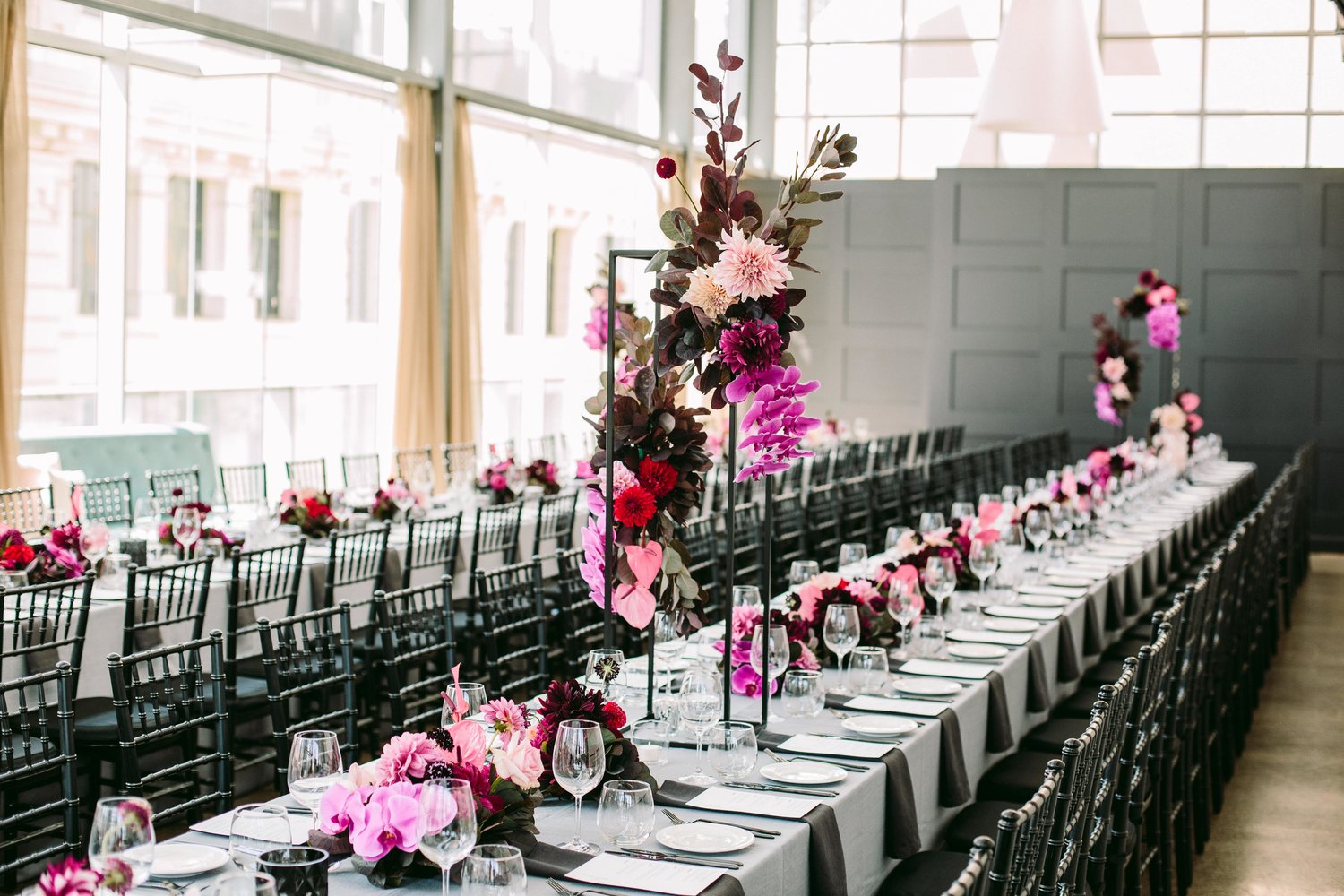 Located on the top floor of Melbourne's GPO, in the very same building as Larsen Jewellery Melbourne. This event space also caters to corporate clients as a function venue and even private events with a large outdoor terrace area, polished floors and a stunning brass bar to create many intimate spaces within the venue. The ALTO is a fabulous venue for a wedding of any size.
Small Warehouse Style Weddings
Are you looking for an intimate space that is more rustic and can cater for smaller weddings? It may be an option to look into a small warehouse for your wedding day in Melbourne. These venues are all about small weddings for individuals who like warm lights, exposed brick walls, natural fixings, concrete floors and some design freedom for their wedding day.
The Glasshaus Inside and Glasshaus Outside
Glasshaus provides couples with two options for their small wedding in Melbourne. You can opt for a warehouse jungle inside with polished concrete floors and floor to ceiling glass, or swap the warehouse space for an aviary if you would rather have an outside ceremony with natural light.
Tucked away in Richmond, Glasshaus is located just outside Melbourne CBD for couples wanting a grittier, concrete jungle feeling where nature is just another part of the celebration.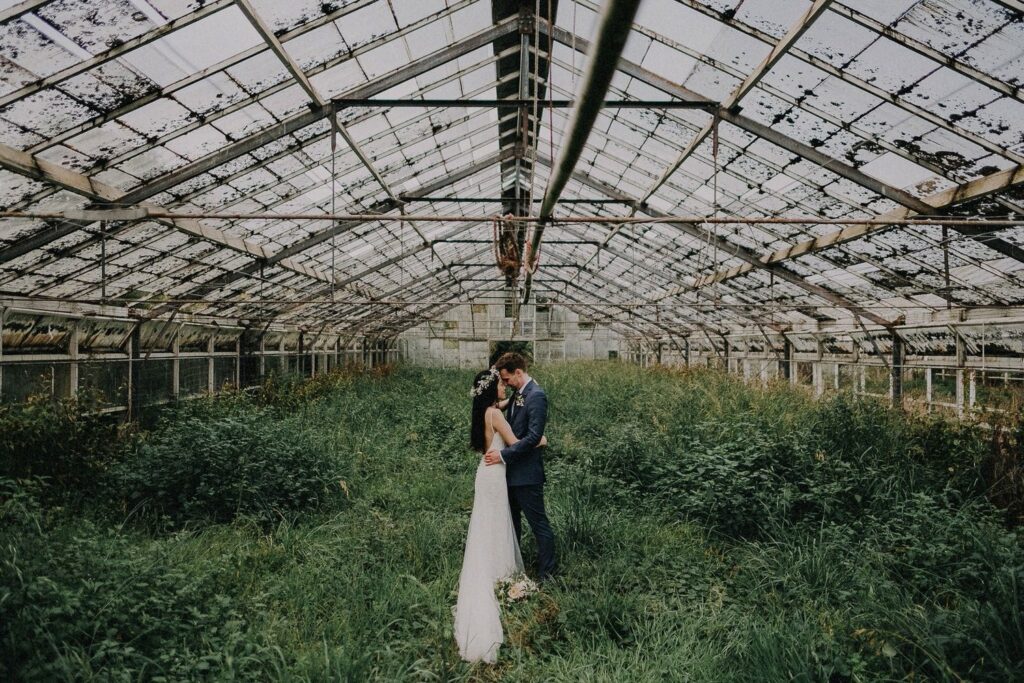 Forget the grand ballroom and vintage illumination of old school ceremonies and wedding receptions and consider a hidden gem with a glorious jungle spread where industrial chic meets botanical splendour.
Gather and Tailor
If you're looking for a bespoke Melbourne venue to match your bespoke Melbourne engagement ring, Gather and Tailor are an impressive venue with dual warehouse spaces. These blank and empty spaces can be arranged in any way that you like to get as close to your dream wedding as possible.
Perfect for venue hire, this venue comes with venue operators that can accommodate for weddings of all sizes and can host you a personalised small wedding at their venues. The beautifully distinct urban, concrete jungle feel is perfect for couples wanting to feel natural vibes within the cityscape of Melbourne.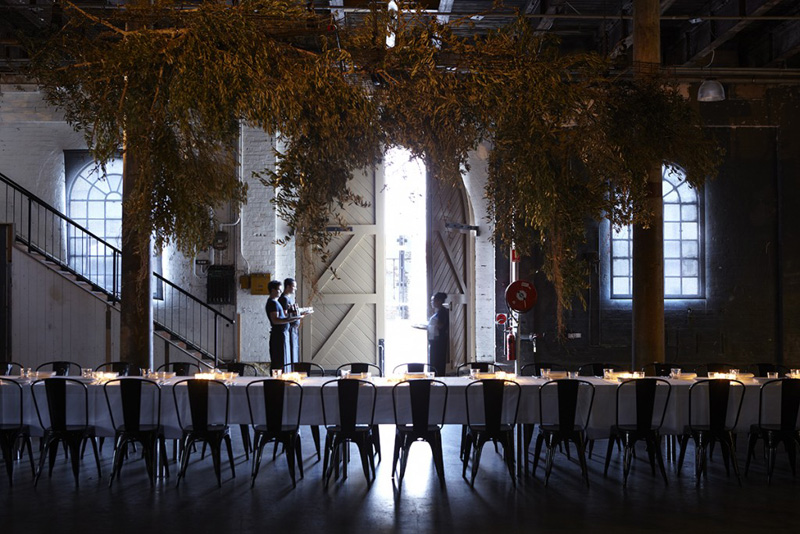 The Wool Mill
An absolutely elegant and glamorous small warehouse venue in the heart of Brunswick East, The Wool Mill is an urban minimalist's dream. The venue boasts a long warehouse with exposed brick within and a modern white interior with striking black beams and a sky high ceiling to make anyone's heart swoon.
The Wool Mill's industrial, rustic beauty is set over two levels and gives any of your guests a unique venue experience. This is the perfect location for concrete jungle lovers and minimalists alike.
Intimate Wedding Venues
If you're looking for elopement venues for you and your significant other, there are many venues or ideas that will be more than suitable for you.
The best part about intimate weddings is that there really isn't anyone to impress. It's just you, your partner, the wedding venue and anyone that you think should be there to see your special day. If you want an intimate wedding, don't be afraid to just tie the knot.
Micro Weddings: An AirBnb
This is the only venue that is technically the same anywhere you go in Melbourne! If you're looking for an even more intimate wedding venue, why not elope and hire out an AirBnb for you and your partner and maybe a couple of friends! On the plus side, this is the only wedding venue that is technically the same anywhere you go in Melbourne. Consider the Yarra Valley or Carlton Gardens for a more rustic, industrial feel.
However, be aware that some AirBnb owners will not allow guests to host 'parties' including receptions. It may be best to keep this idea extremely small if it does cross your mind.
I Do Drive Thru
Remember when the Covid-19 pandemic was in full swing and weddings would allow for a maximum of 5 people in total? Well, Melbourne local Mel of The Ceremony Store came up with a hit small wedding and elopement concept that went viral throughout Australia and straight into the US. It is called I Do Drive Thru.
The best part is, these celebrants create an extremely memorable and intimate experience from your car or anywhere that you want! The most important part is celebrating the bride and groom, taking away the need for the exuberance of a grand ballroom or church and replacing it with the love shared between the married couple.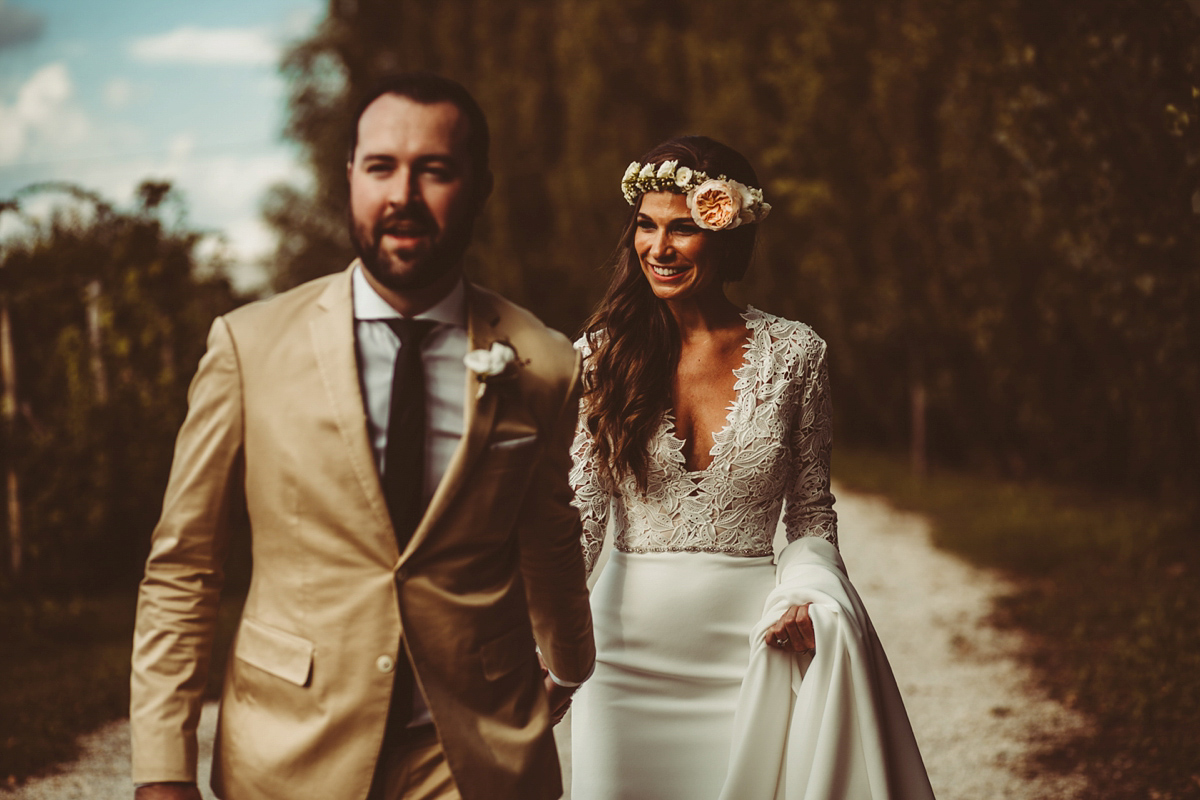 While it is more of an elopement ceremony than a wedding venue (as you choose your own public space), you can decide wherever you would like to get hitched as you and your very close friends celebrate. Given that, this also makes I Do Drive Thru one of the least expensive and most affordable wedding venues that Melbourne has to offer.
Small Garden Wedding Venues
For some couples, picking a wedding spot in a local park, national park, botanical garden or even their own backyard is their version of glamour, beauty and celebration. Getting back to nature with a small, intimate wedding with your closest friends.
Within Melbourne, and a little further out, there are a plethora of stunning gardens and estates to choose from with ubiquitous and exquisite collections of greenery.
Gardens House – Royal Botanical Gardens
Brides and grooms in Melbourne can find the most charming, lavish and gorgeous garden that is cut straight out of a fantasy novel at Garden House. Built in 1854, this venue has a rich history and is most popular with small, intimate groups to become enveloped in its natural, enchanting beauty and sophisticated allure.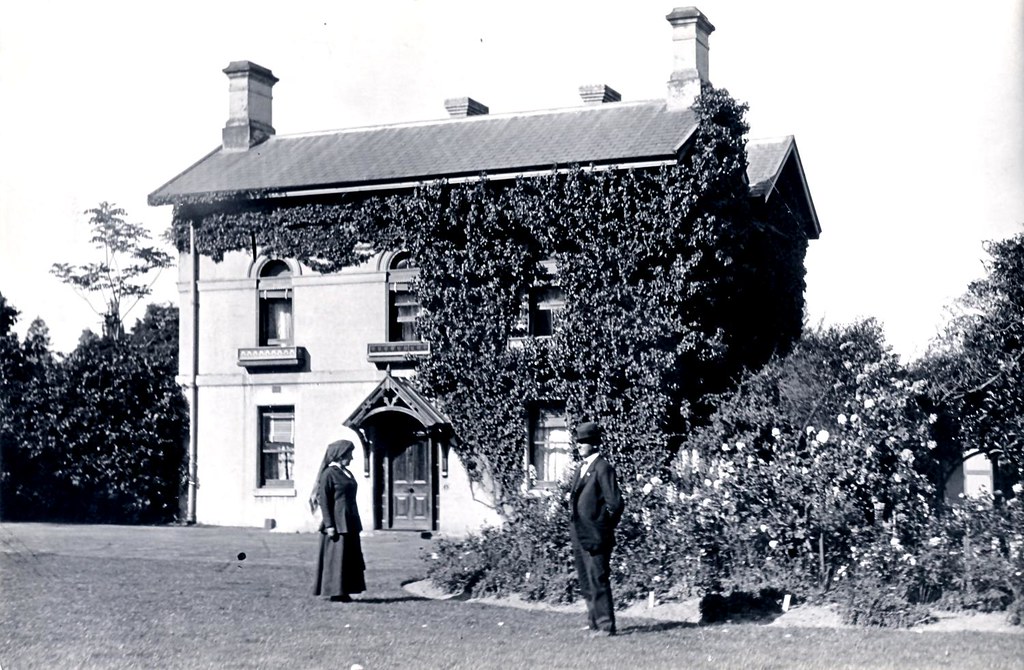 The Gardens House is hidden away in the secluded and lush gardens of Melbourne's botanical gardens. At this venue you can feel the warm sun on your skin as you give your vows or celebrate under the stars for ambience under the moonlight. Whichever you decide, it is sure to be a day, or night, to remember.
The Garden – Ludlow Bar & Dining Room
The Ludlow Bar & Dining Room is located on the banks of the Yarra River in the heart of Southbank. You can be mesmerised by a stunning riverside sunset or a late night ceremony with the stars above, Ludlow is designed to suit your needs and requests from. This venue is especially great for couples who want a mix of cityscape and garden magic.
Creating an intimate experience for you, your partner and any guests you invite to your wedding is becoming more important as time goes on. The pandemic has really put into perspective who you want to spend the rest of your life with and the people you will allow into it. So, when thinking about a wedding venue in Melbourne, think about how you want to remember it, not how others will.
Related Posts