Men's Wedding Rings: 18ct Gold
The most common choice of metal for gents wedding rings is 18ct gold. There are many guys who have their heart set on a platinum wedding ring due to its reputation as the superior choice however they soon learn 18ct gold is also a fantastic option that is more affordable and will stand the test of time. Unlike platinum (which is always white), 18ct gold is available in a range of colours, the most popular being white, closely followed by yellow and rose gold.
When men decide on gold for their wedding ring the majority choose 18ct, however, there are some men who debate over whether to opt for a lower carat. There is a commonly held belief that 9ct gold is harder, but in reality, especially in the case of white gold, they wear away more quickly. Although you will pay a little more for 18ct, the gold content is twice the amount of that in 9ct gold. In our opinion 9ct is a great option for dress jewellery not ideal for everyday wear. For a special and sentimental piece of jewellery, such as a wedding ring which will be worn every day, spending that bit extra is worth every dollar.
When it comes to designing an 18ct gold wedding ring the options are endless. If you want something classic and traditional, then a plain gold band could be perfect for you. But if you prefer something a little less traditional, there are many options available. From combining different coloured metals to adding diamonds or coloured gemstones, experimenting with surface treatments or interesting engraved patterns, there are many ways to create a unique 18ct wedding ring.
Here are is a selection of 18ct gold wedding ring from the classic, half round to the most unique.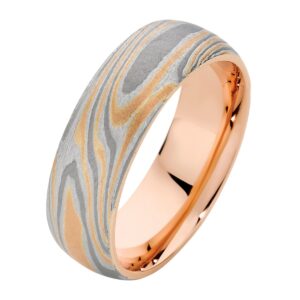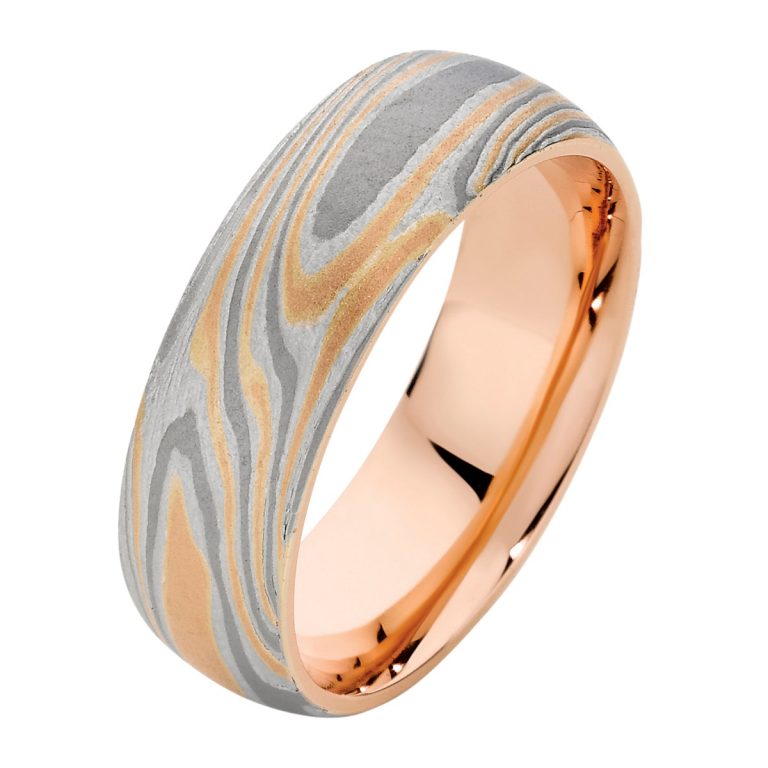 'Mokume Jupiter' – using an ancient Japanese technique to fuse and work different metals together to create a stunning woodgrain effect.
For men who love a hint of sparkle, try 'Bordeaux' featuring one princess cut diamond.
For the modern man a clean, flat white gold band featuring one engraved line and a matte finish.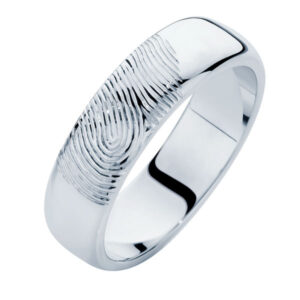 The ultimate sentimental ring featuring a hand engraved design of your significant others finger print.
A modern take on the classic gold wedding ring featuring two engraved side lines and contrasting matte and high polish finishes.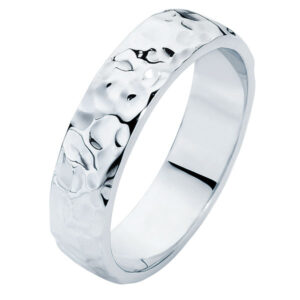 For men that work with their hands! Experiment with textured hammered finishes with a 'Hammertone' ring.
Related Posts