Mens Engagement Rings and Wedding Rings
It is a tradition that the man that gets down on one knee and asks his one and only for their hand in marriage. But with time, traditions change, some go out the window and some adapt to the times. So when the question of whether men can wear engagement rings crops up, our answer is simply… Why not?
Engagement Rings For Men
In a world where equal rights reach into many facets of life. And one of those facets is personal and important to us all and that is marriage. With equal marriage rights becoming the norm around the world, we have seen an exciting overspill effect on the wedding industry. And one of those is that the tradition of the engagement ring is now no longer exclusive to women. Some prefer to call it a men's promise ring but we think this sounds a little less official. Typically promise rings are given as a promise of a future proposal of marriage.
Not only are we seeing a rise in men coming in to design a ring for themselves, but we are also seeing another trend. Women who have decided to not conform to society's dated traditions and wait for the partner to ask for their hand in marriage. They're taking the ball in their court and catching their man off guard by proposing when they least expect it. It is not only us who have found this trend taking off, back in 2012 The Knot and Men's Health undertook a survey with similar findings. They that found 17% of men wound not be against wearing an engagement ring or some form of 'premarital bling' as they described. This is not only happening in mainstream society, but it has also been happening for some time in Hollywood as well.
What Famous Men Wear Engagement Rings?
Ed Sheeran has broken romantic hearts across the globe and proposed himself. That's right, the guy whose voice has been in the background of many proposals and weddings has "found a girl". And while everyone is checking out what ring he chose for his lucky lady we are loving the fact that he is wearing an engagement ring himself!
Sheeran proposed to his high school sweetheart, Cherry, with a stunning diamond engagement ring. But when he was spotted wearing a ring on a certain finger, the tabloids went into overdrive. At first, most assumed that the couple had got married in a secret ceremony, but it didn't take long for Ed to confirm that it was, in fact, his man-gagement ring.
So, what kind of ring does a romantic like Ed Sheeran wear? Well, Cherry, his fiancée actually made it herself out of silver clay and he loves it. He also questioned why more men don't wear engagement rings saying, "I never saw why men didn't wear engagement rings, it is the same commitment either way".
We think this will give the trend of men opting to wear an engagement rings a little extra momentum.
In recent years there has definitely been a rise in the popularity of men's engagement rings. As men become more expressive in their style, some take the dive and choose to wear an engagement ring. We hope that men who like the idea of wearing jewellery continue to follow suit and don't hold back. In saying that, we are confident that we are a long way from the day when sales of engagement rings for guys overtake ladies' engagement rings.
For guys who are inspired by Sheeran's move, here is a selection of rings perfect for a gent's engagement ring:
Mokume Rose
Ed Sheeran's style – the classic white gold ring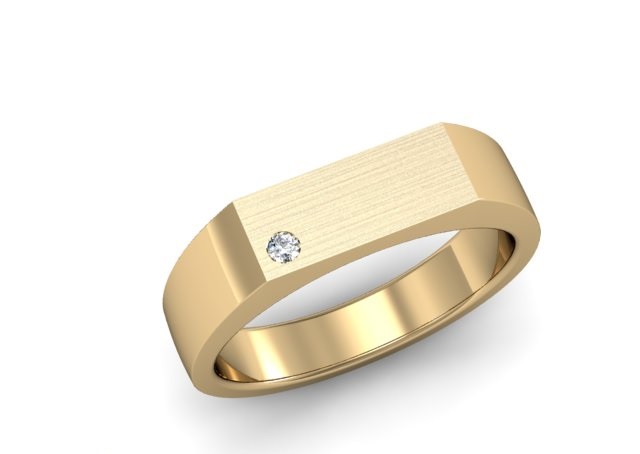 18ct yellow gold ring with a flat top surface, contrasting textures and one small white diamond
For the guy that doesn't shy away from a bit of bling!
What Diamond Rings Can Men Wear
Diamond rings reflect confidence, style, elegance and prestige. Not only are they an exquisite choice, but they also offer a wonderful update to the classic men's wedding band. When considering adding diamonds to a custom made ring, your design options increase dramatically. Match your wedding ring to your partner's or simply create your own unique design.
Choosing to set a diamond, or diamonds, into your ring does not mean that your design has to be ostentatious or feminine. Diamonds can stand out and be the life of your design or they can hide on the side or the inside of the ring where they become a subtle feature. Choose a classic white diamond or opt for a more masculine coloured diamond, such as black or cognac. Whatever you choose, your custom-made diamond ring will set itself apart and stand as a distinctive piece on its own.
What Are Popular Wedding Ring Styles For Men
Wedding ring shopping is not at the top of every man's list of fun things to do. Let's be honest there are other ways most men would prefer to spend their Saturday. The process of choosing a wedding ring can be quite daunting, particularly for those who have never worn much jewellery before.
To make the decision process easier, we have created a large range of designs to cater to every man's unique style. Being custom made, any design is possible and you are not limited by the range shown on our website. If you want something unique, then one of our jewellers can work with you to come up with a design to suit you perfectly.
To give you an idea of what's trending amongst men today, here is our gallery of popular men's wedding rings.
How to Choose a Men's Wedding Ring
Whether you're after a classical rounded band, or something more detailed, there is a design for everyone.
We've listed the important factors to decide on when shopping for men's wedding rings:
Metal
The most common choices are 18ct White, Rose and Yellow Gold, or Platinum. Other great options are Mokume, Titanium and Zirconium.
Profile
The profile is the shape of the band surface, which is the edge you can see whilst wearing it. This may be flat, slightly rounded or very round. It is a matter of personal taste what will suit you best.
Width
The width of the ring is another question of taste, although some men will feel uncomfortable wearing a wider-than-average band. An average men's band would generally be between 4.5mm and 7mm wide. Much wider than the typical ladies wedding ring. You will be wearing your wedding ring every day for the rest of your life, so spend some time making this choice. Try on different rings to see what feels most comfortable for you. Keep in mind also, that with most men's wedding rings, it is a good idea to request a 'comfort' fit. This is where the inside of the wedding ring has a slight curve for extra comfort – this will come at no extra cost.
Finish
The finish of the band refers to its texture and will determine what the surface your ring will look like. For example, a high polished finish is very shiny and sleek, whereas a matte finish has no shine and tends to stand out less. These are the most popular finishes, there are others for those looking for something outside of the norm. Combining contrasting finishes can look fantastic, especially on a two-tone wedding ring. Choose a matte finish with contrasting polished sidebands. Or if you work with your hands, then why not choose a wedding ring with a 'hammer tone'. This is a planished look where any little knocks and dints will continue to add character to your ring over the years.
Detailing
Adding detail to your wedding ring can be done in many ways. When a plain band is not quite enough, you have the option of adding diamonds, engraving, cut lines, grooves and more.
How To Design a Men's Wedding Ring
First, you want to consider what style of wedding ring you will wear. Your bride to be may now be on the hunt for another dazzling ring and you too are deserving of something special for your wedding ring finger!
If you have already bought an engagement ring, you are familiar with the world of jewellery. Almost an expert after all the love and energy you poured into finding the perfect engagement ring. You understand that when it comes to custom made jewellery, there is no shortage of choice!
A classic wedding ring is timeless and elegant but what if, like many men, you are not accustomed to wearing jewellery? Or what if you are after something that is more individual and unique? Believe us, there are no limits to where your imagination can take you.
Classic or Unique:
If you are looking for something a bit more personalised than a classic wedding ring, then there are many ways to add your own creative twist. Create a modern style ring by adding engraved lines or patterns or mix metals for a two-tone band.
Ultimate Unique Wedding Ring:
Perhaps the most unique style of wedding ring is a Mokume Gane band. Mokume Gane is an ancient Japanese technique that layers different coloured metals to create a wood-grain effect. Mokume Gane wedding rings look fantastic with contrasting metal sidebands or even with small diamonds. Choose from different coloured metal combinations. One of our favourites is white gold mixed with rose gold.
Engraving:
Adding engraving is a wonderful way to personalise your wedding ring. Choose a lovely message for the inside of your wedding ring or create a unique pattern to be hand engraved on the outside. The ultimate way of personalising your wedding ring is to have your partner's fingerprint engraved into the band.
Why not add some bling!
Ladies are not the only ones deserving of a bit of bling. Why not add a diamond or coloured gemstone to your wedding ring? It does not need to be ostentatious and over the top, consider a subtle addition to complement your wedding ring design. Some men like the idea of adding a small diamond to the inside of their wedding ring, a perfect way to create a secret match with your partner's band!
As you can see, a traditional yellow gold wedding ring is no longer your only option. There are countless ways to create a unique wedding ring for you. Take the time to try on many different styles and do not hesitate to ask as many questions as you can. After all, that is what your jeweller is there for, to help and guide you so that you make the perfect choice for you! Good luck guys!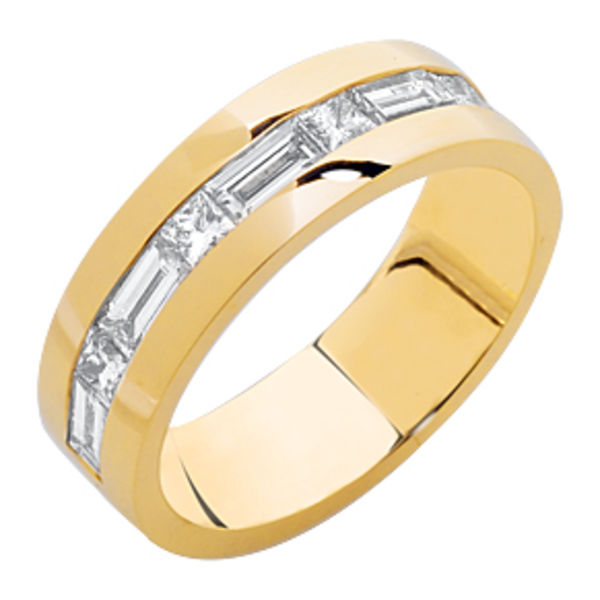 More Tips On 18ct Gold Wedding Rings For Men
The most common metal choice for gents' wedding rings is 18ct gold. Unlike platinum (which is always white), 18ct gold is available in a range of colours. White gold is the most popular followed by yellow and rose gold.
When men decide on gold for their wedding ring the majority choose 18ct, but there are some men who debate over choosing a lower carat. There is a common belief that 9ct gold is harder, but in reality, especially in the case of white gold, 9ct will wear away much faster. Although you will pay a little more for 18ct, the gold content is twice the amount of that in 9ct gold. In our opinion, 9ct is a great option for dress jewellery but is not ideal for everyday wear. For a special and sentimental piece of jewellery, such as a wedding ring which will be worn every day, spending that bit extra is worth every dollar.
When it comes to designing an 18ct gold wedding ring, the options are endless. If you want something classic and traditional, then a plain gold band could be perfect for you. But if you prefer something a little less traditional, there are many options available. You can combine different coloured metals or add diamonds or coloured gemstones. Experimenting with surface treatments or engraved patterns can create interesting features. There are many ways to create a unique 18ct wedding ring.
Here are is a selection of 18ct gold wedding ring from the classic, half-round to the more unique.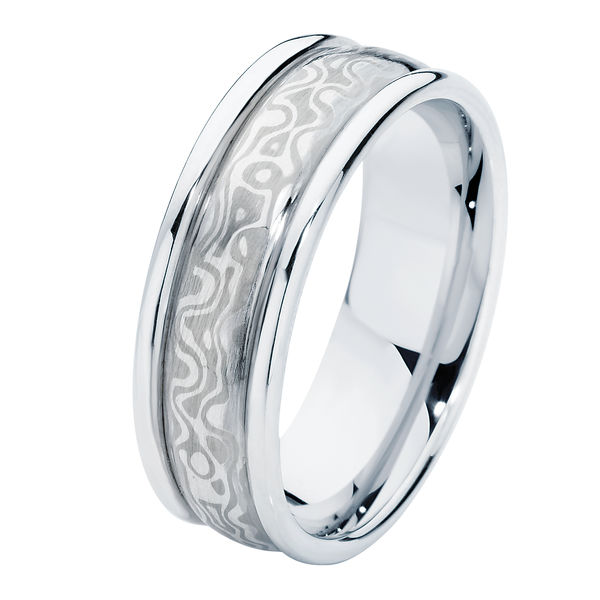 The stunning two-tone Mokume wedding ring. A Japanese technique where different metals combine together to create a unique wood grain finish.
The 'Union' a two-tone 18kt yellow gold and white gold gents wedding ring.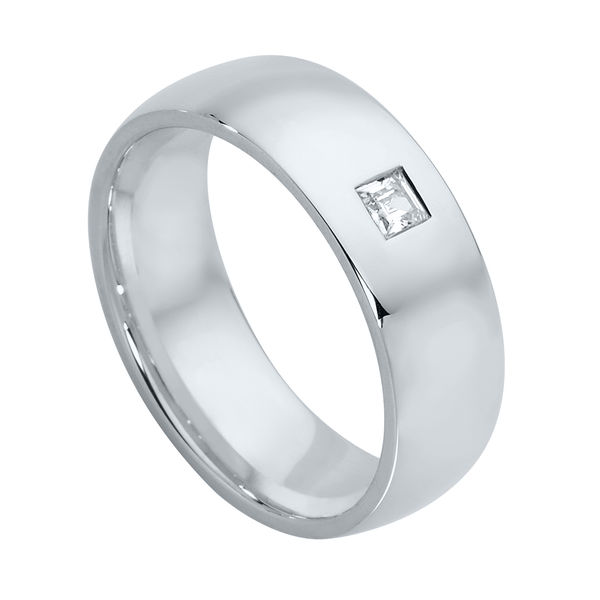 The 'Bordeaux' for guys who like a hint of sparkle.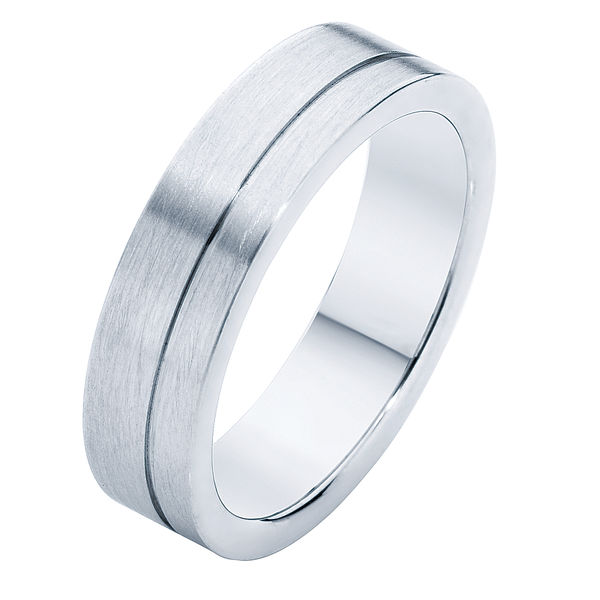 For the modern man, the 'Magnus'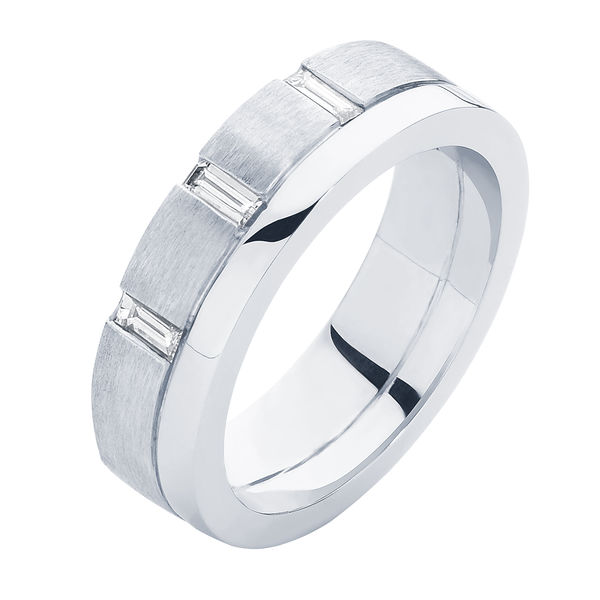 The 'Baguette Men's', a unique gents wedding ring featuring three baguette diamonds
The 'Hammertone', for the guy who works with his hands
Looking for a gents wedding ring with a point of difference? Does your interest begin to wane when your partner is trying to discuss what style of wedding ring you would like? A common request we hear is "Something different, interesting, masculine, and nothing that makes me feel like I'm wearing my Dad's ring". If this is sounding just a little familiar, then now might be the time to introduce you to the idea of two-tone wedding rings.
What are two-tone wedding rings exactly?
As the name suggests, 'two-tone' or 'mixed metal' designs combine two different metals in one ring. There are several different ways to combine different coloured metals. You may choose to divide your ring into thirds, two-thirds one colour and one-third a contrasting colour. Another great combination is having a contrasting metal inlay in your ring. You can enhance this with a line carved around it to highlight the difference in colour.
What is the best thing about choosing a two-tone wedding ring?
The best thing about two-tone wedding rings is that your options are endless. Forget any rules you may have heard, and embrace the versatility of mixed metal rings. Choosing the right balance and harmony of two different metals can create a striking and individual design. The perfect choice if you or your partner are looking for a wedding ring that stands out from the crowd.
Can you mix different metals?
Yes, you can. For example, you can pair platinum with rose gold, or titanium can have a coloured gold inlay. Usually, white metals, platinum or white gold, are the dominant colour and yellow or rose gold will create the contrast.
If two-tone rings sound like the right choice for you, enlist the help of a good jeweller to create the perfect design. They will execute a well-balanced fusion of metal and a design that represents your personality.
How To Design Matching Men's and Ladies Wedding Rings That Aren't Tacky
There is a misconception that choosing matching wedding rings means they have to be identical. Of course, if this is what you wish for then go for it but there are many ways to create his and her wedding rings without needing to compromise your own taste. Adding small details into both designs can be what weaves your love story into your rings so that forever, they are two halves that make a perfect set.
Engraving
One of the most commonly used techniques to tie two rings together is to include an engraved message into the inside of your ring. Usually, these feature your names and the wedding date, but you may also include a short message of love. Or for a unique and sentimental touch, you can have each other's fingerprints engraved into the surface of your ring.
Gemstone or Diamonds
Include the same diamond or gemstone into both of your rings. It can be just a single stone or a row of diamonds. Or set one in the inside of your rings. A little secret detail that you share between the two of you.
Metal
The one consistent detail between both of your rings may simply be the metal colour you choose. The designs themselves might be completely different, but the main element, the metal, ties them together.
Texture
A highly polished surface is the classic choice for a wedding ring but there are many lovely and unique ways to finish your wedding ring. You can add texture onto the surface, beaten bands, matte finishes or etched surfaces are popular choices. You might also consider choosing a symbolic pattern to have hand engraved around the outside of both of your wedding bands.
Themed Wedding Bands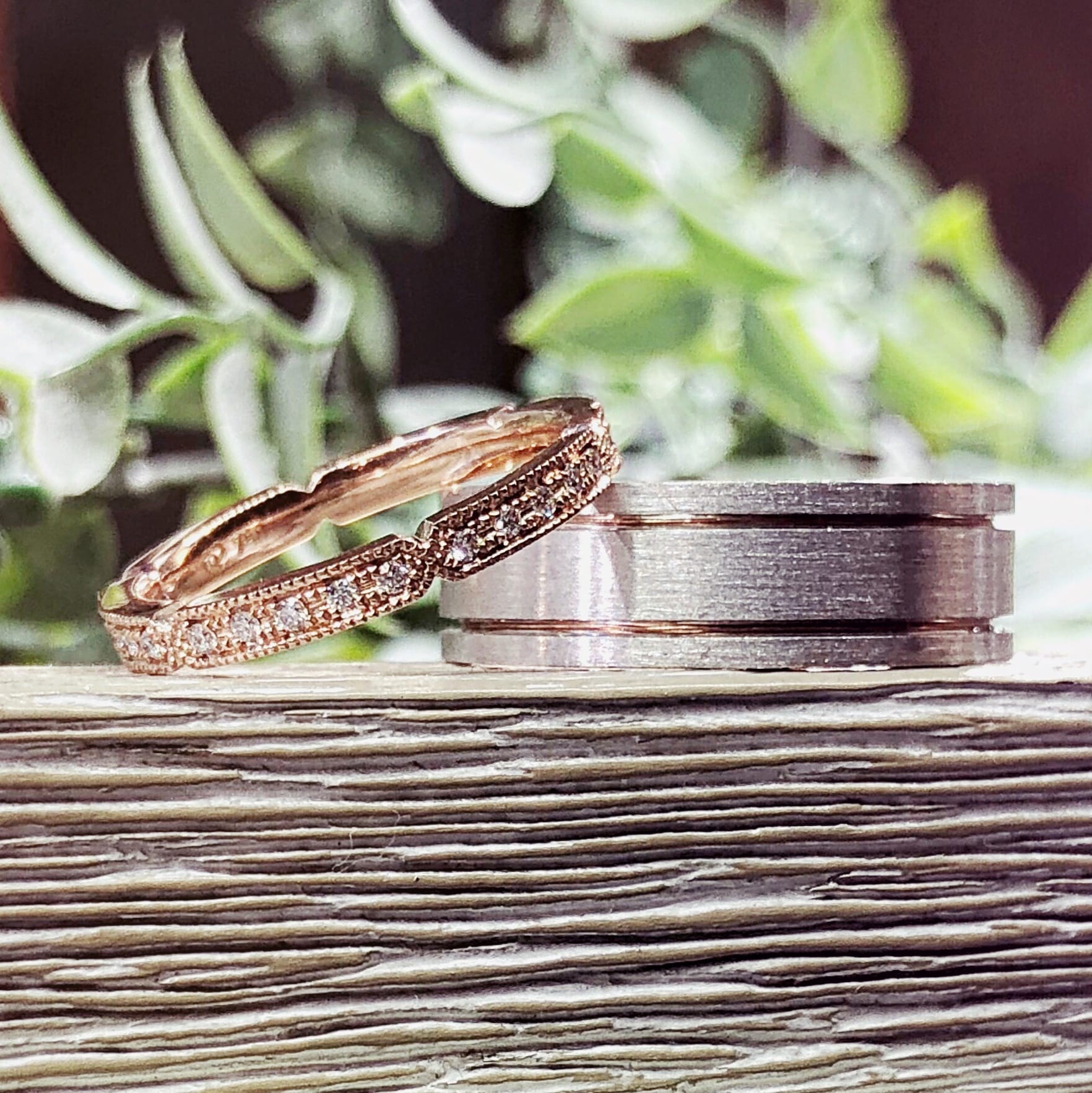 There are many eras of design to draw inspiration from. Perhaps you both love Art Deco architecture and design or maybe it is a particular style such as gothic, vintage or modernism. Entwining your appreciation for design can create a beautiful story linking your bands together.
What other Jewellery Can Men Wear?
Cufflinks are the finishing touch to a well-dressed man. The most popular item of men's jewellery, after the wedding ring, is the cufflink. They are also quite practical, serving the purpose of keeping those shirt cuffs at bay.
Upon a visit to our studio, you can view and try on some of our cufflink designs. A great idea is to have cufflinks engraved with the initials of the wearer, they can even double as a personalised gift for your groom and groomsmen. If you have a unique design in mind our jewellers can also custom make them for you.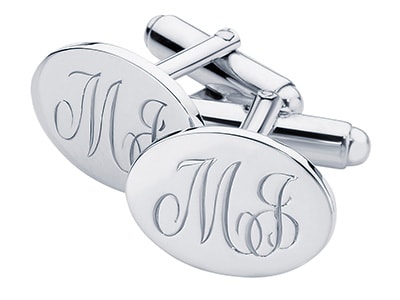 Cufflinks originated way back in the 1200s when a string was used to fasten gents shirt cuffs. Since then, they have become a staple in any businessman's wardrobe and a necessity for most men on any formal occasion. Over the years, they have become a beautiful and functional piece of jewellery and a desirable alternative to boring buttons.
If you have not tried them, we suggest giving them ago. They are the perfect final touch on a semi-formal/formal outfit. You will quickly notice how many compliments you receive.
What are cufflinks?
They are separate, removable objects that fit into buttonholes on the sleeve of French cuffed shirts. They come in all shapes and sizes and if you can't find what you want, they can always be custom made for you.
How do cufflinks work?
Cufflinks fit through buttonholes in French cuffed shirts. They have a fastening mechanism, often a hinged bar that locks into position, bringing the cuffs together.
The face of the cufflink sits on the outside. Traditionally, is a circle but can be almost any shape or form you want. The most common fastening mechanism is a hinged toggle, although this is not the only option. Cufflinks are available with a range of fittings, from chain cufflinks to stud cufflinks and fabric cufflinks. Just ask your jeweller about the best option for your metal and design.
Cufflinks can be made from most materials. You may even opt for a pair made out of silk! The most popular metal type is silver but you will find them in all metals. Cufflinks are far from a boring piece of jewellery, you will see that there are many creative options to suit any outfit. Your imagination and style are the only guidelines to follow.
At Larsen Jewellery we have a lovely collection of ready to wear cufflinks available in store. For those of you that are after something unique and special, ask us about our custom made cufflinks. We can make everything from anatomical hearts to specific sports cars or racing bikes. One of our jewellers can work with you to come up with a beautifully designed custom made pair of cufflinks to suit your personal style.
Related Posts