The History of the Cocktail Ring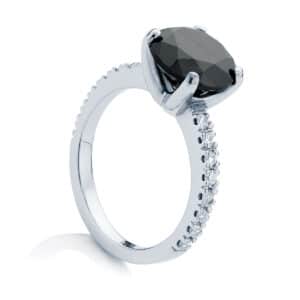 Are you looking for a statement piece of jewellery, a showstopper or something that looks like it has just been picked up from the set of 'The Great Gatsby'? Or maybe you just want to spoil your partner with a not so discreet knuckle duster?
Perhaps a cocktail or dress ring is just what you are after.
The cocktail ring has an interesting little history. The term was born in the 1920s in America, during the Prohibition Period. Commercial sale of alcohol was banned and as you would suspect there was a revolution against this. The result was the birth of the fabulous culture of underground cocktail parties. This was every woman's dream. Women would dress up in their most flamboyant flapper style evening wear and the ultimate accessory was the cocktail ring. It was a culture of social status, and cocktail rings were worn to reflect exactly this. They were bold, sparkling show stoppers!
Typically the cocktail ring has a large centre stone; usually at least 3 carats in size and surrounded with small coloured gemstones or diamonds. This was and still is a loose guideline. There are no rules when designing a cocktail ring! There are endless amounts of creative choices, from coloured gemstones to all other fancy details, and different and unique cuts. It is meant to be over the top, flashy and fun to wear.
The cocktail ring was again hugely popular during the post-war period in the 1950s and its popularity still continues today.
At Larsen Jewellery our jewellers love working with coloured gemstones and coming up with new creative pieces. Design your own, choose from our ready-to-wear range or one of our popular designs. Whatever your choice; you will not be disappointed!
Related Posts