The Taylor-Burton Diamond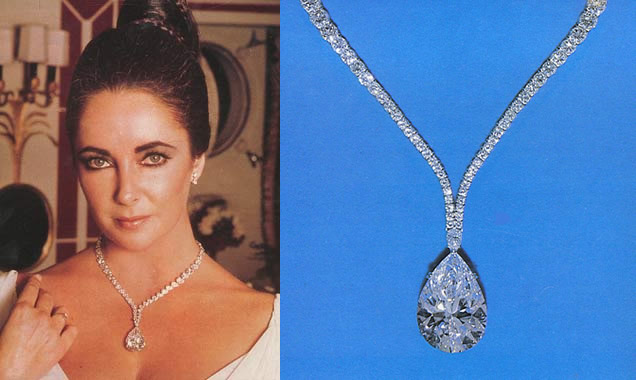 One of the most famous 'modern' cuts must be the Taylor-Burton diamond, a 69.42 carat, D-Colour, Flawless, Pear Shape Brilliant Cut, which created a sensation when it was purchased in 1969 for Elizabeth Taylor by her husband, the Late Richard Burton.
The diamond was cut from a 240.80 carat rough diamond found in the famous Premier Mine in 1966. It was cut by renowned New York diamantaire, Harry Winston, who commented at the time that he doubted if there had been more than six diamonds in the world of the same quality. The rough diamond yielded two perfect stones of which the Taylor-Burton was the largest.
The diamond was first purchased, in 1967, by a Mrs. Harriet Annenberg-Ames, the sister of Walter Annenberg, the US Ambassador to London during the Richard Nixon administration.
Two years later, on October 23rd 1969, the diamond was offered for sale at a landmark auction, in New York, which gave the successful bidder the right to 'name' the diamond. The auction attracted many interested buyers including Richard Burton, Harry Winston and Robert Kenmore the owner of Cartier Inc. In the record-breaking auction, Kenmore emerged the winner with a bid of US$1,050,000 and immediately named the Diamond 'The Cartier'.
Still determined to obtain the diamond, Richard Burton contacted Cartier the following day and successfully negotiated the purchase of the diamond for an undisclosed price. As part of the deal Richard Burton agreed to allow Cartier to display the renamed 'Taylor-Burton' diamond for a limited period at their New York showroom.
Elizabeth Taylor wore the diamond for the first time on October 12th 1969, when she attended Princess Grace's 40th Birthday in Monaco. Nine years later, in 1978, following her divorce from Richard Burton, Miss Taylor announced that she was putting the diamond up for sale and that the proceeds would be used to fund the building of a hospital in Botswana. The diamond was bought, for a reported US$5,000,000 by New York jeweller Henry Lambert. It has since been purchased by the famous jeweller and collector Robert Mouawad.
Larsen Jewellery is located in Sydney and Melbourne and specialises in custom made engagement rings.
Related Posts