Trapezoid Diamond Engagement Rings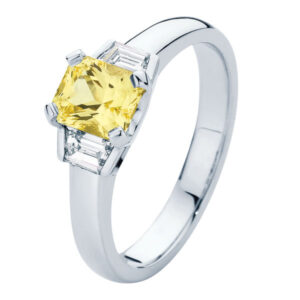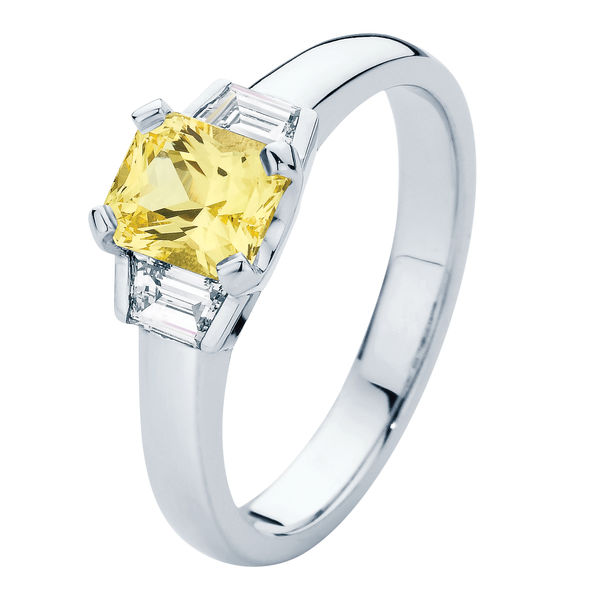 A trapezoid diamond has four sides and is similar to a triangle with one point missing. Trapezoids are available in both brilliant and step cuts; each giving a unique look so it is recommended to view both options during your diamond appointment.
Trapezoids are most often used to frame a centre diamond on the left and right sides, creating an angular three stone effect. It works best when the centre stone is of emerald, princess or asscher shape as each of these has flat sides for the trapezoids to sit against.
In terms of proportion, the trapezoids should be smaller than the centre diamond, even if just slightly.
Trapezoids are becoming an increasingly popular option in diamond engagement rings, and offer a great alternative to baguette and trillion cuts, which are often used for the same purpose.
For those wanting diamonds to frame their oval or cushion cut centre diamond, crescent trapezoids are the answer.
The longest edge of a crescent trapezoid is curved inwards, which allows the stone to sit comfortably against rounded diamonds.
To view a selection of beautiful trapezoid diamonds, or to try on a range of diamond engagement rings, please contact Larsen Jewellery in Sydney 02 9223 2006 or Melbourne 03 9662 3005.
Related Posts