Gypsy Rings – What is Gypsy Setting?
The Gypsy setting, also known as the flushmount setting, is a style that is growing in popularity for wedding and eternity rings. A secure option that is great for someone with an active lifestyle, this setting involves sinking the stone into the ring and creating a flush surface with the metal.
When purchasing any piece of custom made fine jewellery you will be presented with a long list of questions. From what metal you would like, to what shape, size and quality of diamonds you are after? Or perhaps you have a favourite coloured gemstone? Then there are the finer details such as which style of setting do you love? You may be reading this and already feeling slightly overwhelmed. Don't let panic set in, familiarise yourself with the world of jewellery instead and start doing a little research into what catches you and your partner's eye.
When asked which style of setting you prefer, your jeweller will be referring to traditional setting styles such as Claw, Bezel, Channel, Bead, Pavé and Gypsy. The list goes on and on. Gyspy setting is one of the lesser known styles.
Gypsy or Hammer style setting is becoming increasingly popular, but it is still nowhere near as popular as Pavé or Channel setting. Gypsy setting is also referred to as 'Shot Setting', 'Burnish Setting' and also, and most commonly, 'Flush mount setting'. Gypsy setting is when the diamond or gemstone appears to sit flush with the surface of the metal – similar to a Bezel setting where the crown of the diamond is the only exposed area. The difference between a Bezel setting and the Gypsy setting is that in a Bezel setting a protruding rim of metal wraps around the stone whereas with Gypsy setting, the stone is sunk into the metal and sits just below the surface.
This is one of the most secure styles of setting, making it the perfect choice for men's rings and for any ladies who are concerned that their hands on career or active lifestyle would subject exposed diamonds to frequent knocks. It is important to note that soft stones are not suitable for this style of setting as they can potentially be damaged during the setting process.
Typically, Gypsy setting is used for accent diamonds or smaller stones set into wedding rings. It is not common practice to set centre diamonds for engagement rings in this style. However, this certainly does not mean that this is not an option. Gypsy set centre diamonds can look fabulous in beautiful modern and contemporary style engagement rings.
Here are just a few of Larsen Jewellery's popular Gypsy set designs: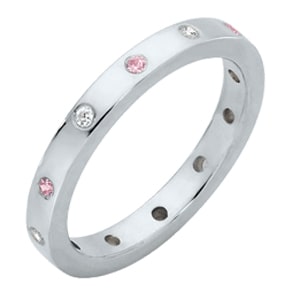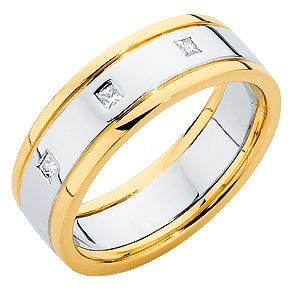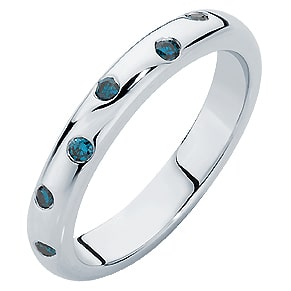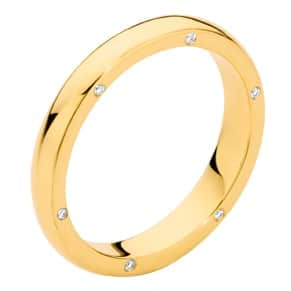 We are 100% carbon neutral, we offer Fairtrade Gold and we donate 10% of profits to charity.

Expert advice from
qualified jewellers
Speak directly to our talented craftsmen and learn from their extensive diamond and jewellery knowledge.

Exceptional
craftsmanship
We never compromise on quality. All our custom-made jewellery is backed by a lifetime guarantee.
We specialise in designing and crafting exquisite engagement rings that are as individual as you.
Come in for a design consultation with one of our friendly jewellers, and choose from a carefully sourced selection of loose diamonds, sapphires or other coloured gemstones. All engagement rings are lovingly made in our studio workshops and are covered by our lifetime guarantee.
Find out more
Select from our wide range of women's and men's wedding ring designs or create your own unique design.
Choose from a wide selection of metal types, diamonds and gemstones and receive expert advice on the perfect wedding band for you. You can even experience our workshops first-hand by literally making your own wedding bands.
Find out more