Beyond the burger ring – Popular temporary engagement rings
So, you've found The One, now all you need is one ring, right?
Well…not always! I have to say, I feel a little sorry for modern men trying to navigate the minefield that is proposing in 2019! Should I surprise her and choose the ring myself? But what if she doesn't like it? I wonder do jewellery stores do refunds? Mmmm….and how much should I spend? Man, this is tough!

You want to propose, but you're stalling because you don't know how to choose the ring, and it has to be perfect! If you're lucky, you might have her Pinterest board which, at the very least, narrows it down to about five dozen rings! Worst case scenario, you got nothing, aka Mr Clueless. Either way, making one of the most financially and emotionally significant decisions of your lives without asking for her opinion just feels a little wrong. But then again, she really deserves the traditional romantic surprise proposal.
Worry not gentlemen and let me introduce you to…drum roll please…The Burger Ring!! I think the kids these days are calling it a Stunt Ring…in fact I think there are a few names for it; a Dummy ring, a Promise ring, a Loaner ring or a Placeholder ring, either way, it's the same principle. A fashion ring that doesn't cost a lot, usually made of silver with a synthetic stone in the middle. The rings come in various different styles but most look like replica engagement rings. Many jewellers will offer them out on loan until the real engagement ring has been chosen, the only disadvantage of this is that it has to be returned.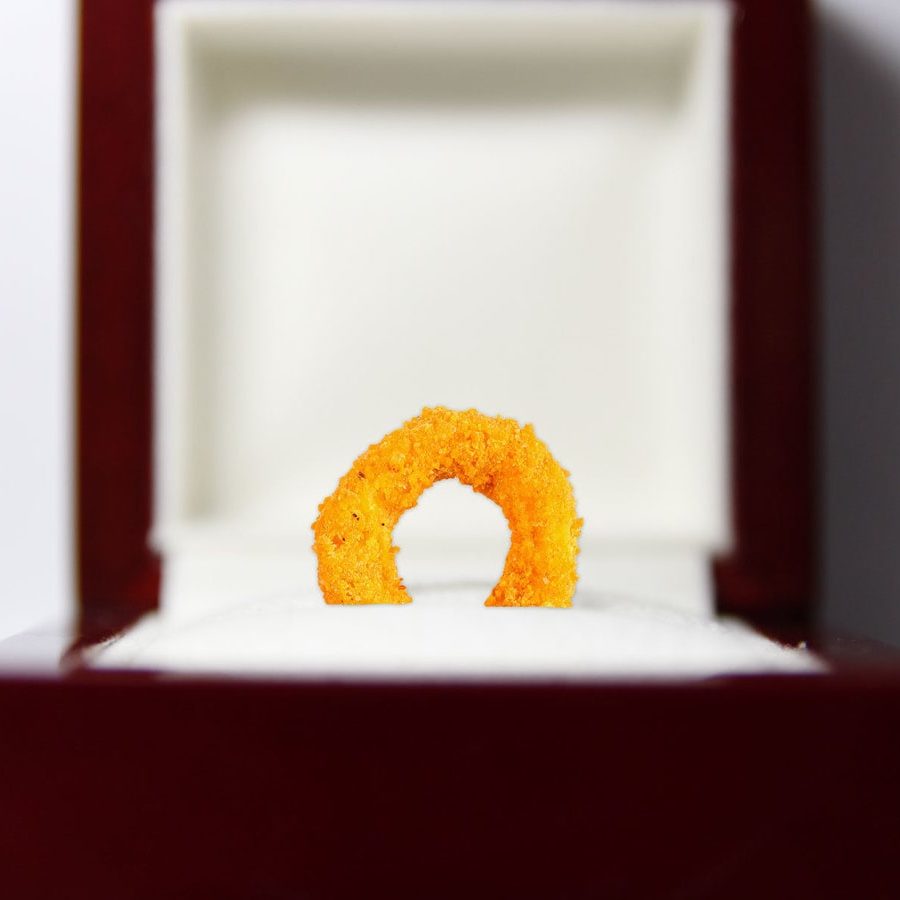 At Larsen's we offer a Proposal Ring – a simple and elegant sterling silver ring with the words Will You Marry Me? engraved around the outside. It doesn't have any stones and it is not intended to look like an engagement ring. Our customers love it because they get to keep it as a reminder of that special time when they first got engaged, it can hold a lot of sentimental value, and after the real ring has been made most girls decide to keep wearing their proposal ring on another finger or around their neck on a chain.

Don't get me wrong, it can be very romantic to have the actual ring to propose with but sometimes it's just easier to be cautious. Especially with the amount of money being spent, it's not something you want to rush. You can pop the question without the added worry that you've made the wrong choice of engagement ring. Temporary engagement rings exist for this very specific and very stressful situation. The majority of men can feel really torn between wanting to have the surprise proposal experience and wanting to involve their girlfriend in designing the ring. With a temporary engagement ring, you get the best of both worlds: you can have the spontaneity of proposing, without risking the total buzz kill of her not liking the ring…bonus!
Here are just a few reasons why a temporary engagement ring might be right for you:
You'd like to stress a little less. You have enough pressure in selecting a meaningful proposal location and working up the courage to get down on one knee, let's remove one layer of anxiety by not having to finalise the most expensive and least returnable jewellery purchase of your life.
You don't want to kill the moment, what should be the most romantic moment of your life can quickly become the least if she hates the ring. You're not a jewellery or fashion expert, she didn't let you pick out her outfit today, so why are you trying to pick out a ring that she's going to be wearing every day for the rest of her life.
You're equals, if you go through all of life's big decisions together, why should this be any different. And you certainly can't afford to do this twice, I'm guessing that you only budgeted for one ring.
You may even be going abroad or you need an engagement ring quickly, it happens! Sometimes proposals can't wait. Maybe her family planned a last minute visit or you scored a free trip for the weekend. No matter the reason for your time crunch, choosing her engagement ring should NOT be rushed.

Being stuck in pre-engagement limbo is not fun for anyone and it can create major tension and insecurity in your relationship. It doesn't matter if your reason is noble; you want her engagement ring to be absolutely perfect. When you go down the temporary engagement ring route, it's win-win. She gets the romantic proposal, you get the confidence boost of knowing she'll get a ring that she loves, and you both get to start your marriage on the right foot.
Related Posts