Bezel Set Diamond Engagement Ring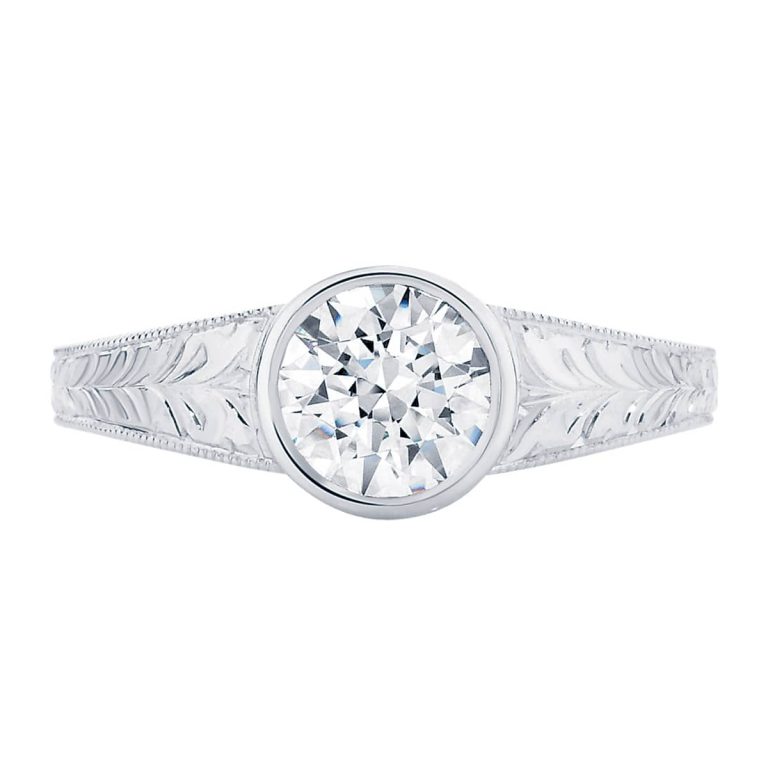 A Bezel-set diamond is one that is completely surrounded by a border of metal, framing the stone along the outside edge. Bezel settings are classic and neat in design and are favoured by those who want to branch out from the traditional claw settings.
Not only does this setting look great, but it is also the most secure way to set a diamond. Claws can require re-tipping over time, whereas Bezel settings are incredibly hard-wearing and contrary to popular belief, will not subtract light flow or brilliance from a well-cut diamond.
Another benefit is that this type of setting will not catch on delicate garments or long hair.
Larsen Jewellery in Sydney and Melbourne specialise in custom made engagement ring design. You have the benefit of choosing your own diamond personally, then the exciting task of designing your ideal ring design with the help of your very own expert Jeweller.
If you are after a Bezel setting for your engagement ring design, you also have the liberty of deciding on the width of your bezel 'frame' and how much metal you wish to border your diamond.
Another fantastic option for those who like the bezel-set look is a semi-bezel setting. A semi-bezel is when your diamond is only partially bordered by metal, for example, the top and bottom of the stone are bordered, whilst the top and bottom sides are left open.
To see some examples of a semi-bezel setting, please view the following Larsen Jewellery designs:
To see some examples of a bezel setting, please view the following Larsen Jewellery designs:
Related Posts