Engagement rings with Unique Side Stones 
Custom making an engagement ring that is unique to you is increasingly one of the most popular ways to buy an engagement ring. No matter how traditional or individual, there are many ways in which you can include details that add your personal touch and make your ring one of a kind.
One way to individualise your ring is by adding unique side stones to accentuate your centre stone. Most engagement rings with side stones typically include round brilliant diamonds but there are some truly unique cuts you can use to make your ring stand out from the crowd. One ring style that suits unique side stones are three stone rings. Including side stones cuts such as tapered baguettes, trilliants or trapezoid diamonds into three stone engagement rings accentuates your centre stone, drawing the eye to their geometry.
Some unique stone cuts include: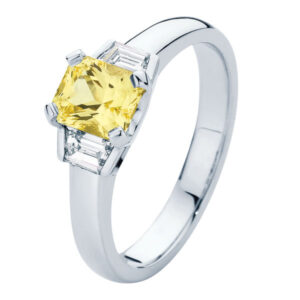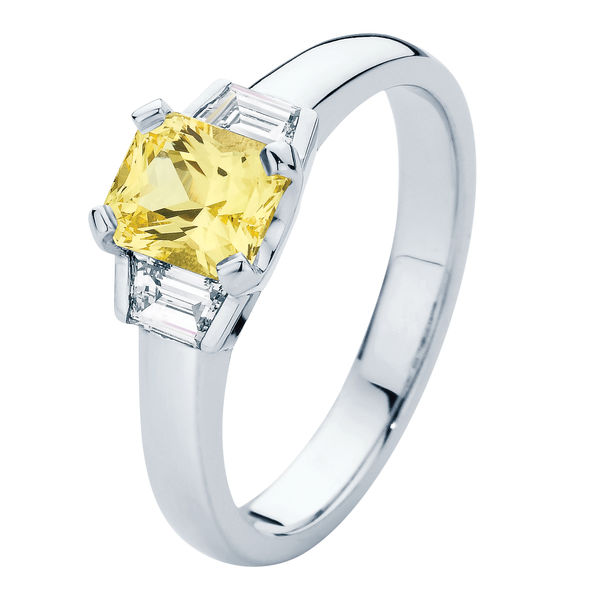 The 'Radiance'
Trapezoid: These diamonds ooze elegance, they are a four sided cut where the two sides are parallel and the top and bottom are angled. They are cut as brilliant or step cuts and look fabulous when set either side of streamlined cuts such as emerald, princess or asscher cuts.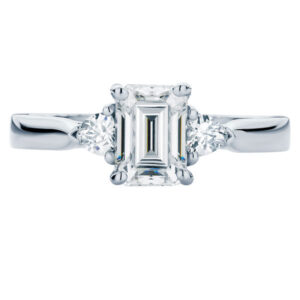 The 'Luna'
Trilliant / Trillion: As the name suggests, these cuts are triangular cuts where the sides can be perfectly straight or slightly rounded. These are usually used as side stones but those looking for something truly unique may consider one for a centre stone.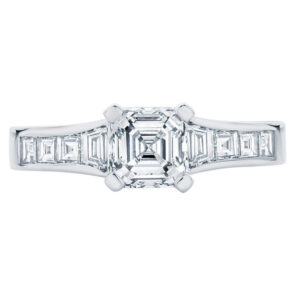 The 'Zen'
Carré: Carré cut diamonds are square, step cut diamonds. They do not have the sparkle that a princess cut but their Art-Deco-like faceting is beautiful and makes them perfect for side stones.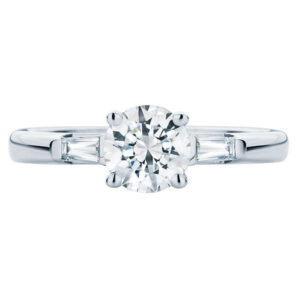 Willow – Brilliant
Tapered Baguettes: These are one of the more common side stone cuts used in engagement rings. Unlike a straight baguette diamond, the sides are tapered creating an elongated look. These look beautiful when set either side of a round brilliant cut diamond.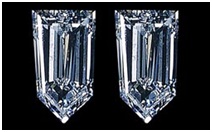 Bullet Cut: These cuts can either have straight or tapered sides with one square end and the other end pointed to create the shape of a bullet, hence the name. These cuts look particularly beautiful when set into Art Deco style rings.
Kite Cut: These cuts are exactly as the name suggests, the shape of kites. Boho brides love this style of cut.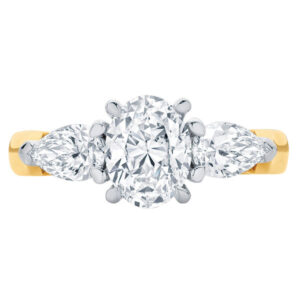 The 'Delta Trio'
Pear Cuts: Pear cut diamonds are just as often used as a centre and side stones. As side stones, they look beautiful set in a three stone ring set either side of a round brilliant or oval cut centre stone.
Related Posts