GIA Certified Diamonds

Established in 1931 and based in the United States, GIA is the world's largest and one of the most respected non-profit institutes of gemological research and learning. Conceived more than 85 years ago in the grand tradition of Europe's most respected institutes, GIA discovers (through GIA Research), imparts (through GIA Education) and applies (through GIA Laboratories and GIA Instruments) gemological knowledge to ensure and foster the public trust in diamonds, coloured gemstones and jewellery.
With over 3,000 employees, the Institute's scientists, diamond graders and educators are regarded, collectively, as one of the world's foremost authorities in gemology.
GIA is the creator of the famous 4Cs of diamond value (colour, clarity, cut and carat weight). Today, GIA's D-Z colour-grading scale and GIA's Flawless-I3 clarity-grading scale are recognised by virtually every professional jeweller and savvy diamond buyer in the world. The Institute is also known for having developed and patented the first modern jeweller's loupe.
Internationally, the Institute has distinguished itself as the preeminent source of gemological knowledge and professionalism. By extension, a GIA diamond certificate is considered one of the world's premier gemological credentials. Diamonds of all shapes and sizes are sent to the Institute from every corner of the globe for analysis and grading.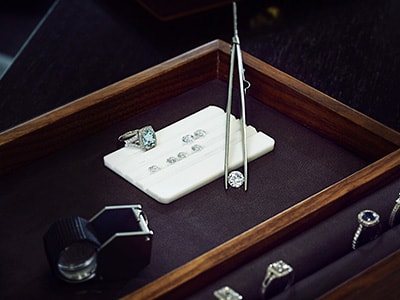 The GIA (Gemological Institute of America) was established in 1931 and is the world's foremost authority on diamonds, coloured gemstones, and pearls.
GIA's certifications are therefore highly trusted within the jewellery industry and purchasing a GIA certified diamond ensures a safe purchase.
"GIA exists to protect all purchasers of gemstones, by providing the education, laboratory services, research, and instruments needed to accurately and objectively determine gemstone quality."
The term 'The 4 C's' was created by the GIA, as well as the D-Z colour scale and Flawless to I3 clarity scale.
Larsen Jewellery specialises in custom made diamond rings, as well as the sale of loose diamonds certified by the GIA.
To view a range of GIA certified loose diamonds, as well as their certificates, please contact Larsen Jewellery in Sydney 02 9223 2006 or Melbourne 03 9662 3005.
Related Posts