A Guide to Hidden Halo Engagement Rings
Hidden halos in engagement rings are classy, non-traditional, and increasingly popular. But why are they becoming a sought-after engagement ring style? Read on to find out why the hidden halo is becoming a favourite among engagement ring design trends!
What is a Hidden Halo Engagement Ring?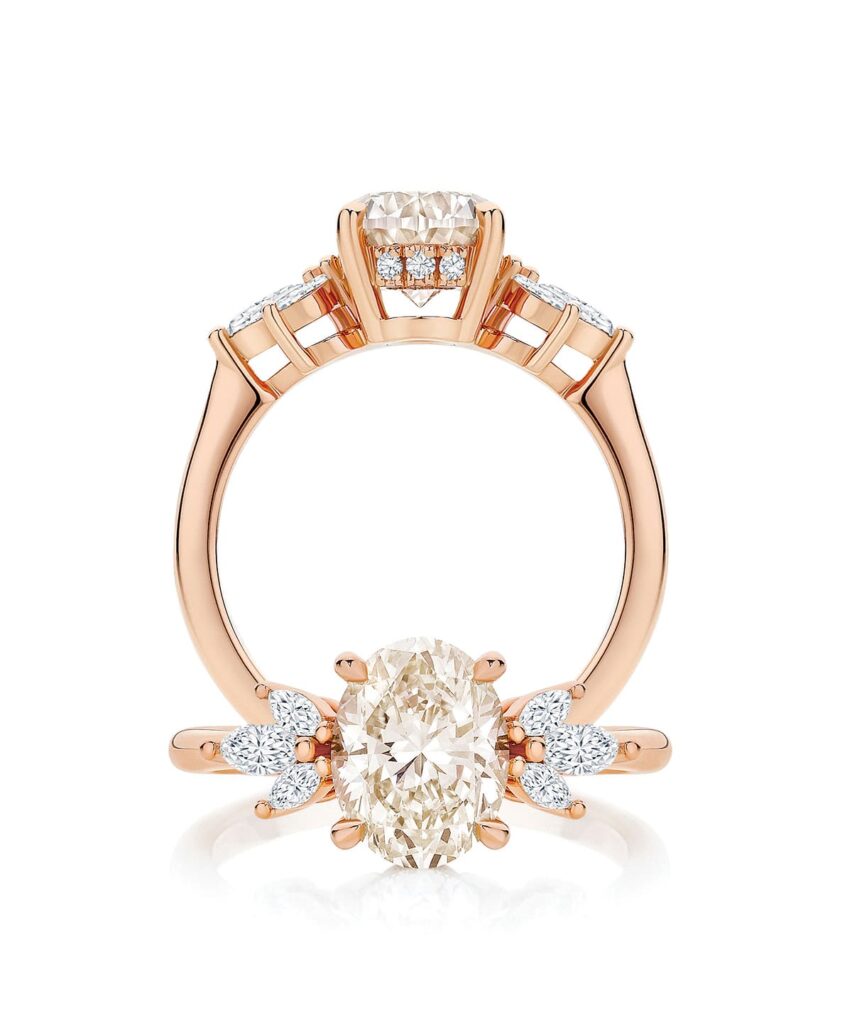 There's no doubt that halo rings are a long-standing fixture of engagement ring style. For those unfamiliar with this design, the classic halo ring features a border or "halo" of smaller stones set face-up around its centre stone. It is a step up from a solitaire engagement ring while keeping things traditional.
This is most often seen in diamond rings, but is also popular for coloured gemstone rings. Adding a halo of small diamonds enhances the centre diamond, making it appear bigger and brighter. A halo can also add the brilliance of diamonds to a coloured gem centre stone, or a pop of colour to an otherwise white diamond ring. Halos are a great way to add extra sparkle and flair to your engagement ring.
While the diamond halo has seen a few minor changes over the centuries, it has remained more or less the same since Georgian times. The hidden halo variation is a great way to put a unique spin on your engagement ring without straying too far from this tried-and-true classic.
Does a Hidden Halo Make a Ring Look Bigger?
A twist on the traditional style, the hidden halo features diamonds set to face outwards rather than upwards. This means that the halo is not immediately obvious from above but is instead able to be seen from the side. Also known as an under halo, this setting is a stylish secret detail, designed to add hidden glamour to any ring.
The hidden halo style of setting is gaining popularity for many reasons. For starters, hidden halos are an exquisite way to include extra sparkle without too much bulk. Traditional halos are popular and gorgeous, but they aren't for everyone. The hidden halo has become a great option for those with more minimal tastes who still love sparkle.
Hidden halos have also become popular for how easily it can be included in many different styles of engagement rings. Our speciality is a partial halo set between the claws of the centre stone, for an extra subtle look that can be added to almost any ring style.
Engagement rings are a sentimental and personal piece of jewellery. Your engagement ring will likely be with you every day for many years to come. For this reason, it is so important to take into account what you find beautiful and want to see on your finger each day when choosing an engagement ring. The popularity of the hidden halo is a testament to the idea of creating something that is special to you that isn't obvious to everyone else. With the hidden halo, you can put your own personal spin on your engagement ring that's all in the details and truly just for you.
Is the Hidden Halo your perfect match?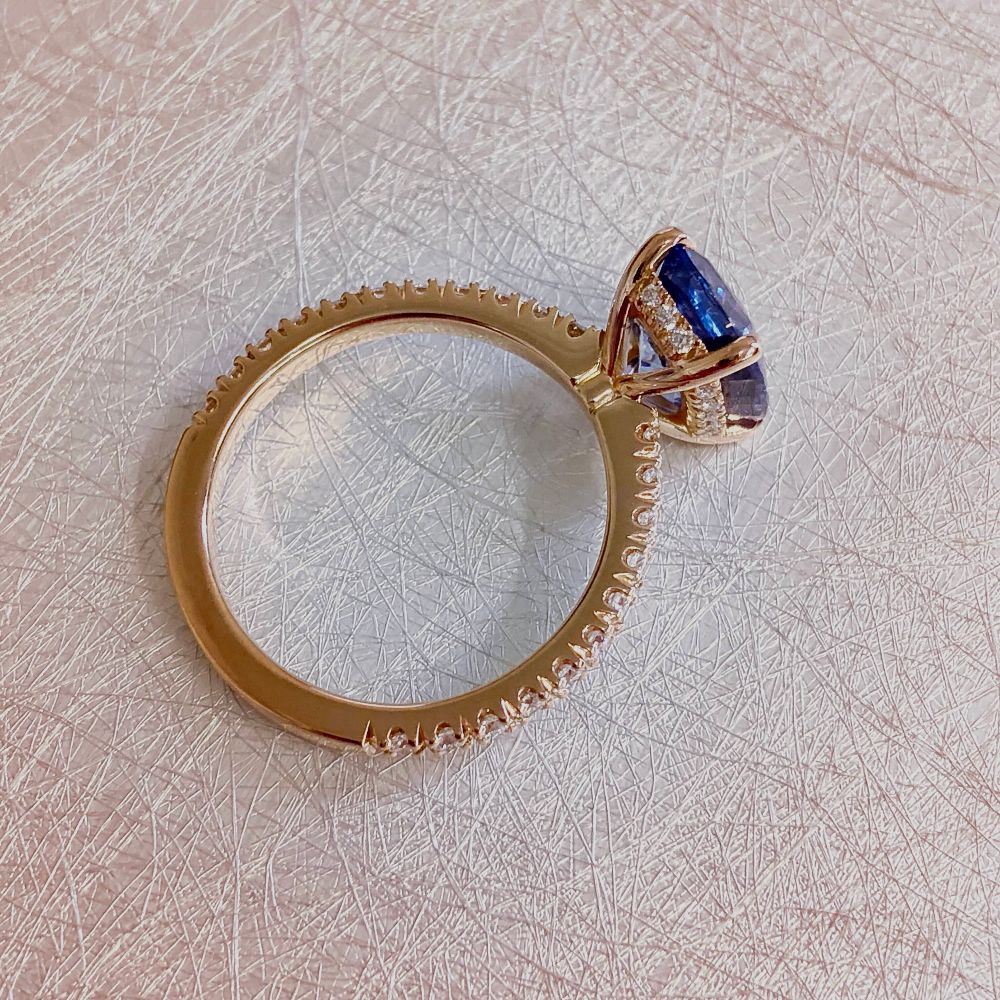 There is a lot to love about the hidden halo, but is it really the ideal style for your engagement ring? If you are a fan of understated sparkle, it could be! But there are a few things to consider when choosing a hidden halo engagement ring.
What Are the Cons of a Hidden Halo Engagement Ring?
Hidden halo engagement rings can sometimes need a little extra care than a solitaire, but don't let that dissuade you! All our engagement rings come with a lifetime guarantee which includes an annual clean and polish. This makes maintenance a breeze for any of our hidden halo creations! So if you love this style, you won't have to stress about keeping your ring beautiful for years to come when creating a piece with us.
Not all hidden halos are created equal, either! Hidden halos are difficult to get right, and there are many options to choose from. This setting is not suitable for every stone, and there are many key factors to working with this design. The advice of a jeweller or designer can be invaluable in ensuring your hidden halo engagement ring is exactly as you envisioned.
Luckily, creating unique engagement rings built to last a lifetime is exactly what we do best! When creating any ring with us, our experienced jewellers will guide you through the design process from start to finish to get it just right. The lifetime guarantee we offer on our engagement rings also ensures that your hidden halo ring is the highest quality. You can even use our computer rendering design service to preview exactly what your hidden halo will look like before it is even made.
For us, engagement rings are all about the personal touches. The hidden halo style is another way to make your engagement ring uniquely yours. We love that aspect of this trend and are looking forward to creating a hidden halo ring just for you!
Do you love the look of hidden halos? Does your perfect engagement ring design include this style? Let us know your thoughts below!
Related Posts