Pippa Middleton's Engagement Ring
The latest engagement in the world of royalty is that of Pippa Middleton, sister of Princess Kate, who famously made quite an impression at Kate and Prince William's wedding.
Some even say that she perhaps upstaged her sister on her big day.
As word spreads of Pippa's recent engagement, it is safe to say that there will be men across the globe quietly disheartened by this news. More importantly, however, it seems that Pippa is cementing herself as one of the most stylish women, not only the Royal family but also across the UK and beyond. Her exquisite diamond engagement ring is no exception with suggestions even that perhaps she managed to upstage Kate again!
Pippa's engagement ring is a stunning Art Deco inspired diamond ring featuring an Asscher cut diamond surrounded by a diamond set octagonal halo. With Art Deco inspired rings still trending strongly today, we predict a flurry of women will soon be adorned with rings very similar to Pippa's. It is an undoubtedly elegant, stylish and sophisticated choice and what's more, it is a diamond ring and we all know that most women prefer a diamond over any other stone!
The Middleton sisters have proven how stylish a vintage ring can be, regardless of whether it features a coloured gem or a classic white diamond. There is something nostalgic about drawing on a time now passed when creating your own engagement ring and it is a trend that continues to grow strong, particularly with the likes of stars such as Nicole Richie, Scarlett Johansson and Mary-Kate Olsen also embracing this trend.
For those that love Pippa Middleton's engagement ring, here are some other designs we think you will love too!
The 'Honour'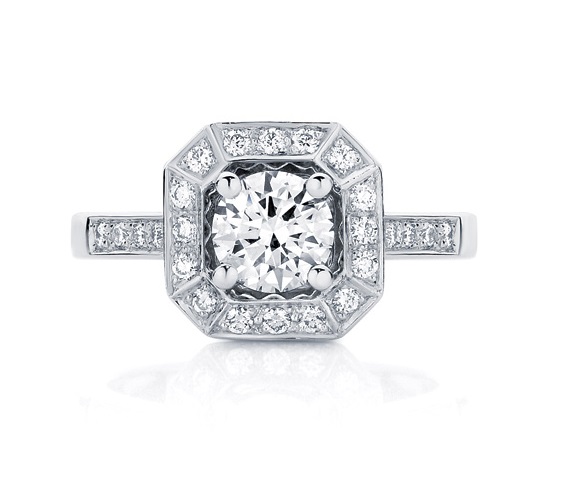 The 'Tesoro'
The 'Atlantis'
Related Posts