Winner Laura is shining with her custom-made ring from Larsen Jewellery
Congratulations Matty & Laura! Thank you or letting us be part of this special moment!
Larsen Jewellery is pleased to have custom made the ring for The Bachelor Australia Series 5 as the Official Diamond Partner!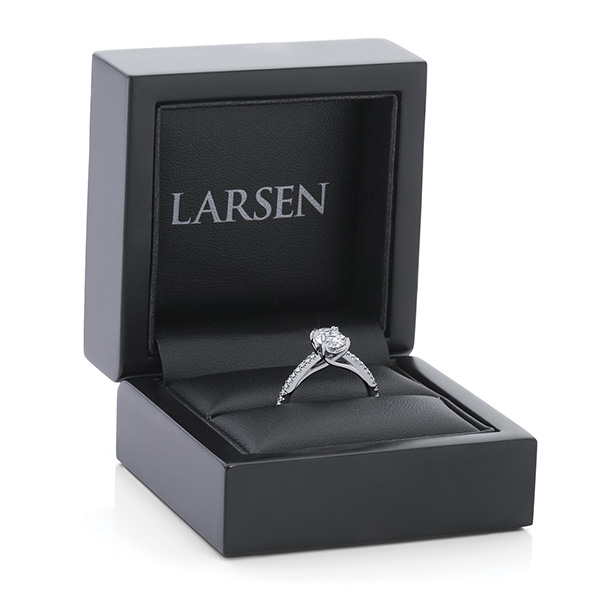 Larsen Jewellery is incredibly pleased to have been a part of The Bachelor Australia Series 5 as the Official Diamond Partner and assist Matty J in designing and creating this incredibly beautiful commitment ring for the woman of his dreams.
In preparation for the Grand Finale, Senior Larsen Jeweller, Kate Reid and Larsen Marketing Executive, Nicole met with Matty for a one-on-one jewellery consultation. Together, Matty, and the team at Larsen Jewellery designed the perfect bespoke ring for his chosen Bachelorette, Laura. Matty was extremely excited to be a part of the design process and was an integral part of creating a ring that represents his love for his newfound relationship.
Creating exceptionally beautiful jewellery and using only the best top quality diamonds, coloured gemstones and metals, Larsen Jewellery represents the pinnacle in quality and design when it comes to beautiful fine jewellery.
As one of the most respected jewellers in Australia, Larsen Jewellery specialises in custom made pieces of fine jewellery, which can be designed to meet the individual taste and requirement of each client.
Renowned for its custom-made engagement and wedding rings, Larsen Jewellery has developed a reputation for excellence, with the 'personal touch' at the cornerstone of every Larsen Jewellery experience. At Larsen Jewellery, one-on-one consultations with a highly skilled Larsen jeweller are offered to all customers. This unique and immersive jewellery design experience allows the team to get to know every customer's requirements and to understand their individual desires, to ensure that every piece is exactly what they have been dreaming of.
@larsenjewellery #TheBachelorAU #larsenjewellery
For further information on the Official Diamond Partnership, to visit one of the Larsen Jewellery stores or to co-ordinate an interview with a Larsen Jewellery representative contact:
Lillian Morrison from Polkadot PR // lillian@polkadotcomms.com.au // (02) 9281 4190
Related Posts