The Bachelors Australia Ring – Season 10, 2023
Larsen Jewellery and The Bachelors Australia team up to mark television history
The insights around the bespoke engagement rings turning the heads of viewers and the shocking twists of the night!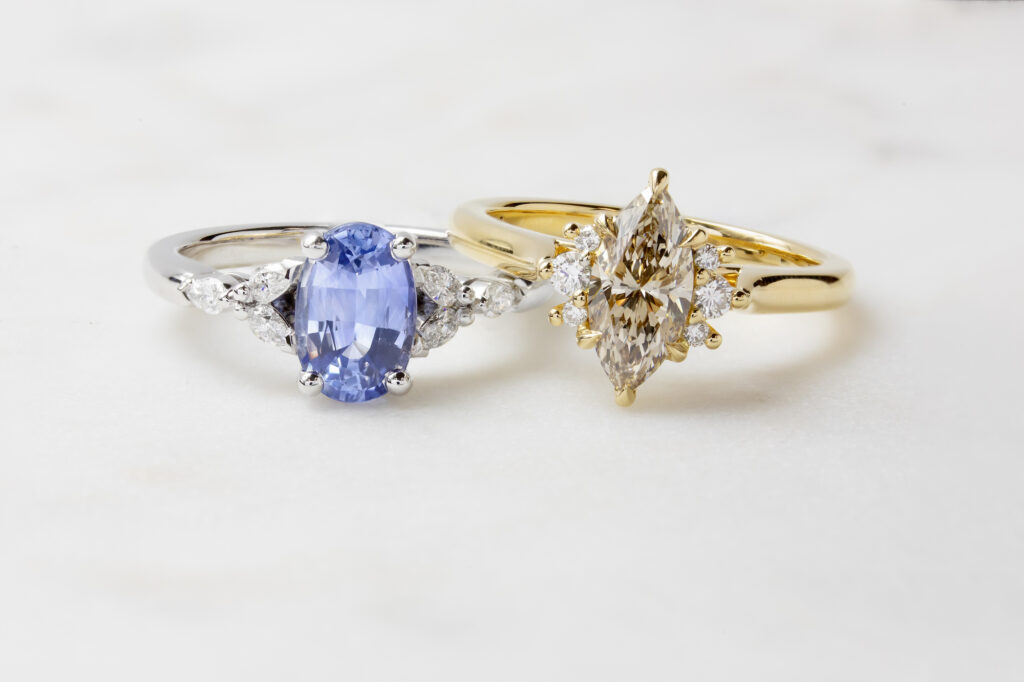 SYDNEY, Australia, 29 January 2023: Tonight was the most awaited scene as The Bachelors Australia double-twisted finale drummed up the audience, with one bachelor's love story ending in an engagement and the other with a commitment. This occurrence marks the first of its kind in the show's history, capturing Australia's heart and stealing the attention of fans across the country.
Thomas & Leah and Jed & Alesia made it above all the hardships and have finally found each other after conquering the other bachelorettes. This year, the winners are crowning their commitment to one another with beautiful, Australian-made, 100% carbon-neutral engagement rings from Larsen Jewellery, blending luxury jewellery with high ethical standards at every touch point of the production process.
Thomas proposes to Leah with a white gold oval sapphire and diamond ring
An ode to faithfulness, loyalty and trust
The Amalfi Engagement Ring is classically charming. Made with 18ct white gold, this delicate ring features glistening trios of pear-shaped diamonds set on either side of a dreamy, oval pale blue sapphire. This design gives a modern and feminine touch to a timeless classic.
Jed presents Alesia with a yellow gold champagne diamond ring
An emblem of intimacy, romance and passion with a twist
A boho-inspired design with an avant-garde edge, the Cyra Engagement Ring features a striking marquise cut champagne diamond, accented by six brilliant cut diamond side stones, set on an 18ct yellow gold band. The Cyra engagement ring pulls together two trending design elements high on engagement ring wishlists – radiant yellow gold and luxurious champagne diamonds.
This season marks the sixth year Larsen Jewellery is partnering with The Bachelor Australia brand. Kate Reid, Senior Jeweller at Larsen Jewellery led the conceptualisation and design to ensure they were ready for their grand moment.
"Gifting a ring is a memorable moment in any couple's life, and I wanted to ensure that for Thomas & Leah and Jed & Alesia, their journeys were commemorated with rings that are truly exceptional," says Kate Reid, Senior Jeweller at Larsen Jewellery.
"Each ring was meticulously designed to showcase the unique, impeccably cut coloured centre stones that were hand selected by our gemologists. Imbued with Larsen's industry-leading ethical values, these rings took six weeks to make, created in our Brisbane studio, with the craftsmanship and quality that Larsen Jewellery is known for," says Kate Reid.
"It's always a pleasure working with our long-time partner, The Bachelor Australia, in crafting quality bespoke rings for the finale, especially this year's surprise duo. At Larsen Jewellery, we use conflict-free diamonds and source materials in the most environmentally and socially responsible way. We strive for a better future for humanity and the environment.." states Lars Larsen, co-founder of Larsen Jewellery.


Related Posts