The Eternity Ring… And When It Should Be Gifted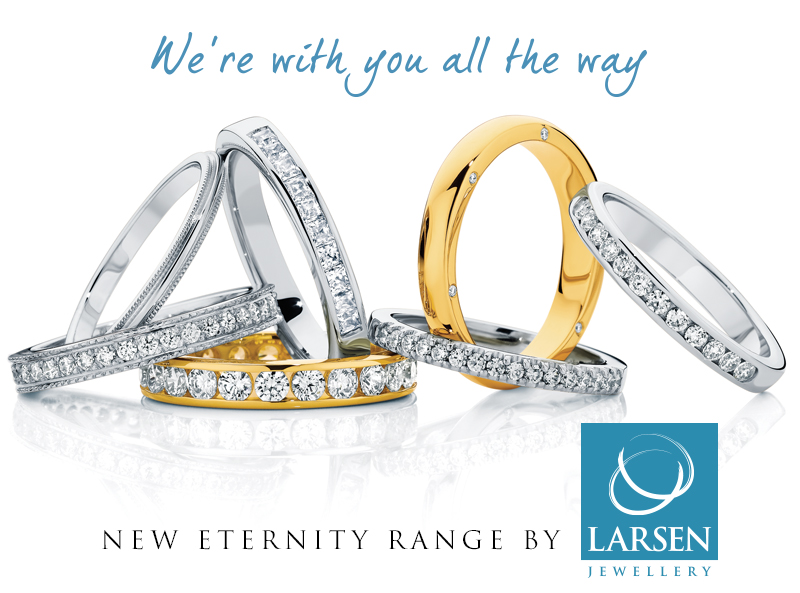 Eternity rings are the third ring to complete the wedding ring set and is usually placed last on your finger, sitting furthest away from you.
Eternity rings
are typically the same style as the wedding ring. If you have a diamond wedding ring, the eternity ring would be made to match. This is not a rule though. Some people love the look of a contrasting set by mixing styles, metals or gemstones. Often some women have simple
wedding rings
and so then decide to embellish their set by adding diamonds into their eternity ring either as a full eternity ring or set half way around.
What is a Full Eternity ring?
You may have had the term full eternity ring. This is referring to eternity rings which have diamonds set all the way around. If you choose a full circle set eternity ring it is important to be make sure you get the correct finger size the first time. With any ring that has diamonds set all the way around it does make it more difficult to resize the ring in the future. It is also a good idea to have your diamonds checked regularly to make sure they are nice and secure. At least once a year is a good idea.
When should you get your Eternity ring?
Just as there are no set rules about what style your eternity ring should be, there is also no set rule about when you should receive an eternity ring. It was once the case that eternity rings were generally given about 10 years after marriage, however these days it is more common for an eternity ring to be presented on the first anniversary. But it is completely up to you. Why not make it a surprise and choose an anniversary that she would not suspect!
Eternity rings like any other jewellery purchase is a personal choice. There are no rules, just guidelines to help you out. An eternity ring might be the perfect opportunity to add some colour to your wedding set by adding coloured gemstones or design something completely unique that can be worn with your engagement and wedding rings or sit beautifully on its own.
Related Posts