Unique Engagement Rings in Hollywood
There is no doubt about it, many of the world's most fabulous engagement rings are worn by the rich and famous. Many designs are stunning interpretations of the classics featuring some of the rarest and most expensive diamonds. Other celebs are inspired by times once past and opt for genuine antique designs like Mary-Jane Olsen did or create their own inspired vintage piece. Then every now and then you somebody receives a ring that is truly unique. One like we have never seen before.
As much as we love classic and timeless pieces, we also love it when people get creative and go against the grain, especially when they're celebrities. We are endlessly curious at what creations people choose when they have seemingly limitless amounts of $$.
So, we decided to search the world-wide-web and share our findings with you! Here are some of the fabulous unique engagement rings worn by famous hands around the globe. Some you will love, others may leave you wondering why?!
Solange Knowles and Alan Ferguson
Solange Knowles who likes to set her own trends, she wore a jumpsuit to her wedding, unsurprisingly has a truly unique engagement ring. Knowles engagement ring is an open band gold ring with two bezels set stones sitting opposite each other, one appears to be an emerald cut and the other a square shape. She infamously lost this ring during a Mardi Gras parade in New Orleans last year.
Bridget Marquardt and Nick Carpenter
Nick Carpenter, a horror film director, appropriately gave Bridget Marquardt an original diamond-encrusted spider engagement ring. It may not be everyone's idea of an engagement ring but you can't deny the originality and the skilled craftsmanship that has gone into creating this unique piece.
Lady Gaga
Lady Gaga, famous for making a statement, did not surprise anyone when she flashed her incredible heart-shaped engagement ring.
Rebecca Robertson & John Reed Loflin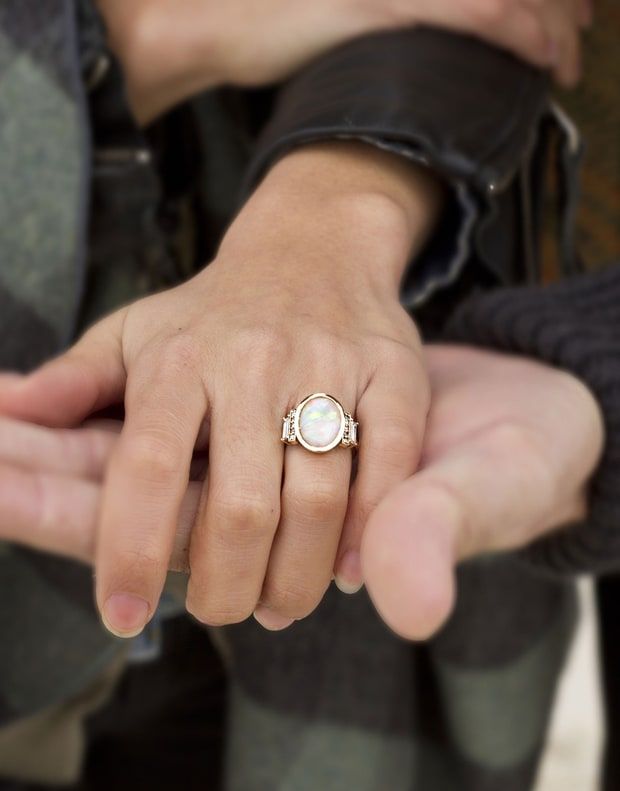 The star from Duck Dynasty received a vintage style ring set with a beautiful oval opal from her fiancé and co-star, John Reed Loflin. This ring is a unique choice, not many opt for an opal for an engagement ring as its hardness is not ideal for everyday wear. It is significantly easier to damage than a diamond or a sapphire.
Rebecca Romijn
Model, Rebecca Romijn, has an engagement ring like no other. The original ring, a yellow diamond halo ring, was given to her in 2007. However, later down the track, Romijn opted to have the ring redesigned with the diamond hanging off the ring like a charm.
Poppy Delevingne
The engagement ring Poppy Delevingne received from James Cook is truly unique. Delevingne's ring is a wide yellow gold ring featuring an emerald-cut blue diamond flanked by two heart-shaped diamonds. Either side of the ring sits two diamond-set contoured bands that complete the stunning set.
Related Posts