Three Stone Engagement Ring – Ultimate Guide

One of the biggest engagement ring trends to come out of 2018 was the three stone ring. The latest member of the Royal family, Meghan Markle, has set new standards for Royal fashion and breathed new life into a traditional engagement ring style by adding a modern take on it.
When Prince Harry proposed to Meghan Markle, a flurry was caused across the world. Everyone was eagerly awaiting a glimpse of the engagement ring and all the wedding details to follow. Prince Harry proposed with a stunning three stone yellow gold engagement ring featuring a cushion-cut diamond as the centre stone and two heirloom round diamonds from Princess Diana's collection.
Prince Harry's choice was a perfect one. The meaning of a three stone ring is beautiful. It represents the past, present and future. A lovely and sentimental choice for Prince Harry, allowing him to draw on his past while celebrating their beautiful future.
What Does a Three-Stone Engagement Symobolise?
The three stone ring has many popular representations and has been successfully marketed for some years now as representing the past, present and future. The perfect choice for those that are wanting a truly meaningful engagement ring. It is also often referred to as the trinity or trilogy ring. The 'trinity' referring to the religious expression 'Holy Trinity' meaning the 'father', the 'son' and the 'Holy Spirit'.
How to Design a 3 Stone Engagement Ring
Traditionally the three stone ring was made up of three round brilliant diamonds with a larger centre stone and two smaller round brilliant diamonds set either size. Today, there are many other variations of the three stone engagement ring, everything from sleek modern styles to heavily detailed antique designs.
There are many ways to create your own unique three stone engagement ring such as adding coloured gemstones or including fancy cut gems into your design. If you are after a ring that is rich in meaning and unique in style this could be the perfect choice for you. Let's have a look at some of our favourite three stone styles from the most traditional to the unique.
The Traditionalist – 'Trio'
The Trio is our version of the traditional three-stone ring featuring a larger round centre stone and two smaller round brilliant diamonds set either side. The design pictured features a 0.90ct centre stone and two perfectly matched 0.50ct diamonds. This design can be customised with your preferred diamond size to perfectly fit your budget.
For the Nature Lover – 'Trio (leaf detail)'
A twist on the traditional Trio, this design is a perfect fit for those that love nature. A diamond leaf pattern made up of 10 x 1/2pt diamonds offsets the three main diamonds to add delicate detail and a vintage element.
The Wow Factor – 'Malaya'
The Malaya is the perfect inspiration for those that want their engagement or dress ring to create an impact. Definitely a showstopper, the rose gold Malaya features a cushion cut apricot Malaya Garnet offset by two Trilliant cut diamonds each of which are framed by fourteen 1pt brilliant diamonds.
The Modernist – 'Delta Trio'
Pear and oval diamonds have made a comeback recently and we have incorporated both into our modern Delta Trio. The Delta Trio can be made in your choice of metal and features a stunning oval diamond as the centre stone and two pear cut diamonds set either side.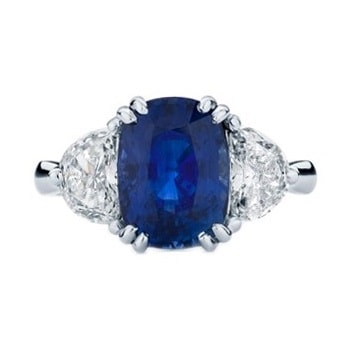 The Royal Inspired Ring – 'Grace'
One of the most popular engagement rings of all time is the Royal blue sapphire ring worn by Princess Diana and now Princess Kate. As engagement ring trends come and go this style has proven to be a constant. Our beautiful 'Grace' engagement ring is our three stone take on the Royal ring featuring a cushion cut Ceylon Sapphire as the centre stone and two half-moon diamonds set either side.
Diamond Dazzler 'Allure'
If you love diamonds and not shy to make a statement with your diamond ring then the Allure might just be the perfect ring for you. A truly spectacular diamond ring, the Allure features a 1.20ct Radiant cut diamond as the centre stone and two 0.40ct Princess cut diamonds set either side.
What Wedding Band Suits a Three Stone Engagement Ring?
As there are so many styles of three stone rings, there are many different wedding bands as well. Depending on the specific configuration of your trilogy engagement ring, there may not just be one ideal complementary band.
A good rule of thumb is to match the shoulder of your engagement ring, this is the top part of the band as it joins the setting. If you have a narrow, rounded band, choose a narrow, rounded wedding ring. You should also choose a wedding band that is made of the same metal type as your engagement ring to reduce any unnecessary wear and tear.
Related Posts