The World's Most Expensive Engagement Rings
The average amount of money spent on an engagement ring in Australia is approximately $6000 – $8000. This is a small fortune for most of us, for a few it must be pocket change when you consider what some of the wealthiest are willing to spend on a diamond for their loved one. The sad thing is when you look at those who have worn the most expensive engagement rings, often that certain finger is no longer bejewelled. It seems that the amount of money you spend does not necessarily equate to how long you will stay together!
When you look at the world's most expensive engagement rings it is apparent that celebrities are often the fortunate ones gifted with such pieces. If no one immediately springs to mind then we suggest having a quick look at the $4.7 million ring once worn by Paris Hilton, the $5 million Emerald cut diamond ring worn by Beyonce or the ring $3 million ring presented to Melania Knauss by Donald Trump. But these are not, by a long shot, the most expensive rings in Hollywood. Two celebrities who have had a history of expensive diamond rings currently wear two of the most expensive engagement rings of all time, Kim Kardashian once wore a $2 million ring given to her by Kris Humphries and she now wears a $8 million diamond ring from Kanye West. Mariah Carey has also had an assortment of engagement rings including her $2.5 million pink diamond ring from Nick Cannon and more recently the estimated $8 million three diamond ring from James Packer.
What we believe to most expensive celebrity engagement ring is the ring once worn by Elizabeth Taylor. Her 33-carat Asscher cut D colour diamond engagement ring was gifted to her by Richard Burton in 1968. We can only imagine that as the years go by this ring will continue to increase in value. It is currently estimated to be worth around $8-9 million.
The most expensive engagement ring is the Bvlgari Blue featuring an exquisite and rare 5.30-carat blue diamond. The Bvlgari Blue was sold at auction in 2013 for $9.5 million and may we add, it is not worn by a celebrity. In years to come, this too will continue to rise in value.
It is unlikely that many of us will come close to seeing these rings in real life so, for now, feast your eyes on the exquisite work and brilliance of these rings: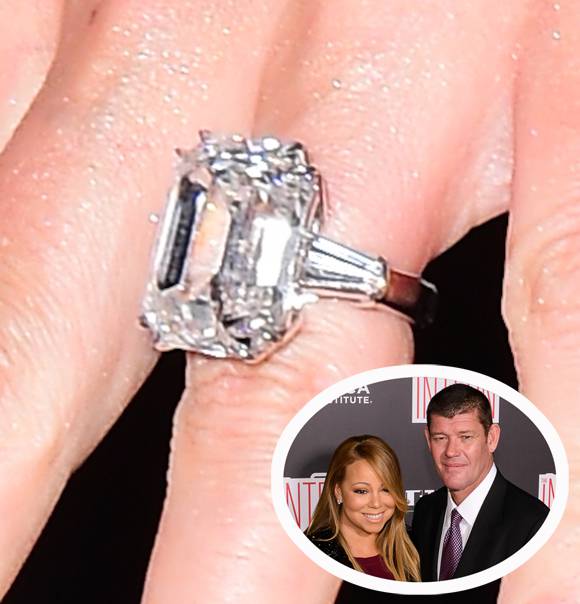 Mariah Carey and James Packer
Beyonce's stunning diamond engagement ring
Donald Trump's wife Melania Knauss wearing her diamond engagement ring
The most expensive of them all, the Bvlgari Blue diamond engagement ring
Elizabeth Taylor's exquisite three stone engagement ring
Related Posts