Australian Wedding Facts Sheet
On December 9, 2017, amendments to the Marriage Act 1961 commenced to provide marriage equality such that the right to marry in Australia will no longer be determined by sex or gender . How else has the Australian marriage landscape changed? Read on to find out.
Fast Insights:
| | |
| --- | --- |
| Australia has an estimated population of 25.09 million | There were 112,954 marriages and 40,032 divorces in Australia in 2017 |
| Less people are getting married | More couples are cohabiting before marriage |
| Less religious wedding ceremonies | Marriage length has increased |
| The average marriage age has increased | |
| The average cost of weddings in Australia has increased | The most popular day of the week for couples to marry is Saturday |
| March is the most popular month for weddings | Spring and autumn are the most popular season for weddings |
| There are 56,124 wedding businesses operating in Australia | The Australian wedding industry contributes $3.7 billion to the local economy |
| Wedding venues are booked an average of 11 months before the wedding date | The average price per head for wedding venues is $150 |
| A celebrant will spend an average of 17 hours on a single wedding | A wedding photographer will spend an average of 29 hours working on each wedding |
Number of Marriages
Less couples are getting married.
The Australian population has doubled since the early 1970s but in 2017, there were fewer marriages than in 1970. This trend can be attributed to a cultural shift and changing attitudes towards work-life balance.
In the 1970s, the crude marriage rate in Australia was 9.6 marriages per 1,000 residents. In 2017 the rate was 4.6 marriages per 1,000 Australian residents, the lowest rate ever recorded[1].
Where couples were forced or rushed into marriages in the past due to various stigma towards cohabitation before marriage, less pressure from families and society for couples has seen a decline in the crude marriage rate in Australia.
Cohabitation Before Marriage
An increasing amount of couples are living together before marriage and they are living together for longer periods of time.
The number of couples living together has increased from 16 percent of couples in 1976 to 80.8 percent in 2016[2].
[1] https://aifs.gov.au/facts-and-figures/marriage-rates-australia
[2] https://aifs.gov.au/facts-and-figures/marriage-rates-australia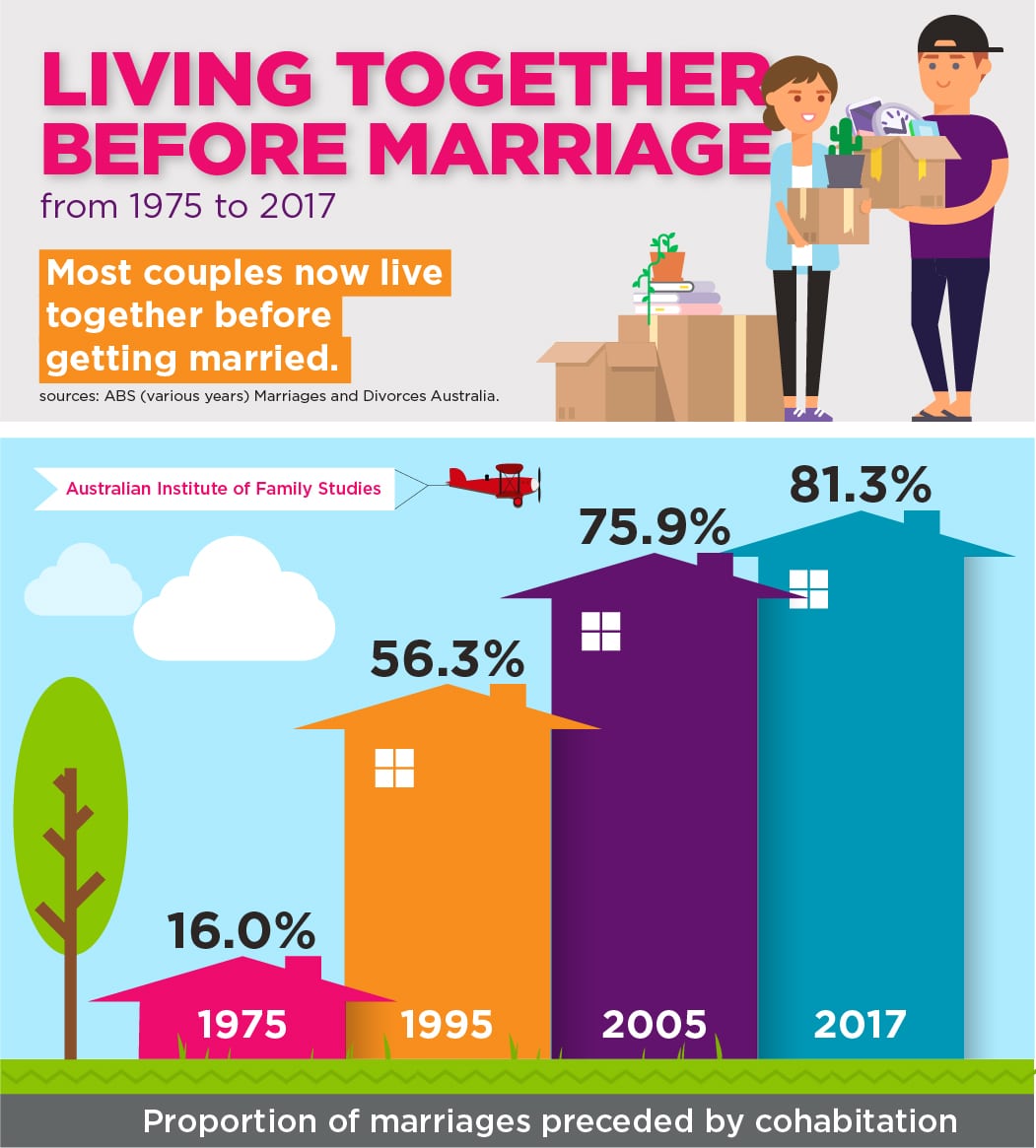 Religious Versus Civil Weddings
Less religious ceremonies in favour of civil marriage ceremonies.
An overwhelming 96.5 percent of all marriages in the early 1900s were performed by ministers of religion in Australia. By 2000, there was an equal number of marriages officiated by civil celebrants as religious ministers.
In 2017, 78 percent of marriages in Australia were performed by civil celebrants[1]. This corresponds with data that reflect a decline in the role that religion has in the average Australian lifestyle.
Average Marriage Length of Divorcing Couples
Queensland has the highest crude divorce rate of 2.3 divorces per 1,000 estimated resident population, while the Northern Territory has the lowest divorce rate at 1.6 per estimated resident population[2].
The median duration of marriage to separation was 8.3 years in 2017, a slight decrease from 8.4 years in 2016[3].
Since 1997, the crude divorce rate in Australia has been declining. From 2016 to 2017, a small increase was observed.
The median age at divorce for both males and females was unchanged in 2017. For males the median age at divorce was 45.5 years of age and the median age of females was 42.9 years of age[4].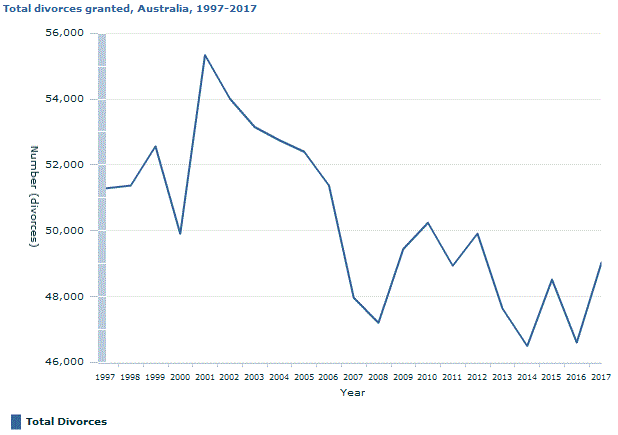 Average Marriage Age in Australia
Australians are waiting longer before getting married.
To be legally married in Australia, a person must be at least 18 years old, unless a court has approved a marriage where one party is aged between 16 and 18 years old[5].
According to ABS data, in 1971, the median age for men was 23.4 years, and for women, 21.1 years. In 2017, the median age of men was 30.4 years, and women 28.8 years[6].
This differs, however, to results found by Easy Weddings in 2015 and 2018. In 2015, the average age at which women in Australia marry was 29.2 years of age while it was 32 for men[7]. In 2018, the average age had fallen slightly, where the average age of the bride is 28 years old and the average age of the groom is 29 years old[8].
Cost of Weddings
One of the problems with citing the average cost of weddings in Australia is that there is no central administrative body that collects this type of data. The Australian Bureau of Statistics does not collect information on the cost of weddings. As such, sources are scattered with varying sample sizes and collection methodologies. MoneySmart, a mini site run by Australian government body ASIC, provides the most official data with the average cost of a wedding in Australia is $36,200[9]. This figure is based on 2012 data and is one of the most commonly cited statistics.
Since 2012, the average cost of weddings in Australia has increased.
According to Wedded Wonderland, the average cost of weddings in Australia from $48,624 to $51,245 between the year 2017 and 2018[10]. This 5.25 percent increase is significantly higher than the inflation rate in 2018 of 1.26 percent[11]. At the time of writing, the average has jumped up to $53,168[12].
Consumer's desire for customisation and personalised weddings may be a factor in why the average wedding expenditure has increased. For example, brides in 2017 spent on average $4,200 on their wedding dress while in 2018, similar sample size spent on average $5,180 on their wedding dress.
"Brides have doubled their average budget on their wedding dress, which isn't surprising considering the rising trend of unique and designed wedding dresses .." – Wendy El Khoury, Director of Wedded Wonderland explains.
Spending on engagement rings and wedding rings have also increased. We see a gradual increase year after year as couples come in determined to keep up with the crowd.
Another data source, Bride to Be magazine's 2017 Cost of Love survey, reports that Australian couples are spending an average of $90,128 on their wedding, which was a significant increase their 2015 findings which found the average wedding was $65,482[13].
Meanwhile, Easy Weddings reported an average cost of $31,368 for year 2018[14].
Almost 40 percent of couples say that the ceremony is the most important part of the wedding to them. The average cost of a civil celebrant in Australia is $711, with slight variances between States and Territories.
Over 90 percent of couples hire a wedding venue with the average price per head for an Australian wedding reception being $150[15].
Wedding photography is typically the second biggest wedding-related expenditure second to wedding reception costs. According to Easy Weddings, the average cost of hiring a professional wedding photographer differed significantly by state and territory: $3,495 (NSW), $2845 (VIC), $2,846 (WA), $2,640 (SA), $2,427 (QLD), $2,936 (TAS)[16].
The average cost of wedding cakes across Australia is $508 with 74% of couples purchasing a wedding cake and 23% reporting that a friend or family member will be making their wedding cake[17].
Australians on average spend $1,534 on their wedding flowers.
Couple's Priorities are Changing
Most marrying couples hire a wedding venue, a wedding photographer, a makeup artist, and a hair stylist.
Personalised websites, planners, champagne fountains, photo booths, lolly buffets, choreographed dances, drone photography, stylised receptions, tailor-made gifts and goodie bags are some of the personalisations that modern couples are happy to indulge in for their wedding celebration.
Couples are preferring individuality and are spending more on styling, whether it is through a professional stylist or DIY. Decorations are highly influenced by current trends and styles – exacerbated by Instagram and Pinterest.
But not all couples are spending more across the board. Of the 500 brides that Wedded Wonderland surveyed in 2018, 23 percent did not go on a honeymoon, 33 percent of groomsmen paid for their own suits and 31 percent of bridesmaids paid for their own dresses[18].
According to Easy Weddings, the most popular wedding themes in 2018 are rustic, garden/outdoor, beach, boho chic, contemporary, and romantic with 91 percent of couples hiring a wedding venue.
The wedding venue remains as the biggest priority in the wedding planning process with 11 percent of couples confirming their wedding date based on their chosen venue's availability.
The wedding venue is typically the largest wedding-related expenditure with an average price per head of around $150. Given that the average wedding has 97 guests, the average cost of the wedding venue in Australia is $14,550[19].
[1] https://www.abc.net.au/news/2019-04-07/civil-celebrants-do-it-for-love-not-money/10963536
[2] https://www.abs.gov.au/ausstats/abs@.nsf/Latestproducts/3310.0Main%20Features42017?opendocument&tabname=Summary&prodno=3310.0&issue=2017&num=&view=
[3] https://www.abs.gov.au/ausstats/abs@.nsf/Latestproducts/3310.0Main%20Features42017?opendocument&tabname=Summary&prodno=3310.0&issue=2017&num=&view=
[4] https://www.abs.gov.au/ausstats/abs@.nsf/mf/3310.0
[5] https://www.ag.gov.au/FamiliesAndMarriage/Marriage/Pages/Getting-married.aspx
[6] http://www.abs.gov.au/ausstats/abs@.nsf/mf/3310.0
[7] https://www.easyweddings.com.au/articles/am-i-too-young-to-get-married/
[8] https://www.easyweddings.com.au/business/wp-content/uploads/sites/11/2018/04/Easy-Weddings-2018-Survey.pdf
[9] https://www.moneysmart.gov.au/life-events-and-you/life-events/getting-married/how-much-can-a-wedding-cost
[10] https://weddedwonderland.com/how-much-couples-spend-on-weddings-in-2018/
[11] http://www.in2013dollars.com/Australia-inflation-rate-in-2018
[12] https://weddedwonderland.com/the-cost-of-a-wedding-in-australia-2019/
[13] http://www.magazines.org.au/wp-content/uploads/Pacific-Magazines-Cost-of-Love.pdf
[14] https://www.easyweddings.com.au/business/wp-content/uploads/sites/11/2018/04/Easy-Weddings-2018-Survey.pdf
[15] https://www.easyweddings.com.au/business/wp-content/uploads/sites/11/2018/04/Easy-Weddings-2018-Survey.pdf
[16] https://www.easyweddings.com.au/business/wp-content/uploads/sites/11/2018/04/Easy-Weddings-2018-Survey.pdf
[17] https://www.easyweddings.com.au/business/wp-content/uploads/sites/11/2018/04/Easy-Weddings-2018-Survey.pdf
[18] https://weddedwonderland.com/the-cost-of-a-wedding-in-australia-2019/
[19] https://www.easyweddings.com.au/pro-education/2019-australian-wedding-business-report/
Related Posts