Black Diamonds and Their Alternatives
It's hard to deny how striking rings with black gemstones are, especially when they're paired with contrasting white metal and a well considered, well executed design. They're an alternative to the crowd favorite white diamond without the potential wardrobe clash you might risk with a bold coloured gemstone.
When many of us think of a black stone for an engagement ring, we often think of black diamonds, but are these the best choice? A quick google will soon have you overwhelmed with contradicting theories and advice, so we have decided to candidly and honestly answer all your questions below.
Are black diamonds a good option for engagement rings?
Unfortunately, this is not a simple yes or no question. There certainly are some exceptional black diamonds out there that make stunning engagement rings, but there are infinitely poorer examples on the market. Black diamonds tend to be heavily included brown or grey diamonds that are treated with heat and pressure to turn them completely black and opaque. The multitude of inclusions make them more unstable and far more prone to fracturing than their transparent counterparts.
Black diamonds are very difficult for diamond cutters to facet so they tend to be cut with less precision and poorer polish than other coloured diamonds. The fragile nature of larger black diamonds makes them too brittle for everyday wear, however, small black diamonds are a great option for accent stones. The smaller ones are more stable and can be easily replaced for minimal cost if damage does occur.
At Larsen Jewellery, we don't supply black diamonds larger than 3mm round any more. Experience has taught us that black diamonds larger than this tend to be troublesome and ultimately disappointing.
If you rephrase the questions above and ask us "Are black diamonds good options for wedding bands?", we would tell you yes. Wedding rings are usually set with smaller gems and diamonds than engagement rings, so you can safely avoid the problems mentioned above. A narrow row of black diamonds can look stunning set in yellow gold, rose gold, white gold or platinum.
Are black diamonds a naturally occurring gemstone?
There are natural diamonds that appear black, but these are few and far between. As mentioned above, the vast majority of black diamonds available today are treated. Common treatments include HPHT (high pressure, high temperature) and radiation treatment which can turn very low colour, very included diamonds black.
Most of the diamonds that are treated to become black start life as mottled dark brown diamonds with many black flecks and fibrous looking imperfections. The inclusions tend to be small deposits of pyrite, hematite or graphite which are natural minerals themselves that can occur in the same conditions as diamonds.
What are the alternatives to black diamonds?
There are two fantastic alternatives to black diamonds that are far better suited to everyday wear. The two options we always recommend are black sapphires and black spinels. Black sapphires are technically very dark blue or green sapphires, if you hold them up to the light, you can often see the true colour of the crystal showing through. They are very hard and stand up very well to normal wear. Black spinels are marginally softer and they are perfectly black. They're budget friendly and are readily available in a wide variety of shapes and sizes.
What designs look best set with black diamonds or dark gemstones?
Art Deco and vintage engagement ring designs look amazing set with contrasting black and white stones. Many examples of Art Deco styles feature black, white and gold in repeating shapes that are often a combination of curves and geometric lines.
If Art Deco is not your style, consider a classic halo design with an oval or rectangular black stone in the middle. If you choose this, make sure the cut of your black gemstone is perfectly symmetrical and precise. A white halo will highlight any imperfections in the shape of your centre stone.
You might also consider making the main focus of your ring a colourless diamond and have small black diamonds set into the band. This variation makes a fairly common design look more edgy and unique.
Our Designs with Black Centre Stones
We have a number of designs ready for you with black centre stones — both spinel and sapphire. We even have one that's similar to Big's ring (of Sex and the City fame) so if that's the kind of design you'd like to have for your engagement ring, take a look at our Calypso design.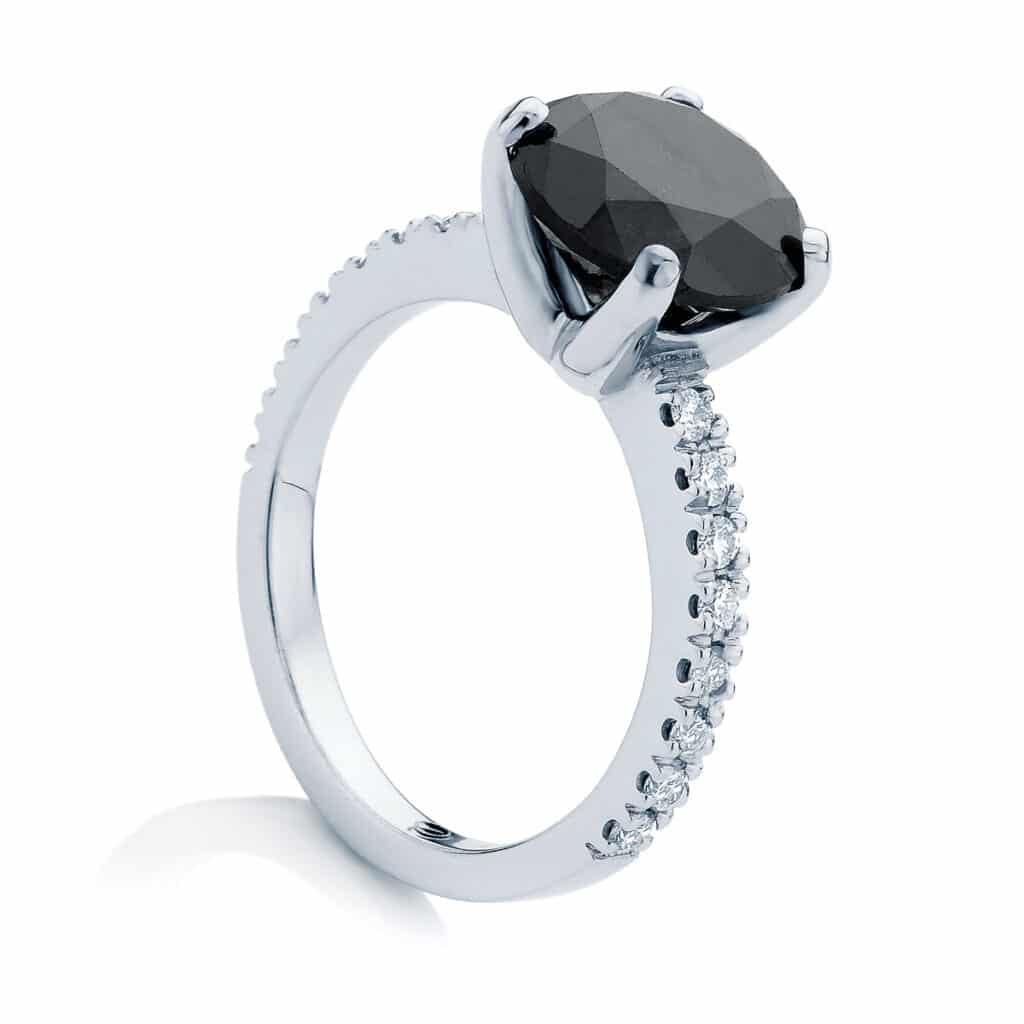 For a subtle halo and a contrasting element in your design, we have our Serenity Night with a round black sapphire in the middle.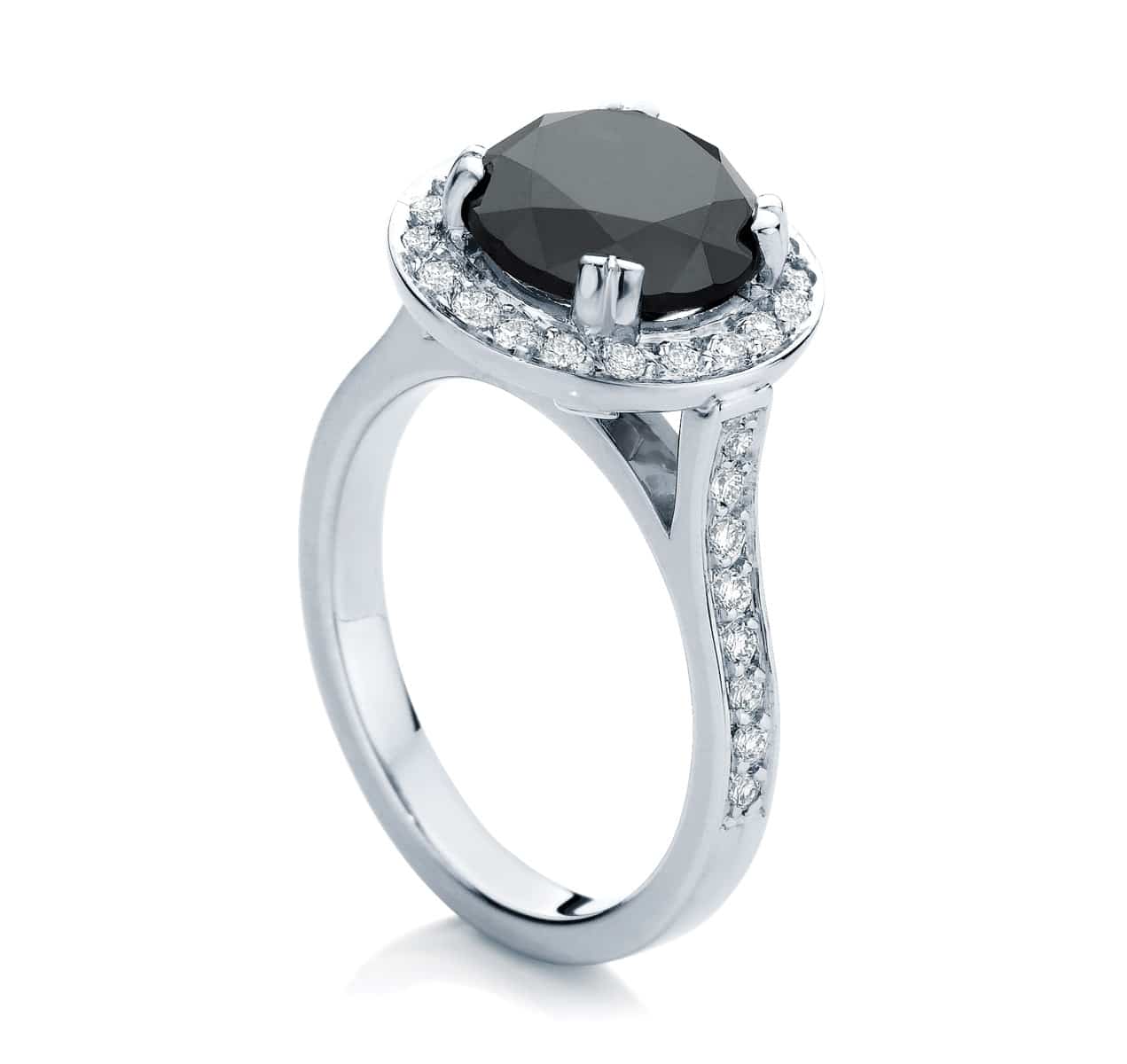 The Midnight Sky is an intriguing choice if you're looking for a bit of dynamism and movement in your design, with brilliant and princess cut diamonds in a halo around an oval black sapphire.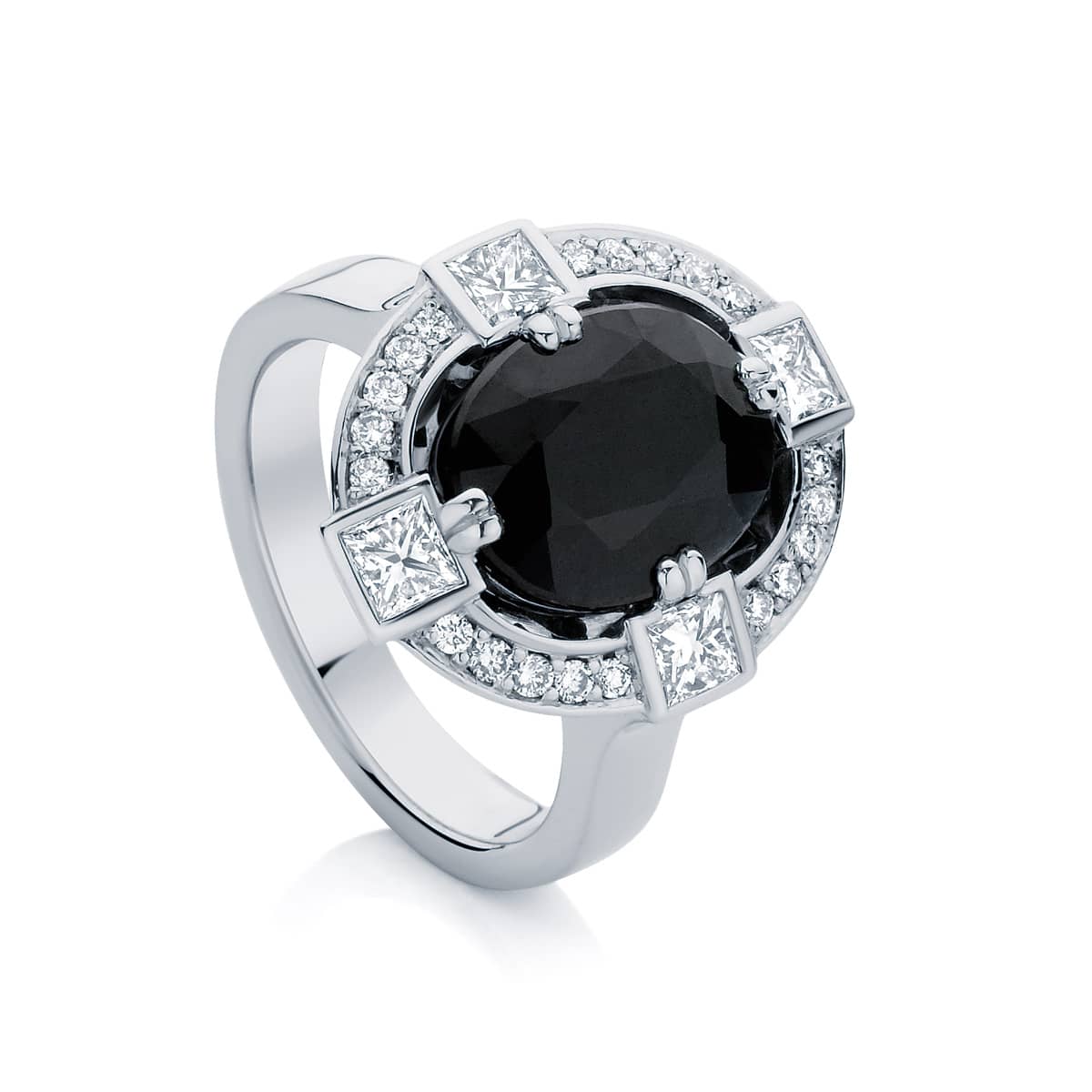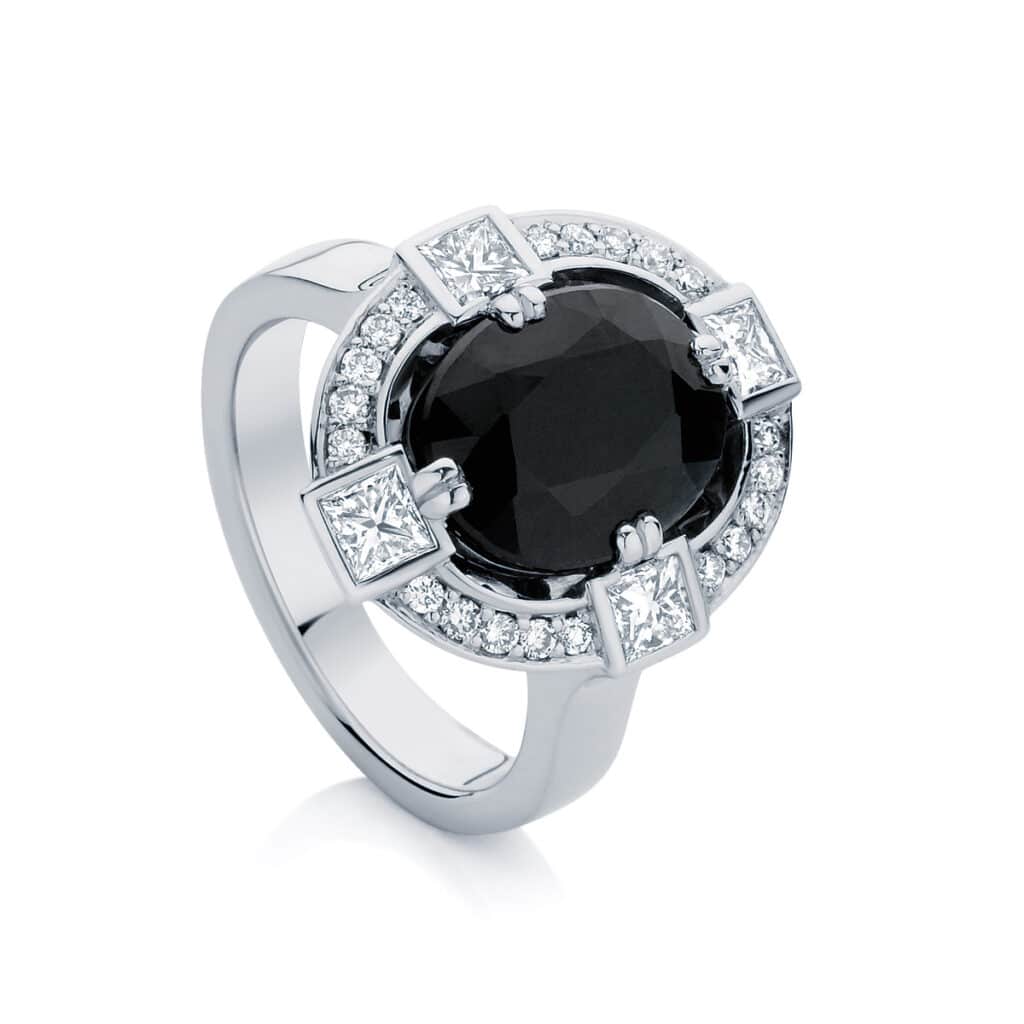 And if you prefer the concept of a halo, and want a delicate nod to Art Deco and vintage styles in the design, we have the stunning Venezia, set with a black spinel.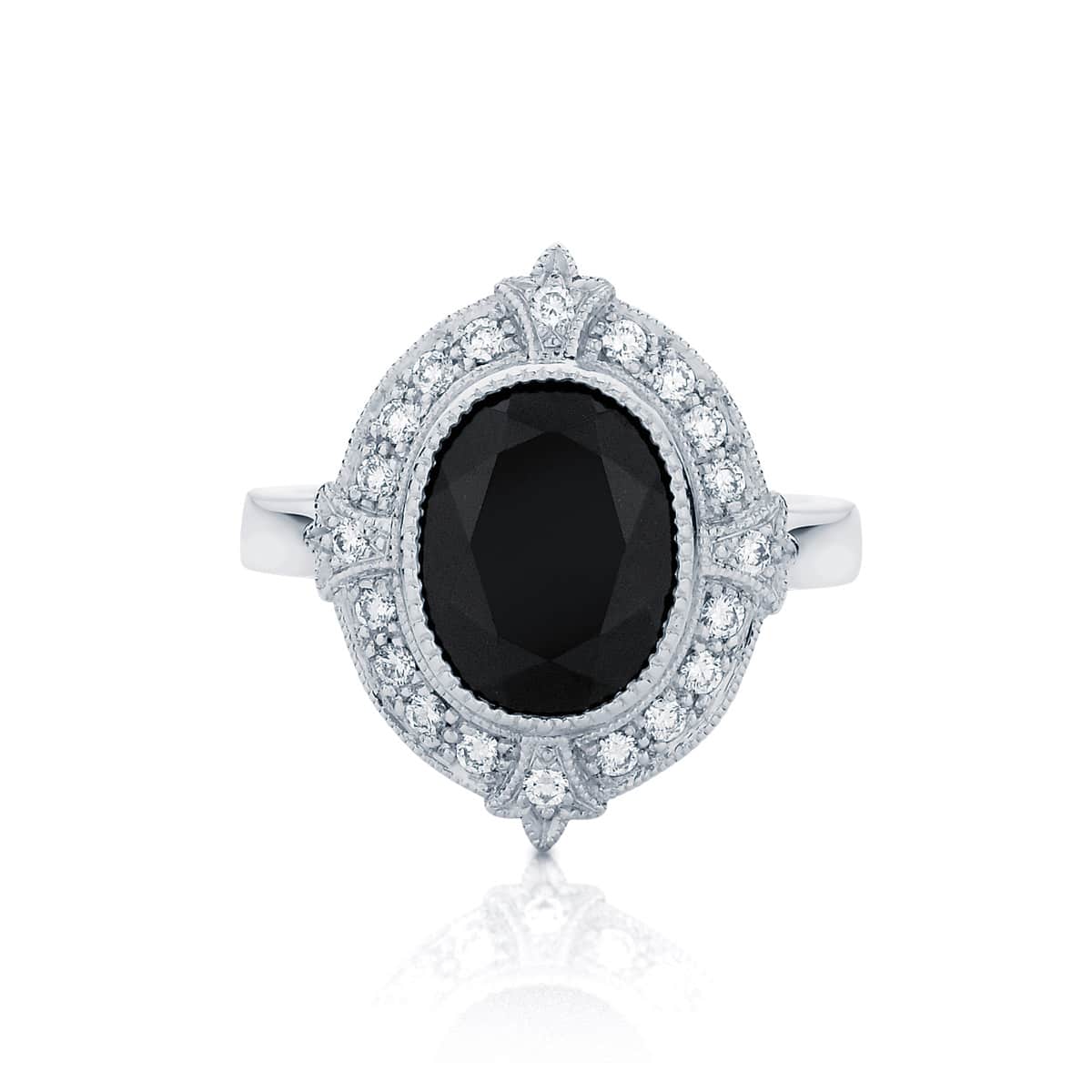 Of course if you're looking for something entirely unique and custom to yourself, we can absolutely work with you on a custom design with a black centre stone.
Are black diamond rings popular?
Every fashion trend loves to claim it is the new black. Why? Because black is never out of style. Black looks great with everything and boldly stakes its claim as the most popular colour in clothes and accessories worldwide. We frequently have requests for black gemstones of all shapes and sizes.
Search the hashtag #blackdiamonds on Instagram and you will quickly see there are thousands of unique design options that are currently on trend. Black will always be a colour en vogue. Just about every style of shoe, handbag, dress and jeans is available in black, it always has been and always will be a colour that is in demand for nearly every fashion item, rings included! Some celebrities have even jumped on the trend and oftentimes these celebrities have the money to find those rare high-quality black diamonds.
Engagement rings with a black centre stones were added to a lot of moodboards too when Big proposed with one in Sex and the City 2. The visual contrast between a black centre stone and any surrounding diamonds, or even a white gold band, is relatively unmatched in the engagement ring space.
While not a "real" celebrity, Big proposing to Carrie with this 5+ carat black diamond engagement ring is what spurred a lot of people's imagination and turned their attention towards the idea of a black centre stone in an engagement ring.
Kat von D went all in with the gothic theme a black stone naturally presents, which seems fairly on-brand for her.
Carmen Electra's was also a stunner of a design, with colourless diamonds running along the band and an eye catching setting.
A black engagement ring is a statement piece to represent a statement love. We want to make sure the ring you choose lasts a lifetime — and not all of us have the budget to carry the cost of a high quality black diamond like the celebrities out there. So while it may be tempting to go with a large black diamond centre stone, there are other gems that should stand the test of time and be with you and your partner every day.
Related Posts