Explore Diamond Cuts and the Engagement Rings to Make Them Shine!
Are you daydreaming about the diamond ring you will one day receive? Read our helpful guide below to learn all about the various diamond cuts and the ring designs that really make them shine!
When the time comes, this has the potential to make selecting the perfect engagement ring a difficult decision. One of the best ways to narrow down your options is to find which style best suits your hand, in particular, which shaped diamond is the right choice.
Discovering the style that suits you best can be an interesting exercise. Even if you have spent hours browsing on Pinterest, you may find that your choice changes once you see how it looks on your hand. It is important to be mindful that, just like purchasing an item of clothing, how a ring might look in an image may be different when you try it on. So allow yourself to be open to the idea of getting something different to what you had imagined. And make sure to come in to our studios in Sydney, Melbourne or Brisbane to try on our display rings to see which style suits you best.
Click to jump to your favourite diamond shape
Below are a few tips from the Larsen Jewellery team to assist you in choosing the best shape diamonds for your hand.
1. Consider the size. Some ladies have their heart set on a large diamond. If you have petite hands then take in to account the fact that a big diamond will look even larger on your hand. Consider the size and even save yourself a few dollars by opting for a smaller diamond in proportion with your hand.
2. Do you have short fingers and want to create the illusion of long fingers? For you, an elongated shape will look great on your hand. Emerald cut, oval, marquise and pear-shaped diamonds are all wonderful options.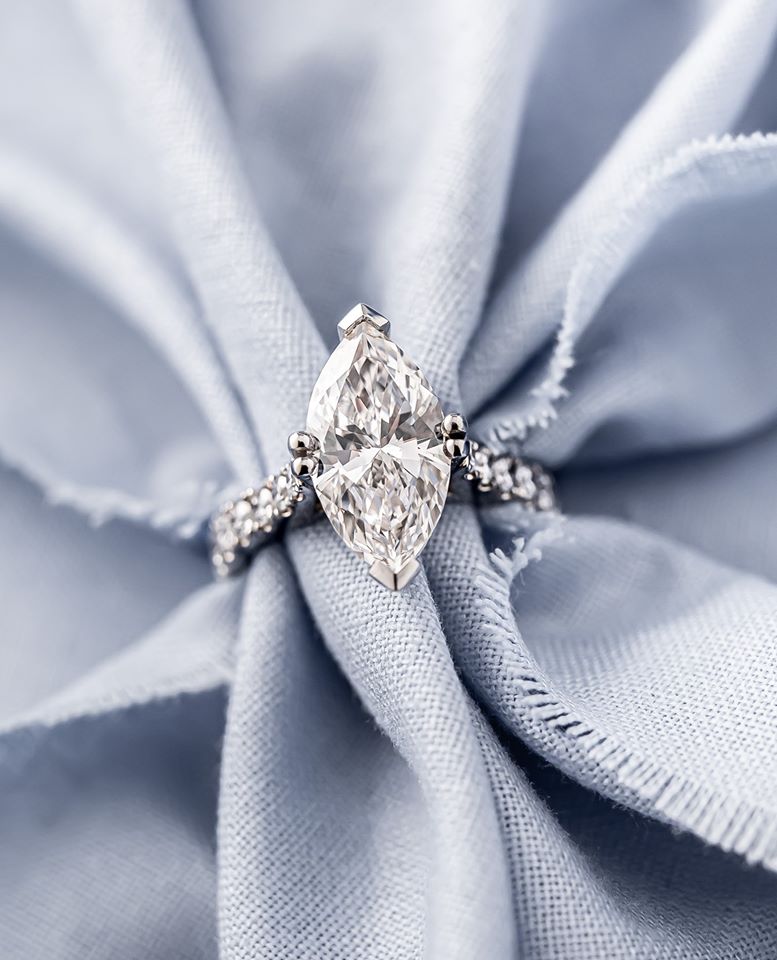 3. For those with long fingers or skinny hands then larger stones, either round, square or other fancy shapes are a perfect fit for you.
4. Which shape is the safest choice for most hands? Round brilliant diamonds are the most popular diamonds for several reasons, one of those is that they suit everyone. If your preference is classic and timeless designs then opt for a round brilliant diamond.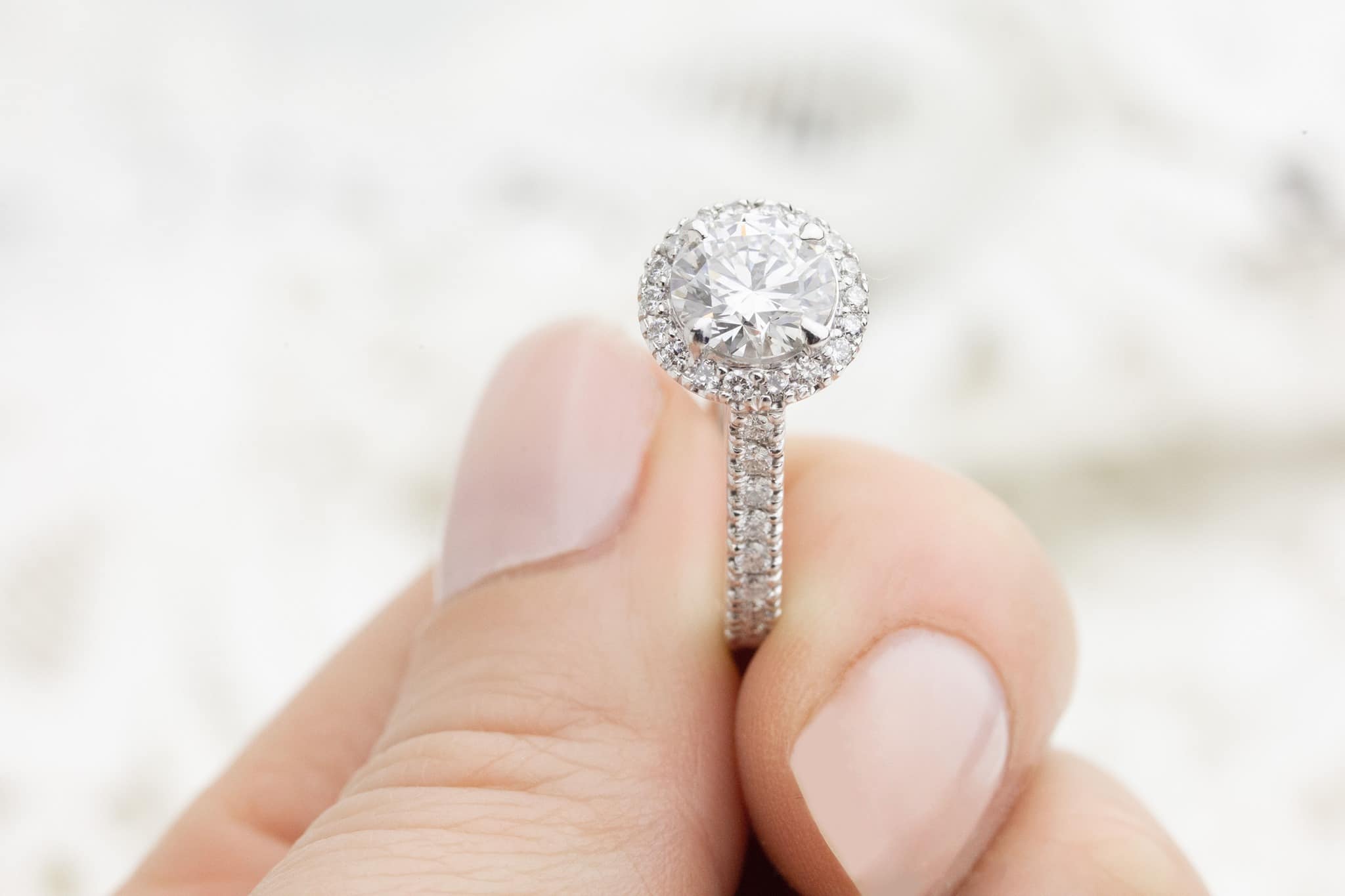 Most important of all, you should always stay true to your personality and style. Stick to a ring that you absolutely love. Always try designs on before you make your final choice and avoid making the mistake of overwhelming yourself with too many options.
Round brilliant diamonds are by far the most popular choice for engagement rings but they are not the only option. There are many shapes, colours and sizes to choose from that suit all styles. If you look at the latest trends, you will notice that it is becoming more common for people to choose a more obscure, less popular shaped diamond.
When making your decision there are a few things to consider that may or may not lead you in another direction.
Fancy Shapes, the Affordable Option
Being the number one choice, round brilliant diamonds also means they demand a premium. This is one reason why you may want to consider one of the less popular fancy shaped diamonds. Another reason shapes such as an oval or an emerald cut can be more affordable is that there is less wastage when cutting the diamond.
One for Everyone
The list of fancy cuts is long and there really is one for everyone. From the traditional princess cut to the beautiful emerald cuts and ovals to cushions, it won't take too long to find the right one for you. If you are after something even more individual, then consider a heart shape. You may like the one Lady GaGa was gifted or ask your jeweller to hunt out the most obscure shapes they can find. Diamond suppliers often have a few rare cut diamonds waiting for a customer just like you!
More Bling for Your Buck
If you want a large gem, then opting for a fancy-shaped diamond will most likely be the best option for getting the biggest gem to fit your budget. If you want even more sparkle, then enhance your stone with small accent diamonds.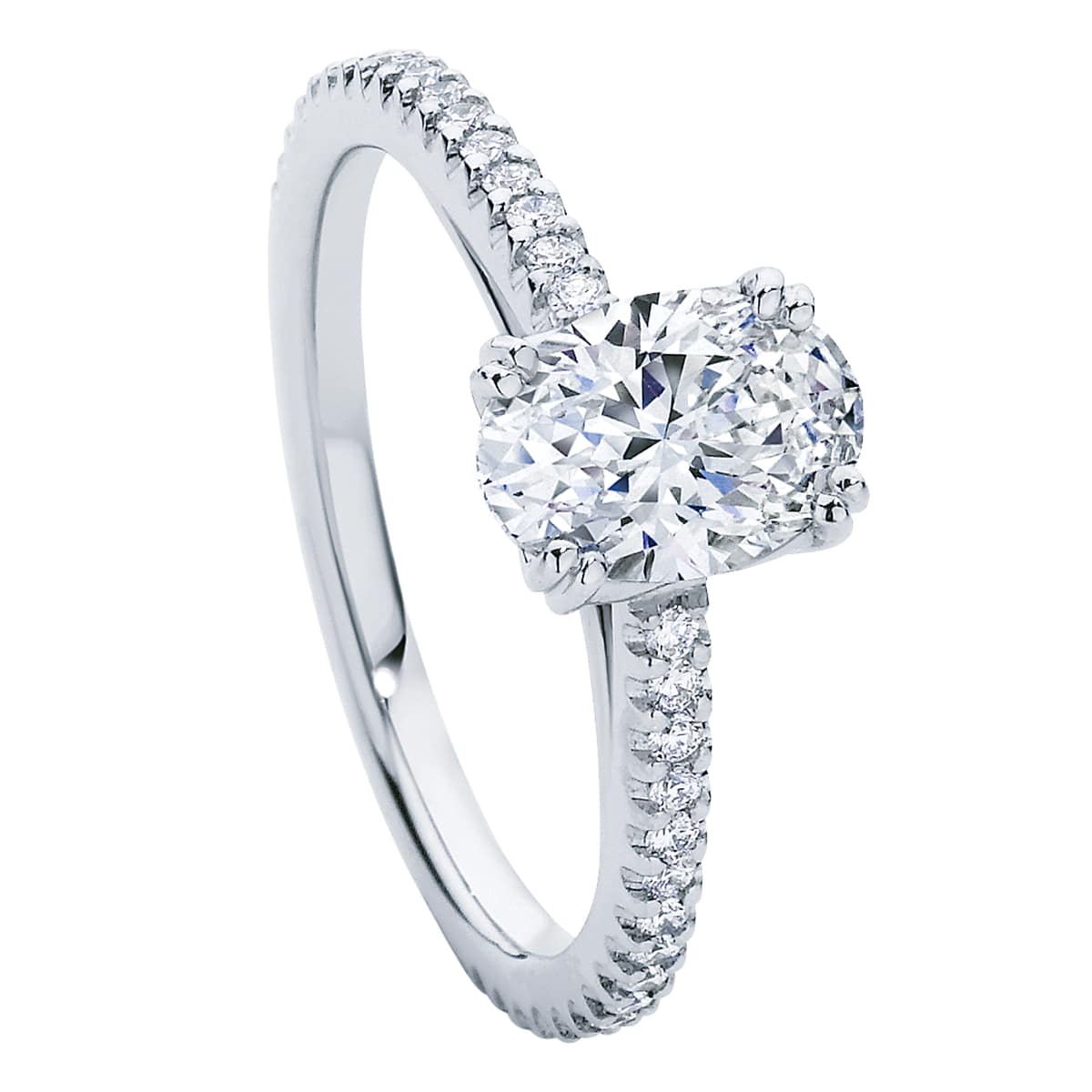 Remember to Stay True to You
The most important thing when choosing an engagement ring is to stay true to your style. It is easy to get caught up on what the latest trends are or what others close to you have. But at the end of the day, you will wear your engagement ring for the rest of your life. Whether it is a classic round brilliant, a contemporary or vintage piece, the most important thing is that you love it.
Fancy shaped diamonds are all those shapes other than round. The round is the most popular, but it is certainly not the only. In fact, we are seeing a growing trend of women looking towards alternatively shaped diamonds for their engagement rings.
For those that are looking for something unique, it is truly worth exploring fancy shaped diamonds. Advances in technology have developed of some of the most spectacular cuts, all with their own complex faceting pattern. All cuts are unique and distinct, but the one thing in common is their sparkle!
So how do I choose?
With so many different shapes to choose from, it can make it hard to make your final choice! Each of these cuts is vastly different and most will find themselves drawn to one over another. Some love the symmetry and lines of Emeralds and Asscher cuts, whilst others prefer the gentle curves of Oval, Pear and Cushion cuts.
When purchasing a fancy cut diamond, the grading system is slightly different from Round Brilliant diamonds. The most important factors are the colour and clarity, as well as the proportions and cut. But often it comes down to personal choice as well. It is always a good idea to ask a diamond expert to show you a range of options. They can talk you through all the differences so that you can understand everything and are able to make an informed choice.
The Round Brilliant Cut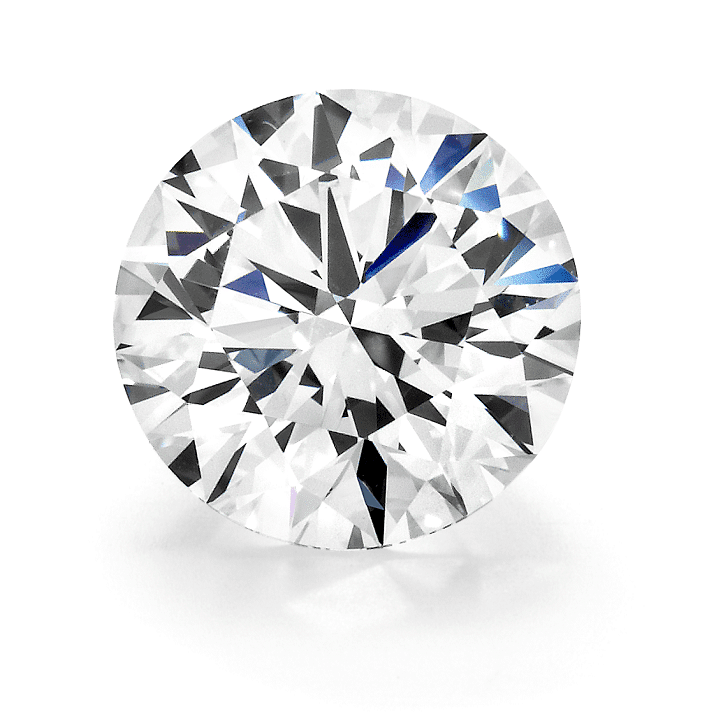 The round brilliant cut is by far the most popular diamond cut for engagement rings. This type of cut accounts for around 75% of all diamonds sold.
Famous for its superior sparkle, the round brilliant cut is the most spectacular of all cuts. Today's brilliant-cut features 58 facets. The cut has developed over time with the first prototype having been traced back to the beginning of the 15th century. The term "brilliant cut" was not a common term for some time with the first recorded use dating back to 1614.
In 1919, a mathematician from Antwerp analysed the proportions of the brilliant-cut, his name was Marcel Tolkowsky. He came up with a formula for how to cut a round diamond in a way that would maximise the amount of light reflected and flashes of spectral colour. These characteristics are the brilliance and fire of the diamond. Different versions of this style became known as the Tolkolsky Cut and the Modern Brilliant Cut.
The Cushion Cut
Cushion cut diamond engagement rings were tremendously popular over a century ago. Thankfully, they are now becoming trendy again in modern rings. With the sensual shape and subtle sparkle, they are a sophisticated alternative to flashier brilliant cuts. The sacrifice neither the beauty or romance that symbolises the love two people share.
Cushion cut diamonds have rounded corners, large facets and are available in square and rectangular shapes. They are pleasant alternatives to emerald, oval or princess cuts, as they incorporate aspects of all three shapes. Choosing a square or rectangular proportion is completely up to your personal preference. Cushion cut diamond engagement rings can be made for a range of shapes and proportions.
What designs suit cushion cut diamonds?
For couples interested in a vintage style ring, a cushion cut diamond engagement rings may be a perfect choice. With an antique flair paired with a soft, romantic shape, these diamonds make stunning engagement rings.
The Cushion Cut has been around since the 19th century and is still hugely popular today. Whether it is a diamond or your favourite coloured gemstone, cushion cuts are a wonderful alternative to other popular shapes.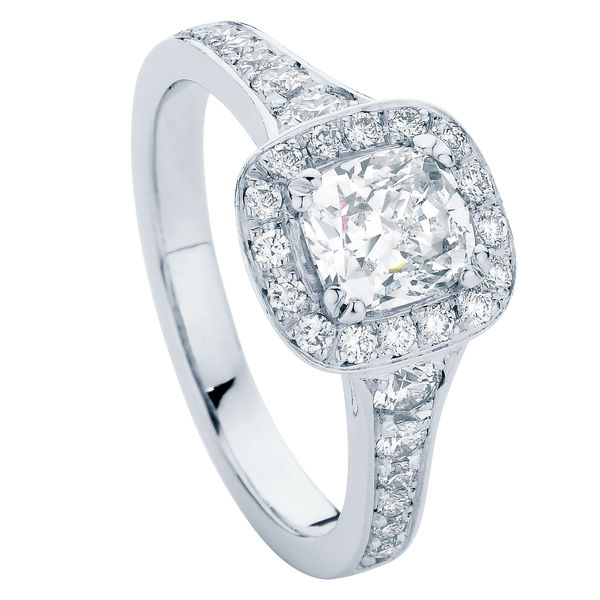 Cushion cut stones vary in appearance depending on their individual dimensions. Cushion cuts generally range from square to rectangular shapes. The main characteristics that set them apart from other cuts are their beautiful rounded corners and the large open tables. These features create the sparkle that cushion cuts are famous for. It is important to remember to have a close look at a diamond before making your choice. A diamond will only reveal its true nature when you view it in real life.
The Cushion Cut, with its beautiful old-world look, is the perfect choice for bringing your vintage style engagement ring to life. Many celebrities have fallen in love with this trend! Two of our favourite Hollywood cushion cut engagement rings are Jennifer Garner's and Molly Sims'. Garner's fabulous 4.5ct rectangular cushion cut ring and Sims' 6ct stunner are absolute show stoppers!
The history of Cushion Cut diamonds.
The Cushion Cut, a modern evolution of the Old Mine Cut, has been around since the 19th century and in recent years we have seen them soar in popularity. Cushion cuts have a similar facet structure to the round brilliant diamond. They vary in shape from squarish to more elongated shaped, also known as a rectangular cushion.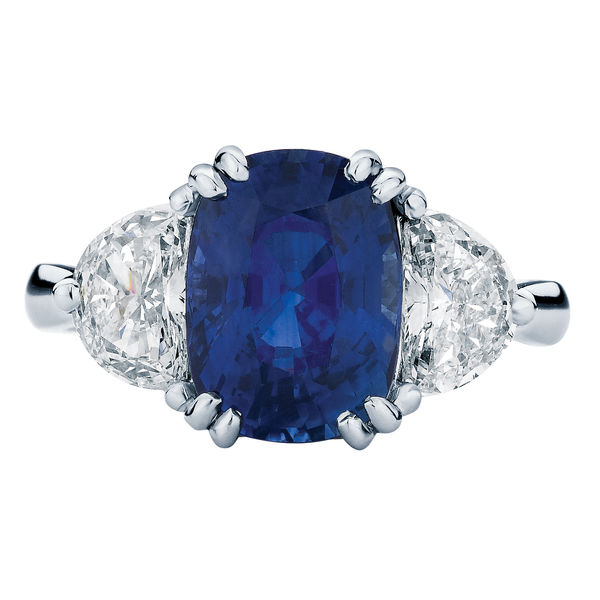 With women all over the world are loving the idea of recreating their own vintage or antique-inspired ring. The Cushion Cut makes the perfect choice of diamond for this theme. There are just a couple of things to keep in mind when choosing a cushion cut.
Stick to the clarity SI1 or higher and be mindful of any inclusions, particularly those at the top. The larger facets at the top of the diamond magnify inclusions, affecting the diamond's brilliance.
Beware of Cushion Cuts that are deep and have small width and length measurements for their weight. These often present with a busy facet arrangement giving them a shattered glass appearance.
In comparison to the Asscher cut, the Cushion is characterised by smooth, rounded corners. The Cushion Cut was the choice for most before the development of the Round Brilliant. With the recent rise in popularity of vintage-style, engagement rings the Cushion Cut is back in fashion. The Cushion is a fantastic choice when recreating antique and vintage style pieces.
The Oval Cut
The oval cut is a variation of the round brilliant cut and is considered a very traditional cut. This shape appeals to people looking for a stone that is traditional in appearance but not too common. Oval cut diamonds only account for a small proportion of all diamond sales.
The oval cut has the same number of facets as the round brilliant cut. A well proportioned oval cut diamond should not be too short and squat, or too long and skinny. Most experts agree that the length should be around one and a half times the width.
One of the benefits of the oval cut is that, like the marquise cut, it makes the finger appear more slender. The Oval Cut, unlike the marquise cut, has a broader appearance given its more traditional shape.
An oval cut diamond presents some design challenges as it can be difficult to match with other shapes of diamonds. In engagement rings, oval cuts are often set in solitaire designs. They also make great three-stone rings when teamed with other oval cut stones or contrasting cuts like tapered baguettes.
Oval cut diamonds are a fabulous choice, their beautiful shape makes them very versatile. Stunning in both vintage and modern settings, as a solitaire or set with surrounding smaller diamonds. Like a pear diamonds, an oval diamonds will vary in appearance depending on their proportions. Some oval diamonds will appear long and narrow in shape, while others will be shorter and wider.
So who does an oval diamond suit best?
Because of the variations in cut, it is possible for anyone to find an oval diamond to suit their finger shape. Beautiful elongated oval diamonds make the perfect choice for those ladies with shorter fingers. They offer the illusion of longer, slender fingers.
For inspiration for your own custom made oval engagement ring, you need only look to the famous hands in Hollywood. One of Larsen Jewellery's favourite celebrity rings is Blake Lively's stunning pink oval diamond engagement ring. Lively's engagement ring is the perfect example of creating a simple setting to allow the diamond to be the hero. Another noteworthy mention is the vintage-inspired engagement ring once worn by Katie Holmes. Tom Cruise proposed to Katie with a stunning 5ct oval diamond split shank engagement ring encrusted with a halo of diamonds.
The Princess Cut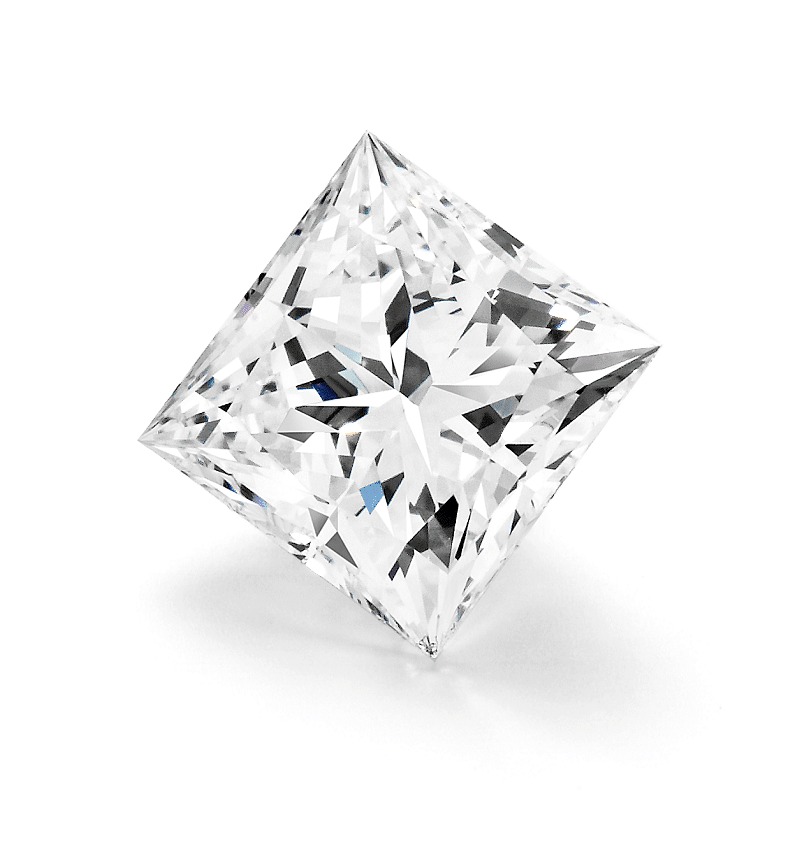 The Princess cut diamond was developed in the 1970s, by Betzalel Ambar and Israel Itzkowitz. It was first marketed as an alternative to the round brilliant cut diamond. Today, it is one of the most popular diamond shapes to rival the round brilliant diamond.
Princess cut diamonds are a romantic choice fit for a princess. They are perfect for the lady that loves clean, streamlined designs; the modern and contemporary woman. If you are looking to buy a princess cut diamond, here are a few tips to keep in mind.
A princess-cut will sparkle beautifully, but not in the same way that a round brilliant cut does. This is due to the larger, four-sided pavilion which divides the light return into 4 sections. This can sometimes result in triangular-shaped or X-shaped areas of lost light. These areas appear dark within the stone, the round brilliant cut's 8 sections are more efficient at avoiding this.
Why are princess cut diamonds less expensive?
Princess cuts are a more affordable option than a round brilliant diamond. A contributing factor to the difference in cost is due to the natural square shape of a rough diamond. Cutting a round brilliant cut diamond results in more wastage than cutting a princess cut diamond.
When looking for a princess cut diamond the most important factors are the cut, symmetry and polish. A diamond that is cut poorly will not have the same brilliance and fire that a well-cut stone has. We recommend looking at a selection of princess cuts in person. The cut itself is not graded on GIA certificates so the best way to determine the brilliance is with your own eyes.
The most important thing is to use these tips as a guideline and to choose what is right for you and your budget. Choosing a diamond is a personal choice, what you might love might not be right for somebody else… and that is ok.
Princess cut diamonds are one of the most popular diamond cuts available today. When cut to the right specifications, their Brilliance will demand attention and inspire awe.
Princess cut diamond rings are unique in the fact that they fit in both the 'modern' and 'classical' categories. When it comes to the setting, there are many options available. We recommend you take the wearer's personal style into consideration when making this decision. Here are some examples of the looks that can be achieved:
Understated elegance:
A four claw open 'V' solitaire setting, tapering inwards towards the diamond.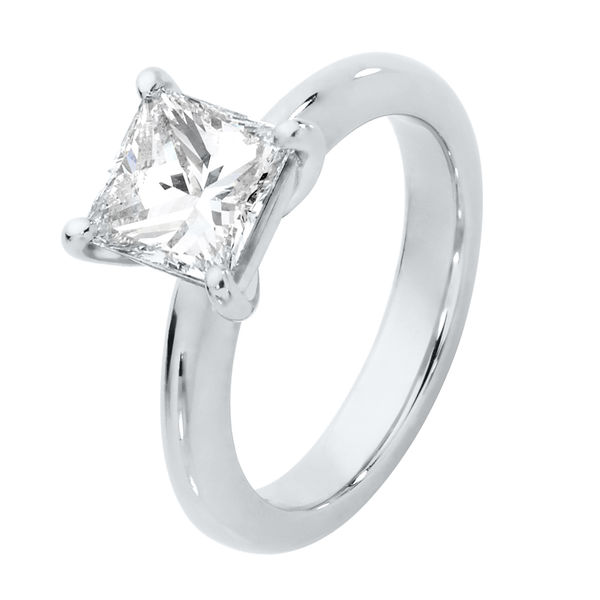 Inspiration: The 'Eclipse' design, by Larsen Jewellery.
Vintage belle:
A four claw solitaire design, tapering gently at the base and featuring delicate hand-engraving.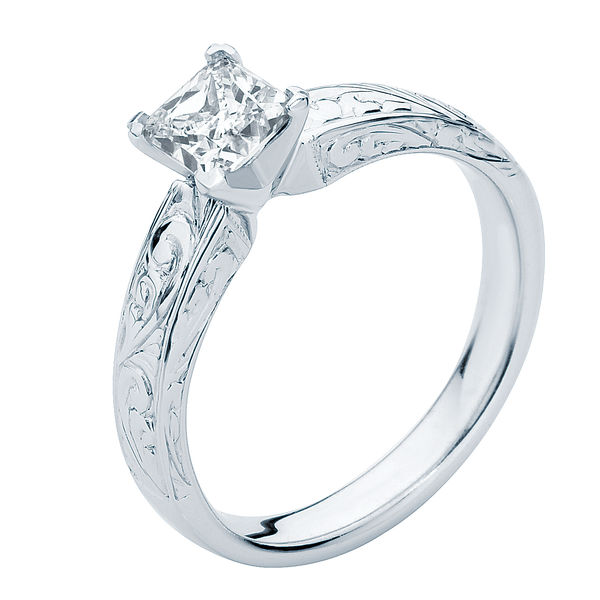 Inspiration: The 'Bella' design, by Larsen Jewellery.
Sophisticated glamour:
A four claw setting, featuring dazzling Brilliant cut diamonds, bead set halfway around the band.
Inspiration: The 'Amore Princess' design, by Larsen Jewellery.
Modern chic:
A wider band of flat-profile, featuring a bezel setting to surround the entire diamond.
Inspiration: The 'Bliss' design, by Larsen Jewellery.
If you love modern designs with clean lines then a princess cut ring accentuated by a diamond band might be the perfect choice for you. Princess cut engagement rings are the perfect mix of classic style, elegance and sparkle.
Princess cut diamonds are one of the most sought after diamond shapes. There are benefits to purchasing a princess cut that might even make some believe it is superior to a round brilliant cut. The princess cut not only has the brilliance to rival a round brilliant cut diamond but it also has a lower price. The princess cut diamond is very close to the shape of the rough diamond crystal making the princess cut a more efficient choice.
At Larsen Jewellery, we adore princess cut engagement rings. One of our favourite combinations is a princess cut diamond ring with a diamond set band. There are many variations to this style, you cann choose rose gold with white diamonds or side diamonds that contrast in shape. Our designers will help you come up with a beautiful design to suit your style and your budget.
Here are a few of our favourite princess cut engagement rings featuring diamond set bands.
The Princess Cut Halo and Diamond Band Engagement Ring
The 'Honour' engagement ring is a classic halo style princess cut engagement ring. It features a princess cut diamond set with double claws and surrounded by a halo of round brilliant diamonds which continue down the band.
We can customise the 'Honor' design with your choice of metal and diamond size.
The Vintage Style Princess Cut Ring with Diamond Band
We love vintage style engagement rings and the princess cut engagement ring lends itself so well to these designs. Our 'Baroque' is a fine example. It features graduating round diamonds with stunning antique mill grain and filigree detail.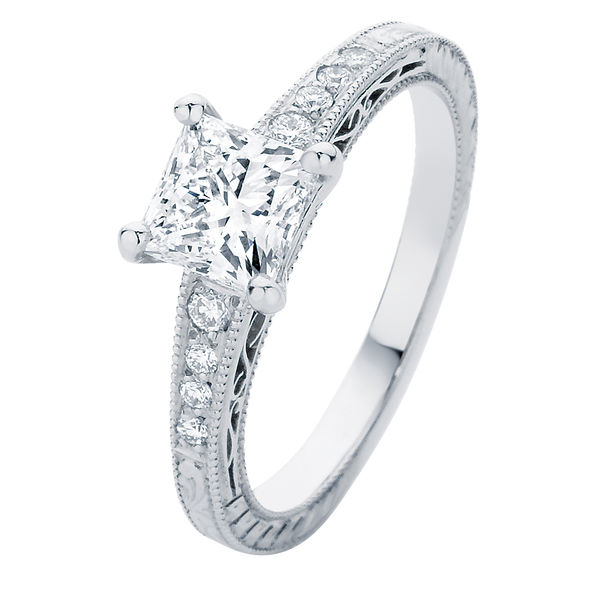 Princess Cut Split Shank Designs
One of the most elegant styles is the diamond set, split shank. Our 'Princess' engagement ring is a stunning example of how beautiful a princess cut diamond can look. It is set into a split shank with graduating bead set round brilliant diamonds.
The Ultimate Touch of Luxury
Princess cut diamonds allow you more diamond for your dollar, so if you love sparkle then the princess cut is a perfect choice. I will allow you to create that luxurious, decadent design you have been dreaming of. Our 'Mercury' is a perfect combination of tasteful design with a generous amount of sparkle. The 'Mercury' is a three-stone ring featuring baguette diamonds set into the band.
Round Brilliant Cut diamonds are the most popular choice for centre stones in an engagement rings. This is not for everybody though. Many are drawn to geometric shapes and symmetry with square-cut stones being the perfect fit for them. When we picture square-shaped diamonds, the first thing that comes to mind is most likely the Princess Cut diamond. But there are several cuts that fit under this umbrella and each is beautiful and unique in its own way.
There are four main square-cut diamonds. The most popular being the Princess Cut, followed by the Asscher Cut, Cushion Cut and the Radiant Cut – in no particular order.
Inspired by the Round Brilliant Cut, the Princess Cut is also referred to as a Modified Square Brilliant. Very like a Round Brilliant, the Princess offers competitive brilliance and fire that so many desire. If you are after that extra sparkle and love square shapes then this is the diamond for you. The Princess Cut suits contemporary styles, set either on their own or accented by smaller diamonds. Channel set Princess Cuts offers a sleek and modern way to compliment your centre diamond of any shape.
Celebrity Princess Cut Engagement Rings
If you love square cuts, you are in good company. Celebrities all over the world are setting trends with stunning square shaped engagement rings. A few of our favourites:
Kim Kardashian's 15ct whopper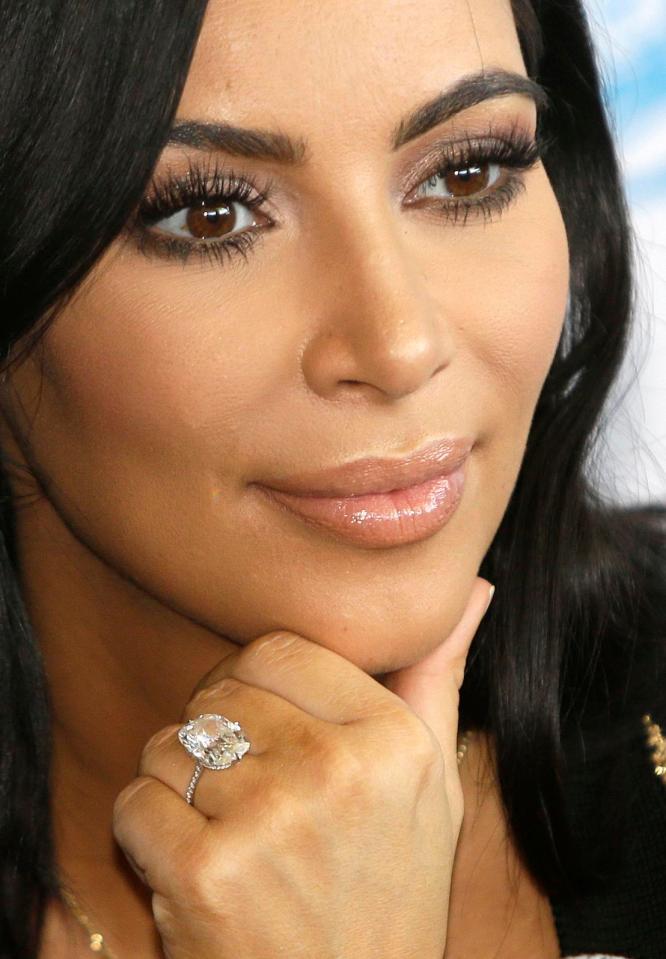 Halle Berry's stunning Emerald engagement ring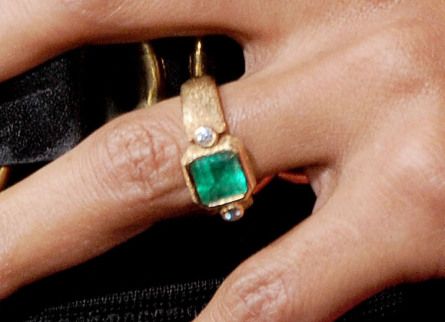 The Pear Cut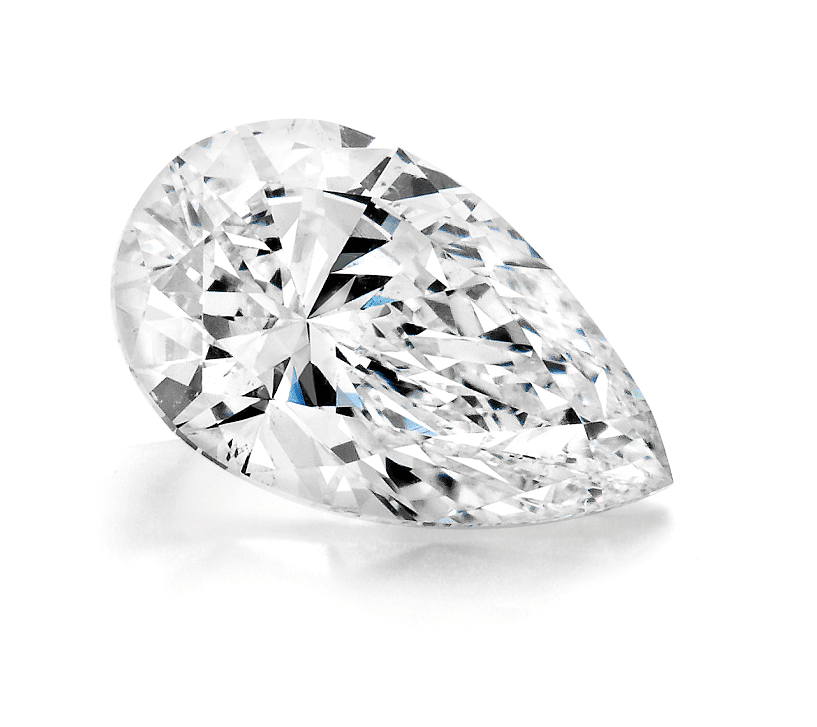 Pear-shaped diamonds are a wonderful, versatile choice that is often overlooked. Why are they so fabulous? Apart from being such an exquisite teardrop shape, they combine the best features of oval cut and a marquise cut diamonds.
When choosing a pear-shaped diamond the cut is of most importance. If a pear-shaped diamond is not well cut, the diamond will display a 'bow-tie' effect. This is when a dark section appears in the centre, detracting from the brilliance of the stone. A well-cut pear-shaped diamond will have facets like an oval cut diamond and the pointed end will have facets like a marquise diamond. These elements combined will create a diamond that has the fire and brilliance of both of these cuts.
Pear-shaped diamonds will all vary in appearance. Like oval diamonds, some will be long and narrow, whereas others may be wider and shorter. Rough diamonds are cut and polished to get the highest quality result depending on their original shape. A pear diamond can be long or short in length and have a wider rounded base. There is no right or wrong, your taste is what should determine your choice.
What designs suit pear-shaped diamonds?
Pear cut diamonds look wonderful in engagement rings. Either as a solitaire creating a lovely contemporary look or a vintage look with your pear diamond surrounded by a lovely halo of diamonds. They are a great option if you have small fingers, just like oval or marquise diamonds, they create the illusion of longer fingers.
You can create your own unique design, choose a classic pear engagement ring or take inspiration from the famous hands in Hollywood. Either way, a pear diamond engagement rings will be an original stand-out show stopper!
It's important to select Pear shaped diamonds based on the highest cut and symmetry grades. You'll want to ensure the stone is as symmetrical as possible and demonstrates fire or 'sparkle'. Lower cut grades tend to show darkness in the centre of the stone. This will have a negative effect even on diamonds of the highest colour and clarity.
Another element to consider when choosing a Pear cut diamond is the width to length ratio. There is no 'correct' ratio but rather it is a matter of personal taste. The longer, narrower cuts will look fantastic in earrings and diamond pendants. Whereas the shorter and wider cuts are a wonderful choice for a Pear cut diamond ring or engagement ring.
Pear-shaped diamonds have made a comeback in recent years, particularly with the likes of celebrities of the moment. Katherine Heigl and Margot Robbie both wear exquisite pear-shaped diamond engagement rings.
Like other fancy cut diamonds, the pear-shaped diamond is a great choice for those that are after a large sparkling diamond. While round brilliant diamonds are the most popular and most expensive, a pear-shaped will get you more dazzle for your dollar.
Take a look at some of our stunning Pear shaped rings. We might just get you rethinking your diamond choice!
Pear-shaped diamonds bring together the best of oval and marquise cut stones. Being a modified round brilliant, the pear shape will sparkle with its brilliance, they are famous for their fire.
If you do find yourself leaning towards a pear-shaped diamond for your engagement ring then there are a few things you should look out for.
Symmetry
You want a Pear/teardrop diamond to look exactly like that, so symmetry is one of the most important factors. The pointed end should sit in line with the centre of the rounded end.
Shape
All pear-shaped diamonds will look different depending on the length to width ratio. A pear-shaped diamond that is too elongated or too wide will not be as attractive as a well-proportioned one. Many suggest that somewhere between a 1:1.4 or 1:1.7 is ideal for this cut but, of course, this is up to you and your tastes.
Avoid the bow-tie effect
Pear-shaped diamonds that are poorly cut will exhibit a bow-tie effect. This is a dark section in the centre of the diamond that can detract from its brilliance regardless of its colour or clarity.
At Larsen Jewellery, we love it when we get the opportunity to come up with a design using a beautiful pear-shaped stone. Being a unique shape, the request is often a unique and beautiful ring. Here are five of our favourite Pear shaped rings:
The Emerald Cut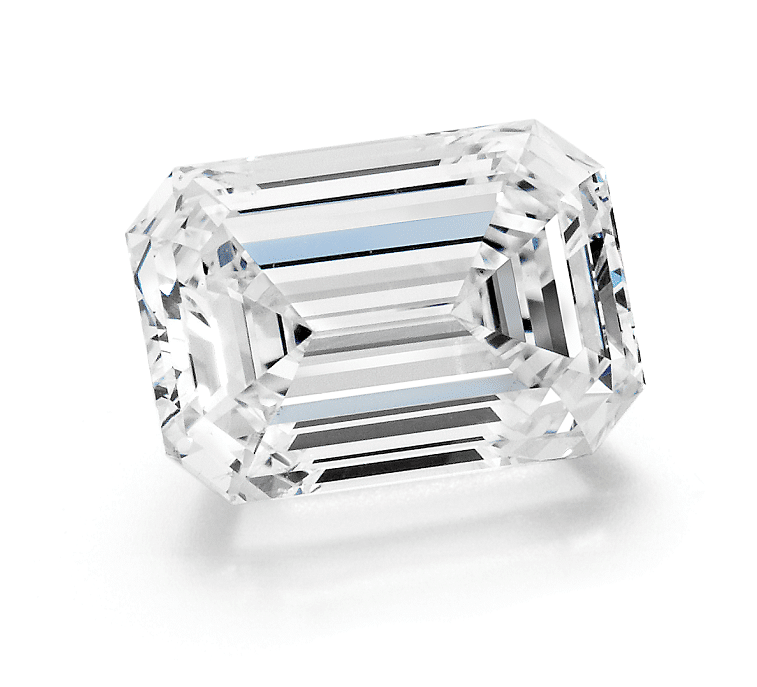 There is something about Emerald cut diamond engagement rings at the moment. Just look at the hands of the world's most famous ladies. Aside from being some of the most famous women in the world, Beyoncé, Angelina Jolie and Amal Clooney have another thing in common. Their ring engagement rings feature eye-catching Emerald cut engagement rings.
Angelina has an Art Deco-inspired ring features an emerald cut diamond and Baguette diamonds. This beauty was custom designed by her ex-hubby Brad Pitt. Beyoncé, one half of the powerhouse couple, received an 18 carat Emerald cut diamond ring from Jay-Z valued at an incredible $5 million. And the envy of women all over the world, Amal Clooney received an ethical Emerald cut diamond engagement ring from George Clooney.
When did emerald cut diamonds become popular?
Emerald cut diamonds were also hugely popular during the Art Deco period. With their bevelled streamlined edges and their renowned step-cut, they're perfect for the geometry of Art Deco designs. The trend of Art Deco-inspired engagement rings continues to boost the Emerald cut's popularity.
How do you choose an emerald cut diamond?
The Emerald cut does not have the same brilliance of the popular Round Brilliant diamond, the appeal is the beautiful long facets.
It's important to keep in mind that as you can see straight through an Emerald cut diamond. It is one of the most unforgiving cuts and will reveal any flaws or inclusions. For this reason, it is sound advice to opt for a diamond with high clarity, cut and colour grading. Go for the highest that your budget will allow.
Who suits Emerald cuts best?
With their long slender nature, they suit those with long, slender fingers.
If you are after a large diamond then keep in mind that the same weight Emerald cut to Round Brilliant will not look as big. The width will be less than that of the diamond of the Round Brilliant. In which case you may be looking for a larger sized diamond than that if you were after a Round Brilliant. Emerald cut diamonds are less expensive, you can usually always get more "bang for your buck" by purchasing a "fancy" shaped diamond.
If you do have your heart set on a beautiful diamond the best thing is to try a few stones on to get a feel of the size and look you are after. At Larsen Jewellery we can source a selection of beautiful Emerald cut diamonds to fit your budget. One of our diamond experts can show them to you under 10x magnification explaining their differences. After this, you can truly understand each diamond before making your final choice.
Emerald cut diamonds with baguettes
Was it Angelina, Kim Kardashian, Beyoncé or Mariah Carey's most recent engagement ring that started the trend? We don't know but one thing we cannot deny is that these ladies have played a big part in the emerald cut engagement ring demand.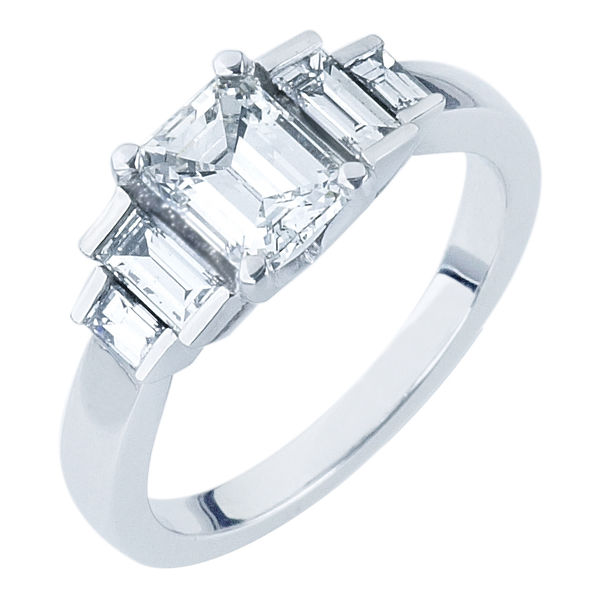 Emerald cut engagement rings are striking and sophisticated. They lend themselves to both modern, fashionable designs and beautiful vintage styles. One of the most beautiful aspects amongst many Emerald cut engagement rings is the elegant, streamlined and clean nature. They embody well-considered, restrained design with the perfect balance of sparkle. One style that captures this is emerald cut diamond rings with baguettes. If you love symmetry and geometry, clean and crisp designs then you will love these styles of engagement rings.
These styles typically feature the Emerald cut, whether a diamond or a coloured gemstone as the centre stone. It's nestled between complementing baguette or tapered baguette diamonds. For the modern, fashionable lady this design is perfect.
For inspiration, here are some of our favourites, some from Larsen Jewellery and some found on the hands of celebrities.
The Asscher Cut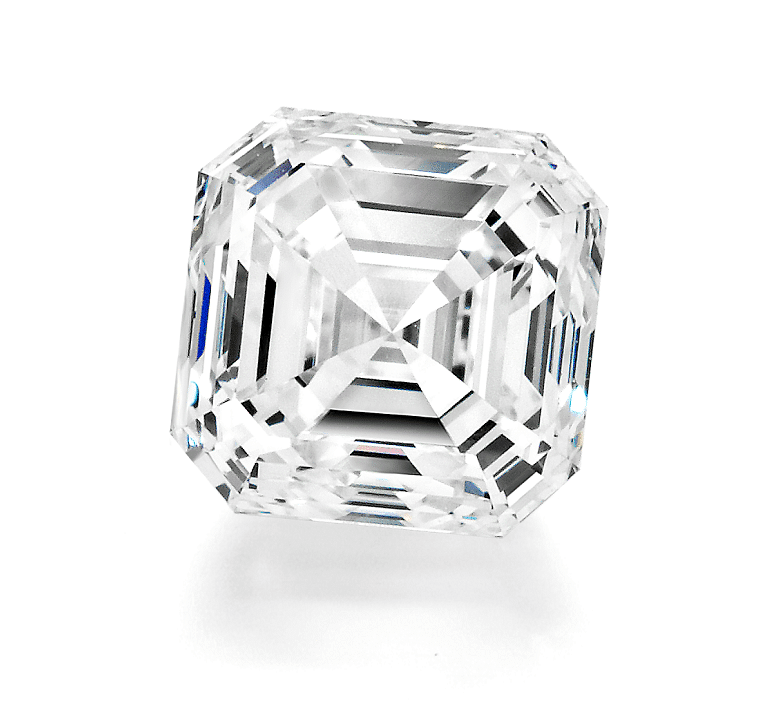 The Asscher Cut emerged at the turn of the 20th century. Designed by Joseph Asscher, is still one of the most striking square cuts and one of our personal favourites. Characterised by their cropped corners; the Asscher Cut is a stepped cut like an Emerald Cut. The Asscher Cut saw huge popularity at the beginning of the 20th century during the Art Deco period. The symmetry of an Asscher cut is perfect for Art Deco designs. Nowadays, many recreations of Art Deco designs use Asscher Cuts. The Asscher Cut is an elegant choice and will look striking set on its own or surrounded by smaller diamonds.
So what is the difference between Emerald cut and Asscher cut diamonds?
Both are in the family of step cuts with the difference being that an emerald cut is rectangular and Asscher cut is more square. The other main difference between the two is the back of the stone. The emerald has facets that step down the back of the stone meeting in a line or ridge. The back of the Asscher cut comes to a single point which creates an "x" when looking down at the table of the diamond.
Which celebrities wear Asscher cut diamonds?
Stars who have stunning Asscher cuts include Pippa Middleton, Jessica Alba and Gwyneth Paltrow. But before these famous ladies, Elizabeth Taylor received one of the biggest Asscher cut diamond rings. The famous Elizabeth Taylor (formerly Krupp) Asscher cut diamond ring is a 33-carat diamond ring. It was given to Elizabeth by Richard Burton. Renowned for her exquisite jewellery, Elizabeth famously said that this piece was her favourite. Following Taylor's death in 2011 this famous ring sold for a remarkable $9 million.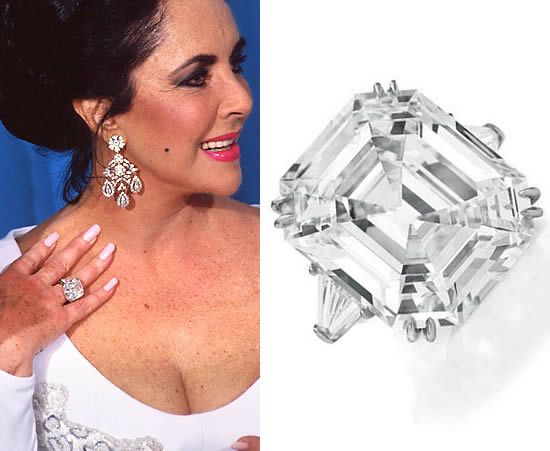 Asscher cut diamonds look stunning when set in modern solitaire designs among other styles. See below for some of our favourite Asscher cut diamond rings.
The Radiant Cut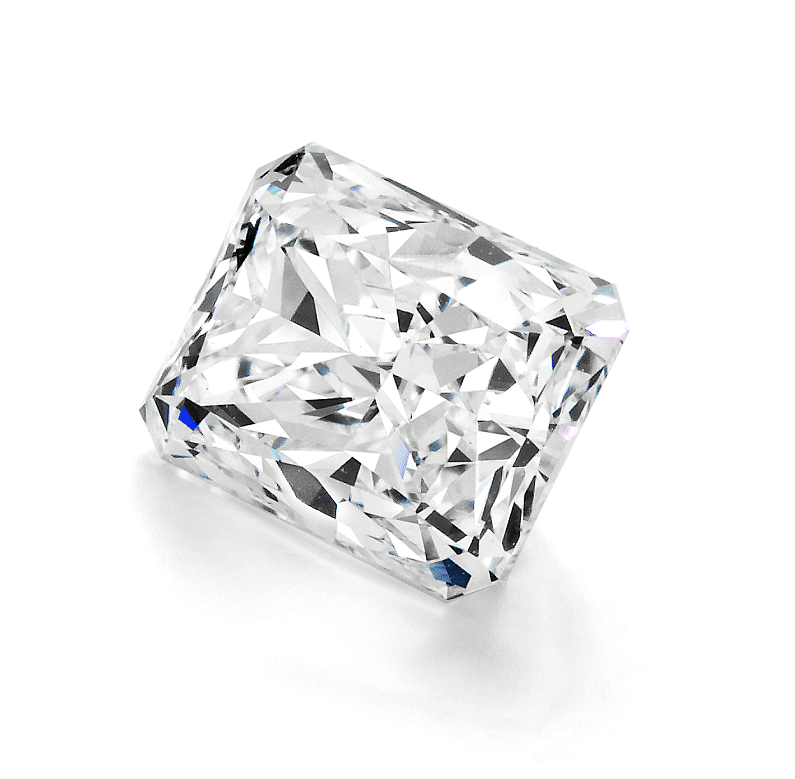 Radiant cut diamonds have become a popular choice for diamond engagement rings in recent years. The radiant cut was the first eight-sided cut to have a complete brilliant facet pattern applied to both the crown and pavilion of a diamond. Following its patented development in 1976 by Henry Grossbard, it became the forerunner of the modern branded diamond.
Until about 10 years ago, the preferred width-to-length proportion was of 1.5 was in keeping with the proportions of an emerald cut. This was the rectangular shape it was originally developed for. Today radiant cut diamonds are more popular in a square shape, with the width to length ratio as low as 1.05 (almost square).
The radiant's original patented design had 55 facets, 25 on the crown and 30 on the pavilion. There are no strict guidelines for table and depth percentages but, as a general rule, look for a table between 59 and 65% and a depth between 59 and 66%.
How do you choose a radiant cut diamond?
Deciding which radiant cut diamond to choose shouldn't be based on its proportions alone. Brilliance and the visual beauty of the diamond must also play their part.
When choosing a radiant cut your options are many. There is no set width to length ratio, so some stones will be square in shape while others are more elongated. An added bonus to choosing a radiant is that being a part of the fancy cut diamond family, it is well priced. There is a good chance you will be able to afford a larger diamond for your dollar when compared to purchasing a round brilliant diamond.
The Radiant Cut is like the Asscher and Emerald in that it has cropped corners. As its name suggests, the Radiant was designed to radiate. With 70 facets, it maximises its light reflection and refraction allowing supreme display of fire and brilliance. Radiant Cuts look fantastic in symmetrical and geometric designs.
What ring designs suit a radiant cut?
The radiant cut, one of the beautiful fancy cut diamonds, is perfect as a centre stone. Its striking shape is reflective of princess and emerald cuts, but its brilliance mirrors the round brilliant diamond.
The radiant cut is a sophisticated, elegant choice, the facets of this cut maximise brilliance. If you love clean lines and symmetry and also love your diamonds to sparkle wildly, then a radiant cut might just be the perfect choice for you!
We love radiant cut diamonds and coloured gemstones at Larsen Jewellery. There are so many ways to incorporate this wonderful shape into an engagement ring. Whether set as a solitaire or surrounded by diamonds, the options are endless.
Some of the most extravagant engagement rings that have a radiant cut are:
Anna Kournikova's radiant yellow diamond ring
The radiant diamond ring as worn here by Drew Barrymore
And of course, Khloe Kardashian, who once wore a 12.5ct radiant cut diamond whopper!
We have been fortunate to design some incredible radiant cut rings for some of our wonderful customers. Here are five of our favourites:
Tzarina
Featuring a square radiant diamond, this is a perfect example of how stunning this cut can look in a contemporary, solitaire design. This design is a wonderful choice for those that love clean design where the metal is a prominent feature of engagement ring. Plus, if you are an active type, then this design which features a secure bezel setting, is particularly great for you!
Allure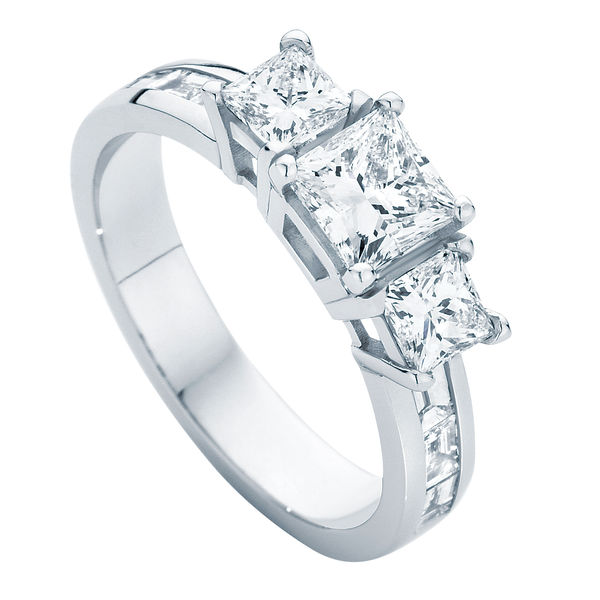 If you love diamonds that stand out and make a big statement, then the Allure might be the right fit for you. A three-stone design that features princess cut diamonds either side of the perfect 1.2ct rectangular radiant cut diamond.
Radiance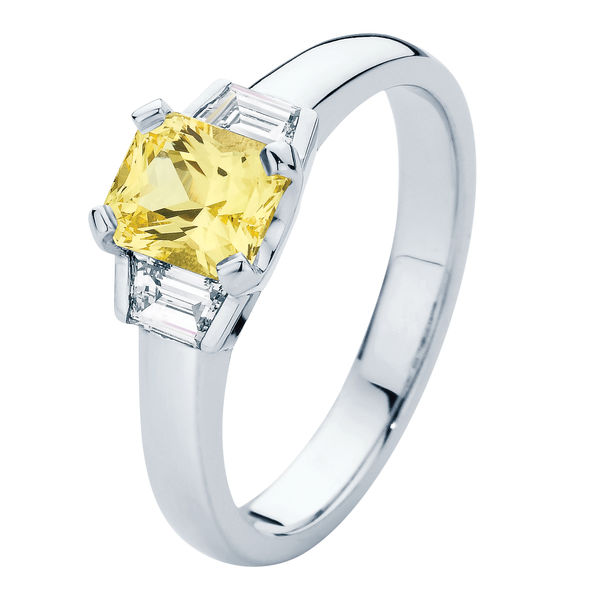 The radiant cut is not exclusive to diamonds, you can find some of the most stunning coloured gemstones cut into a radiant shape. Our 'Radiance' is a perfect example of how refreshing a yellow radiant sapphire can be. This gorgeous stone sits beautifully with two tapered baguettes.
Joy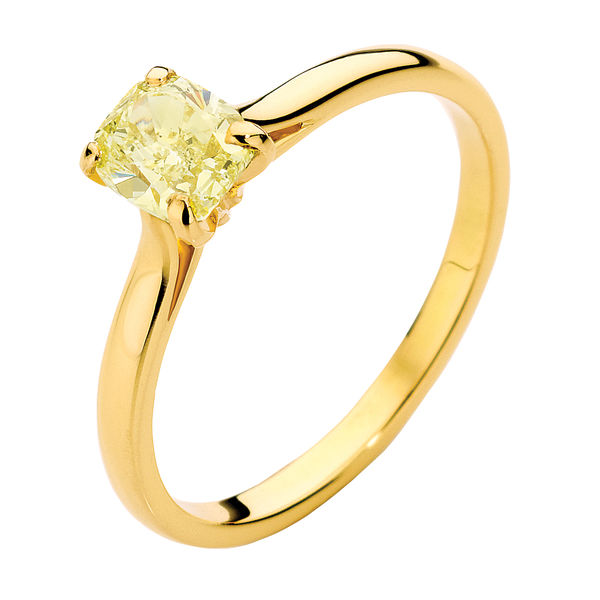 The 'Joy', a solitaire featuring a 0.70ct radiant cut yellow diamond, shows that sometimes less is more when teamed with yellow gold.
The Marquise Cut
Marquise diamonds are one of the lesser-known fancy cuts. The best way to describe them is as an elongated oval diamond with pointed ends. The cut first came about during the 18th century. King Louis XIV of France was apparently inspired by the smile of Marquise de Pompadour, his mistress at the time.
The Marquise, like the round brilliant diamond, has 58 facets and can have 4, 6 or 8 faces cut into the pavilion. One thing to be mindful of, and also a challenge in finding the right stone, is the visible bow-tie effect. This is a common occurrence in elongated rounded shapes. It occurs when facets do not reflect light well resulting in a dark bowtie shape across the centre.
How do you choose a marquise cut diamond?
When sourcing a marquise diamond, stick to stones which have very good or excellent symmetry and a length to width ratio of 1.75-2.00. This should lessen the chances of a visible black bowtie.
Marquise cuts are less common diamond cuts which means they're a perfect choice if you are after something unique. They are also a more affordable option in comparison to a round brilliant cut diamond. So, if you are after a large stone and are partial to something a little different, then this could be the cut for you.
A marquise diamond's distinctive shape means it's perfect for vintage designs. If you love rounded shapes but prefer a style which creates the illusion of longer fingers, this is a perfect choice. There are so many options of how you can design a ring with a marquise diamond. They look striking as a solitaire but also look wonderful when surrounded by smaller diamonds and intricate patterns.
Here are some wonderful examples of how you can incorporate a marquise diamond into your ring.
Victoria Beckham's first engagement ring featuring a marquise-shaped diamond.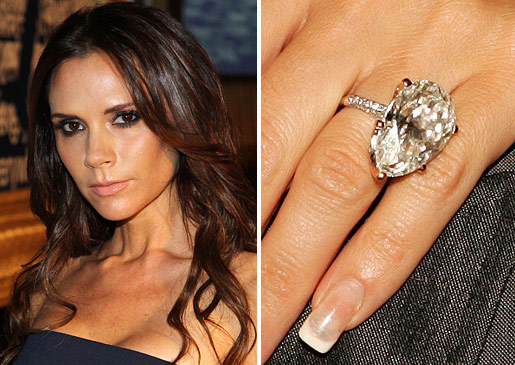 Ashlee Simpson's Art Deco engagement ring. This design echoes the shape of the stunning marquise-shaped diamond centre stone.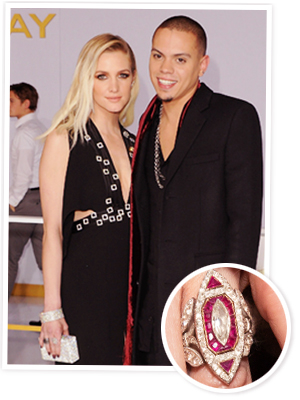 Catherine Zeta-Jone's engagement ring is a fine example of how beautiful a marquise diamond can look. They're breathtaking when set sitting across the finger.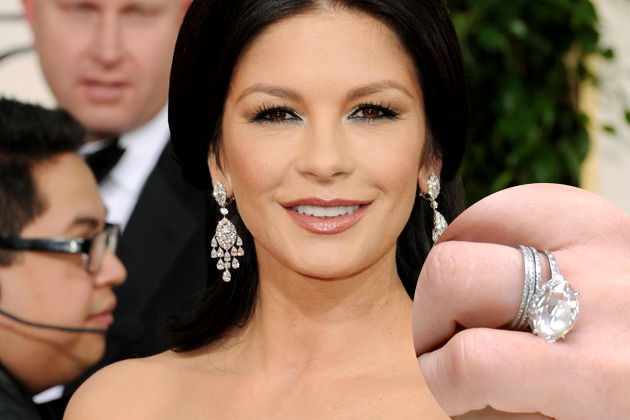 The Rose Cut
Rose-cut diamonds are an older style of diamond cut often found in antique rings. This style of cutting is traditionally hand cut. It originated in Antwerp in Belgium in the 1600s and was the most popular style up until the 1800s. This style of cutting maximised the weight of the diamond. Today, it is less popular especially since the huge popularity of the round brilliant diamond. Even though Rose cuts lack the sheer brilliance of modern-day cuts, they have their place. It is still a beautiful diamond and the rarity and history add to the desirability.
A Rose cut diamond has no pavilion and features 12 – 24 symmetrical facets. These triangular facets come to a centre point. There are varying styles of Rose cut diamonds, one of the more popular being the Dutch Rose which consists of the 24 facets. The Dutch Rose is made up of equal parts 12 upper facets and 12 lower facets. When looking at a Rose Cut diamond from above it looks a bit like a rosebud, hence the name 'Rose Cut'.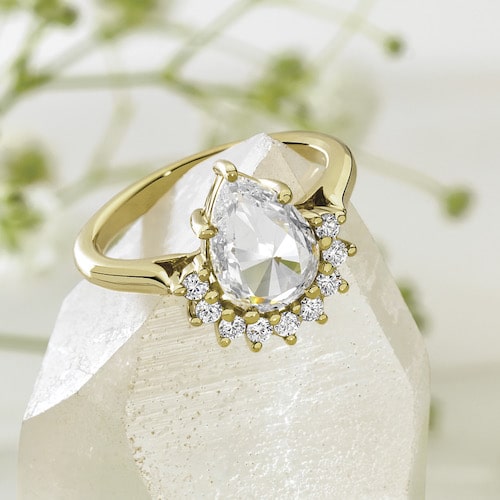 This pear-shaped rose-cut beauty was custom made by Larsen Jewellery for Australian Bachelor royalty, Matty J and Laura Byrne. The ring is entirely handmade from Fairtrade 18ct yellow gold.
Are all rose cut diamonds old?
With the advancement of technology over time, many antique Rose Cut diamonds were re-cut into modern styles. Unfortunately, this means there are few genuine antique Rose cut diamonds on the market. Rose cutting is not a common practice in the modern-day diamond cutting world. Yet there are some diamond cutters that cut a limited number of Rose cut diamonds. Older style Rose cut diamonds were all hand cut which meant the lines often appeared jagged when closely looked at. New rose-cut diamonds embrace the use of technology to create perfect symmetry.
If it is an antique style engagement ring that you are after, a Rose cut diamond may be the perfect choice for you. We work with leading diamond suppliers and can source you a beautiful diamond to suit your custom design.
Celebrities flaunting alternative diamond cuts
No longer is the round brilliant diamond the only choice of cut for an engagement ring. Today, more and more women are turning their heads to alternative cuts. If there is any doubt that this trend is on the rise, then you need only look at celebrities around the world. Many of whom are opting for a variety of fancy cut diamonds or gemstones.
There is nothing like a celebrity endorsement to assist in a product becoming a trend. We have seen this happen time and time again with engagement rings. It almost seems that when a celebrity announces their engagement, the world of pop culture, fashion and jewellery wait. They brace themselves as if to see if this extravagant diamond ring is going to set the next trend.
At Larsen Jewellery, we are no exception. We love to keep an eye out for which incredible rings are going to set new trends. Although we love a classic, we particularly love when we see celebrities choosing designs that set new boundaries. Designs that incorporate interesting coloured gemstones and/or fancy cut gemstones.
We particularly love when celebrities go against the grain. We love when they embrace their influence and don't choose a traditional round brilliant diamond. Or if they do, it's in a design that shows off a round brilliant in a truly unique way. Here are five beautiful celebrity rings that show off five different gemstone cuts!
Round Brilliant
Scarlett Johansson's Art Deco-inspired engagement ring. Stunningly incorporating round brilliant diamond in a unique rectangular style pattern.
The Marquise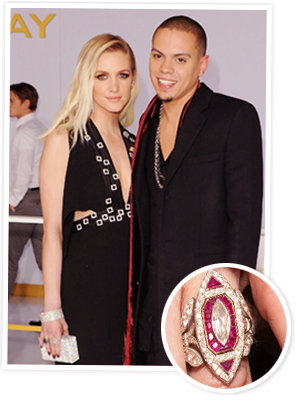 Ashlee Simpson's engagement features a marquise diamond set in the most striking fashion. Set down the finger, the marquise shape of the ring features exquisite rubies and diamonds repeating the shape of the centre stone.
The Emerald Cut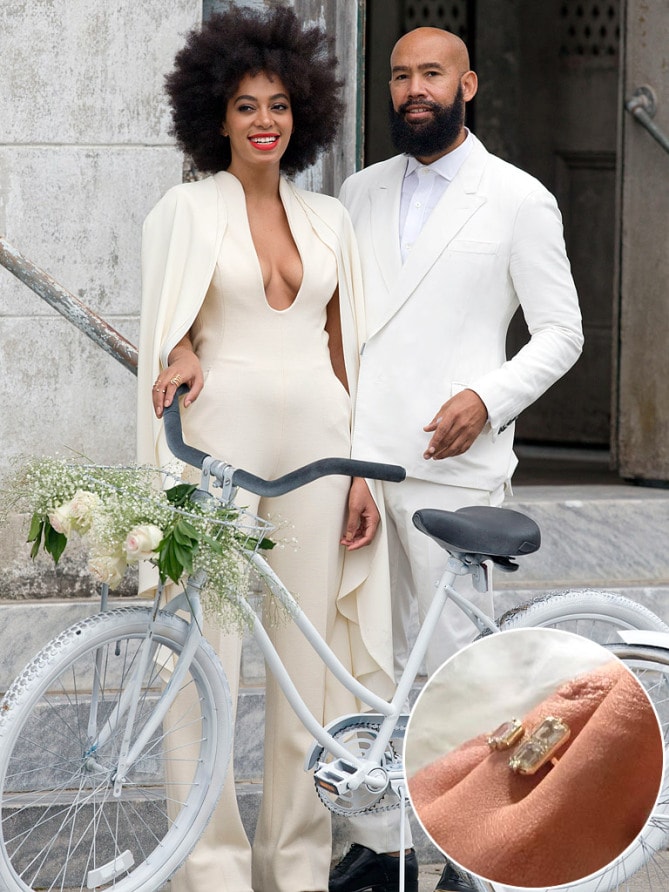 Solange Knowles engagement ring is a far cry from Beyonce's… And we love it! The design is an open style engagement ring featuring two bezel set stones sitting beside each other. A princess-cut and an elongated emerald cut.
The Heart Shaped
Perhaps the most romantic diamond cut is the heart-shaped diamond, it is also one of the least often used. Lady Gaga, true to form, made a big statement by wearing an amazing heart-shaped diamond engagement ring.
The Pear Shaped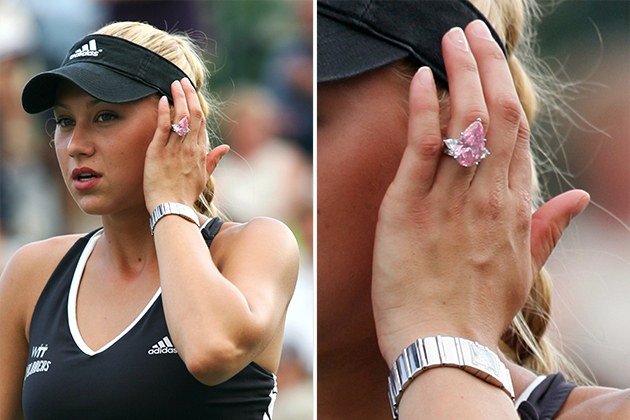 Anna Kournikova's pink pear-shaped diamond engagement ring is nothing short of impressive. Flanked by two colourless pear-shaped diamonds. Many would argue that it is a touch, excessive… to say the least!
The Old Mine Cut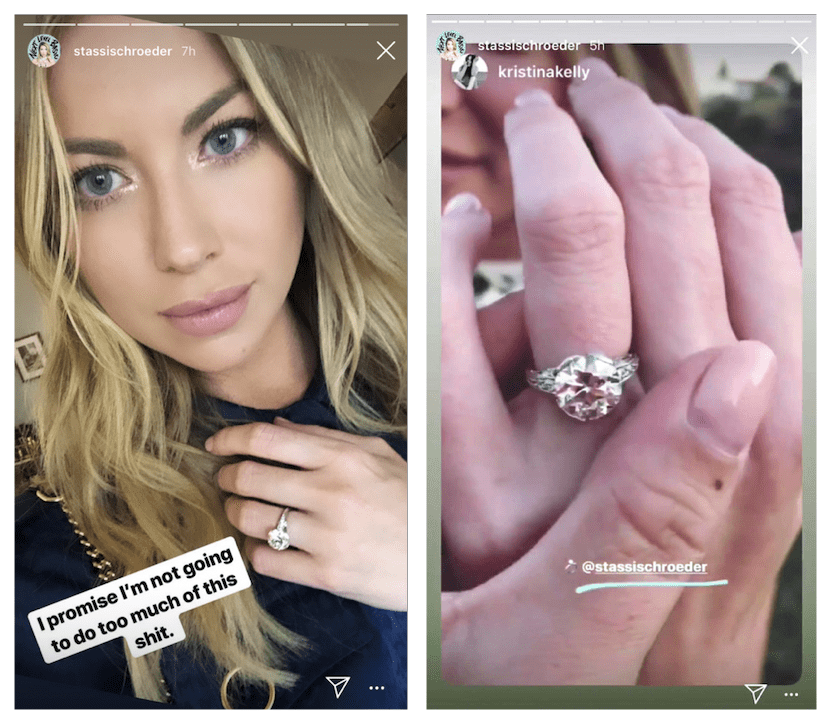 Stassi Schroder sent women worldwide swooning with her newly acquired vintage engagement ring from Beau Clark. Read more about this stunning ring and Beau's kooky proposal in our blog archive.
Would you like to know more about other diamond cuts? Drop us a line in the comments below!
Related Posts