Yellow Diamond Ring Inspiration
If you're looking for engagement rings and you're looking for something unique, it's likely you'll come across some yellow diamond rings. They're certainly a unique look and are a bold splash of colour to really declare yourself against a wash of sparkles from colourless stones. And that matches up to the reality — approximately only 0.01% of gem quality diamonds mined fall into the fancy yellow category.
At Larsen, we love coloured diamonds and yellow diamond rings are most certainly set at the top of our list. When it comes to the "usual" world of diamonds, colour is not normally something people are looking for. However, with fancy coloured diamonds, the colour is incredible!
Do Yellow Diamonds Fade?
No. Diamonds are not like paintings or hair colour. The colour of the stone you buy is timeless and will not fade over the years; it's built into the chemical composition of the gemstone and doesn't degrade over time. If your ring gets tarnished or matte because of wear and lack of proper care, then it may seem like the colour fades. A regular clean should keep your yellow diamond ring sparkling and as vibrant as the day you buy it.
Are Yellow Diamonds More Expensive?
Yellow diamonds can be more expensive than white or colourless diamonds, yes. Diamond pricing is always a little complex, however, pale yellow or Cape diamonds are often slightly lower in price than whiter stones. Supply, demand, and rarity are always contributors to diamond pricing as large, intense fancy yellow diamonds are indeed rare.
What Metals Suit Yellow Diamonds?
Quite simply put, yellow diamonds go with all colour tones of metal. A yellow gold setting and ring can further enhance the beauty of the stone, so if you're looking to really emphasise the colour, yellow gold might be the way to go. A white setting will give a perfect contrast to a yellow diamond's colour and sparkle. Rose gold could possibly add a peachy tone perfectly suited to your design ideas.
What Skin Tones Suit Yellow Diamonds?
As with yellow diamonds going with all metal types, so does it go with all skin types. Yellow glows just as beautifully on darker skin tones as it does on paler ones.
Vintage Designs with Yellow Diamonds
If you're looking for a vintage design with a yellow diamond, keep an eye out for a few kinds of design characteristics, like halos, square cuts with baguettes, floral patterns or engraving, and geometric stone settings.
This is definitely a statement piece for anyone wishing to enhance their yellow diamond with a double halo and shoulder diamond design. Easily custom designed to suit any shaped centre stone, Halo could just be the ring for your yellow diamond.
Celebrities and Yellow Diamonds
Over the years there have been a number of celebrities with yellow diamond engagement rings, as well as those who have been lucky enough to wear the Tiffany Yellow diamond necklace.
Heidi Klum
Heidi Klum got this 10-carat oval yellow diamond engagement ring in 2004 from Seal. The couple divorced in 2014.
Nicki Minaj
This 15-carat heart shaped yellow diamond with a double halo is certainly a stunner. Nicki Minaj received this from then-finance Meek Mill.
Scarlett Johansson
Johansson received this from now-husband Colin Jost in 2019 and while it's technically classified as light brown (so more on the champagne or cognac side of classification), it's just so pretty we couldn't help including it. It's an 11-carat oval that sits on a black ceramic band.
Iggy Azalea
Iggy received this 8+ carat fancy yellow cushion cut diamond with a halo from Nick Young in 2015. They ended their engagement in 2016.
The Tiffany Yellow
The Tiffany Yellow, owned by Tiffany, is one of the largest vivid fancy yellow diamonds in the world, at 128 carats. Because it's not up for sale, it is essentially priceless. It's usually kept on display at Tiffany's head office in New York, and rarely worn in public. In fact, only 4 women in history have worn it.
What designs suit yellow diamonds?
We have spent a lot of time designing and creating rings that perfectly suit yellow diamonds, and here are our 8 favourites:
Aurelia
Our designers can adapt this elegant split claw setting design to suit just about any shape stone. Seen here with a beautifully cut oval centre stone Aurelia's lines and style with white shoulder diamonds frame any yellow diamond perfectly.
Rosetta Oval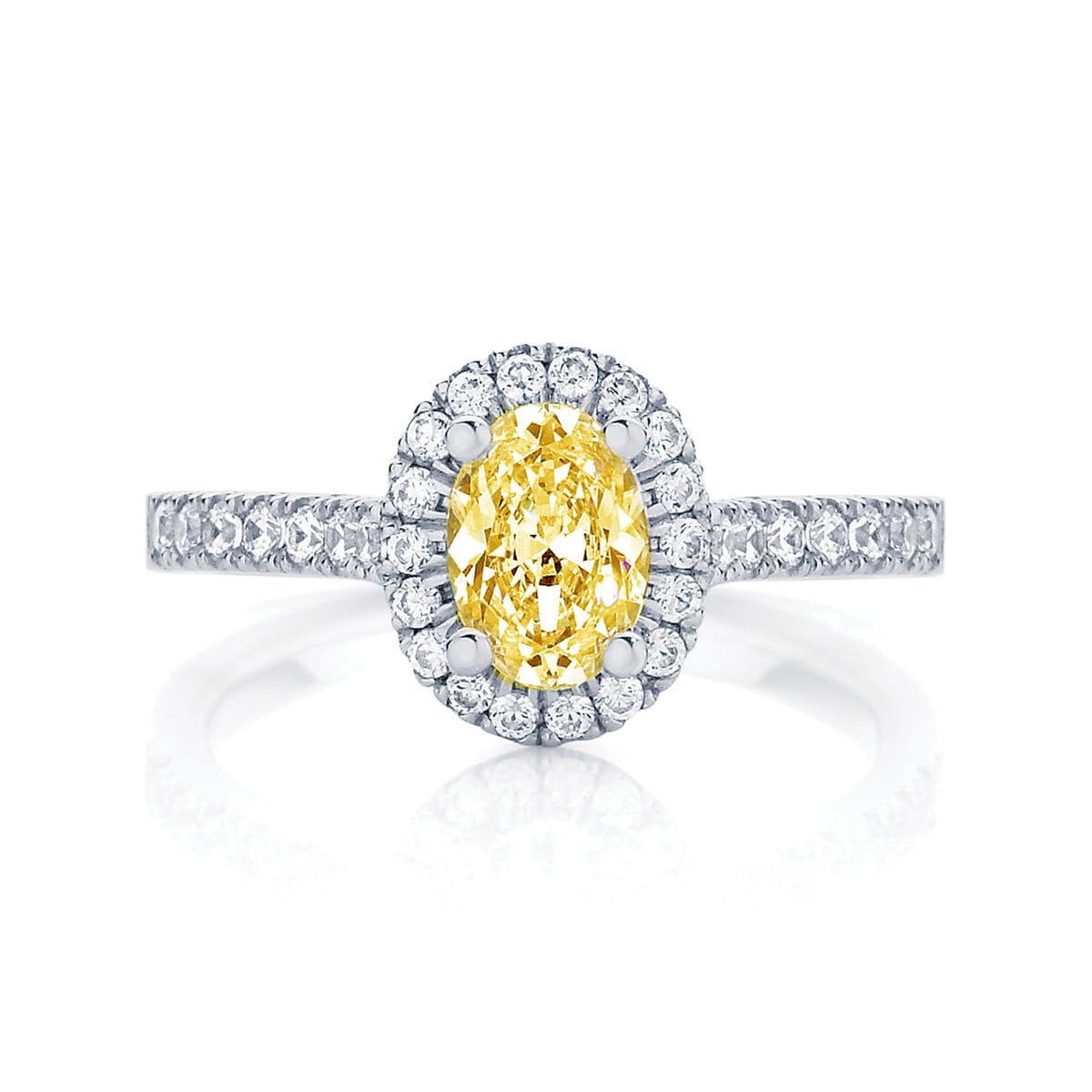 The gorgeous contrast of the yellow diamond against the surrounding diamonds makes Rosetta a perfect example of how you could flaunt your yellow diamond.
Celestial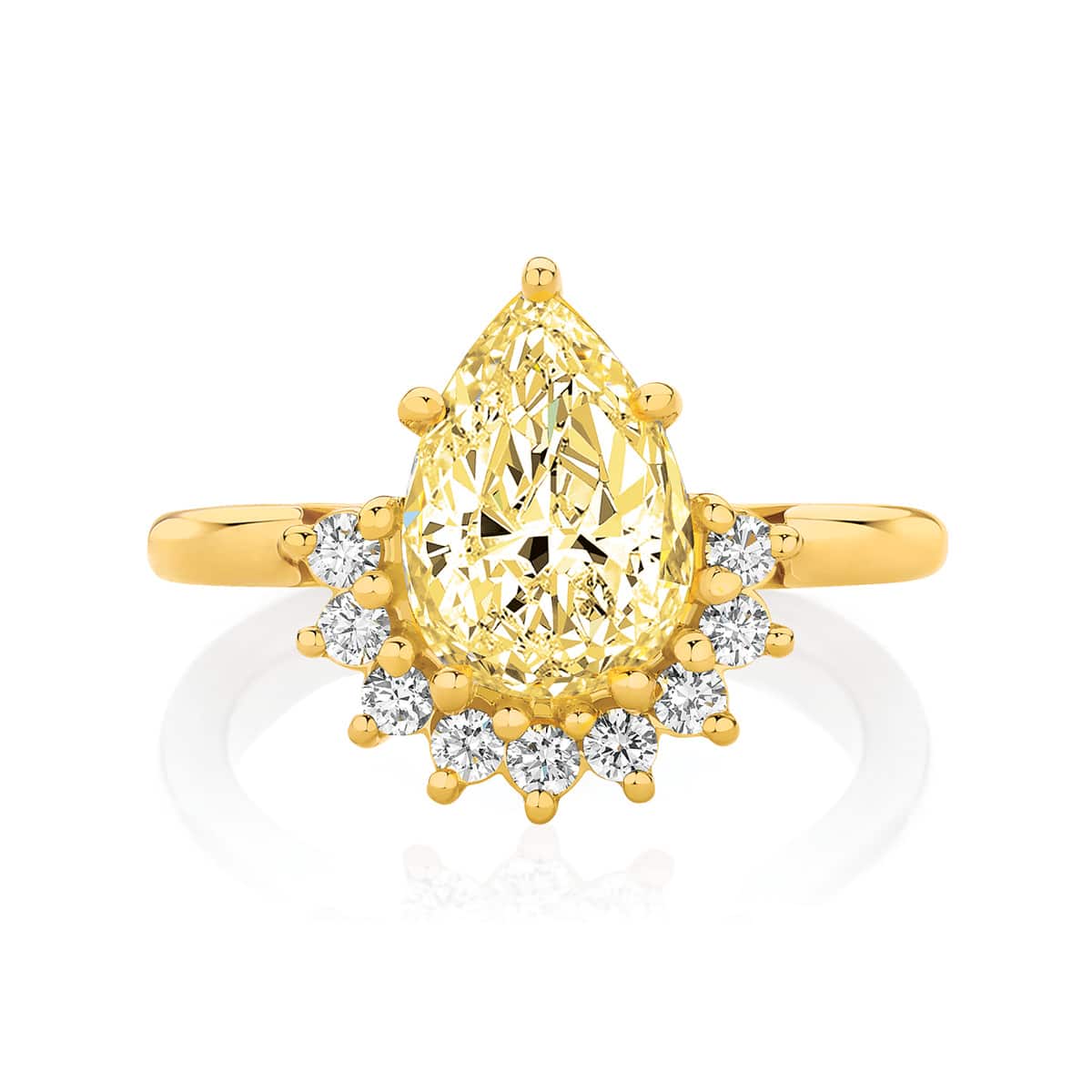 A stunning yellow pear-shaped diamond shown here set in 18ct yellow gold, with Celestial's contemporary half halo of white diamonds is another fine example by our treasured Larsen design team.
Entwine
The infinite woven band of Entwine is another stunning Larsen design. Yellow diamonds work beautifully as the centrepiece and could easily be introduced into the shoulder stones.
Honour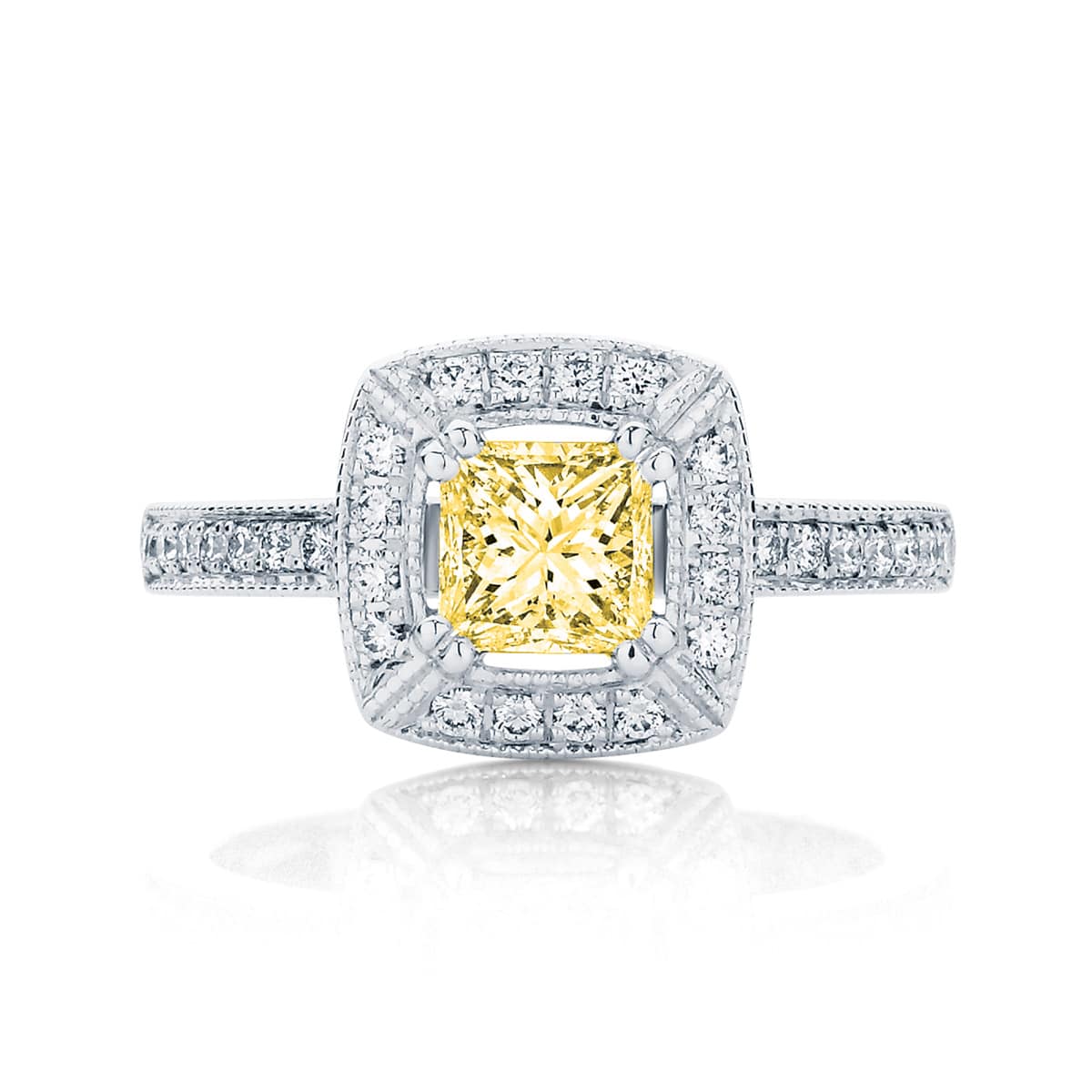 The perfect setting lines of Honour undeniably holds its own place in our essential yellow diamond designs. A flawless addition to anyone's collection.
Delta Trio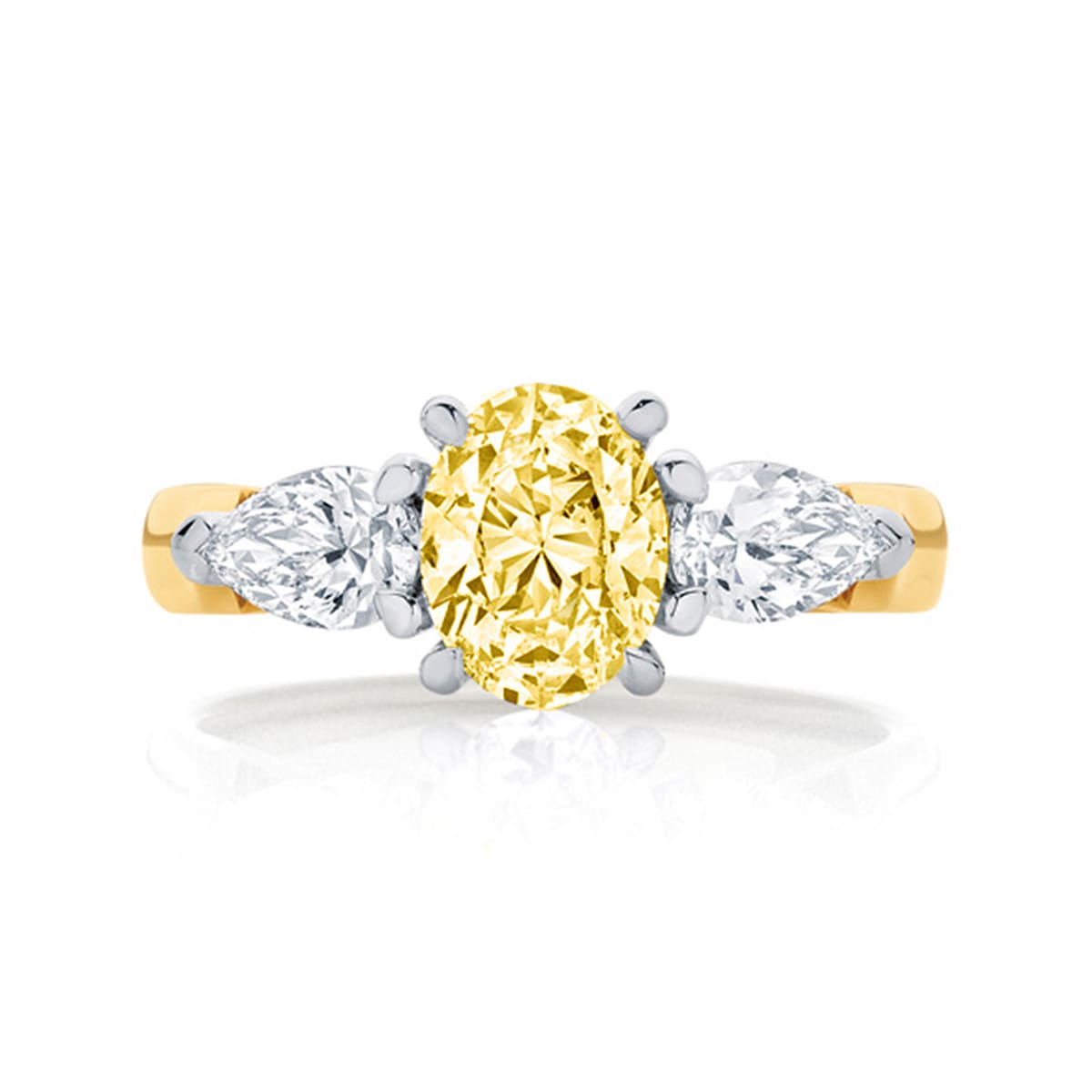 A stunning yellow diamond 3 stone engagement ring, the Delta Trio design is a beautiful balance of superior design and shape. Three stones are wonderful at giving that bit more than the classic solitaire.
Yellow diamonds are simply amazing and absolutely worth introducing into your unique jewellery collection. If you are not sure which intensity of yellow diamond or of which design suits you, simply contact either our studios or make an appointment and we will happily help you find the perfect ring. And our Sydney, Melbourne, or Brisbane studios can easily assist with a matching wedding band, too.
I guess the only question to ask now is which design will you choose for your yellow diamond?
Related Posts