Five Emerald Cut Styles to Consider for Your Engagement Ring
Emerald cut gemstones are one of the biggest trends for engagement rings this year. Read on to find out what we love about this cut. We'll also show you a few of our favourite styles!
Emerald cut gemstones are an excellent alternative to the traditional round centre stone. With its unique, angular look, this cut is sure to lend a touch of class and vintage glamour to your engagement ring.
Emerald cuts look great in both vintage and contemporary styles. This cut's elongated shape is also very flattering on the fingers and can even make the centre stone appear larger.
Emerald cuts are fantastic for both diamonds and coloured gemstones. This means even more options for creating a unique ring!
Celebrities and royalty alike have long loved emerald cut diamond rings. Elizabeth Taylor, Princess Grace Kelly, Mariah Carey, J. Lo, Beyonce, and many other icons have all flaunted this gemstone cut.
The emerald cut is the perfect choice for those wanting a ring that is both classic and different. If that's you, here are five emerald cut styles you should consider for your engagement ring!
1. The Traditional Solitaire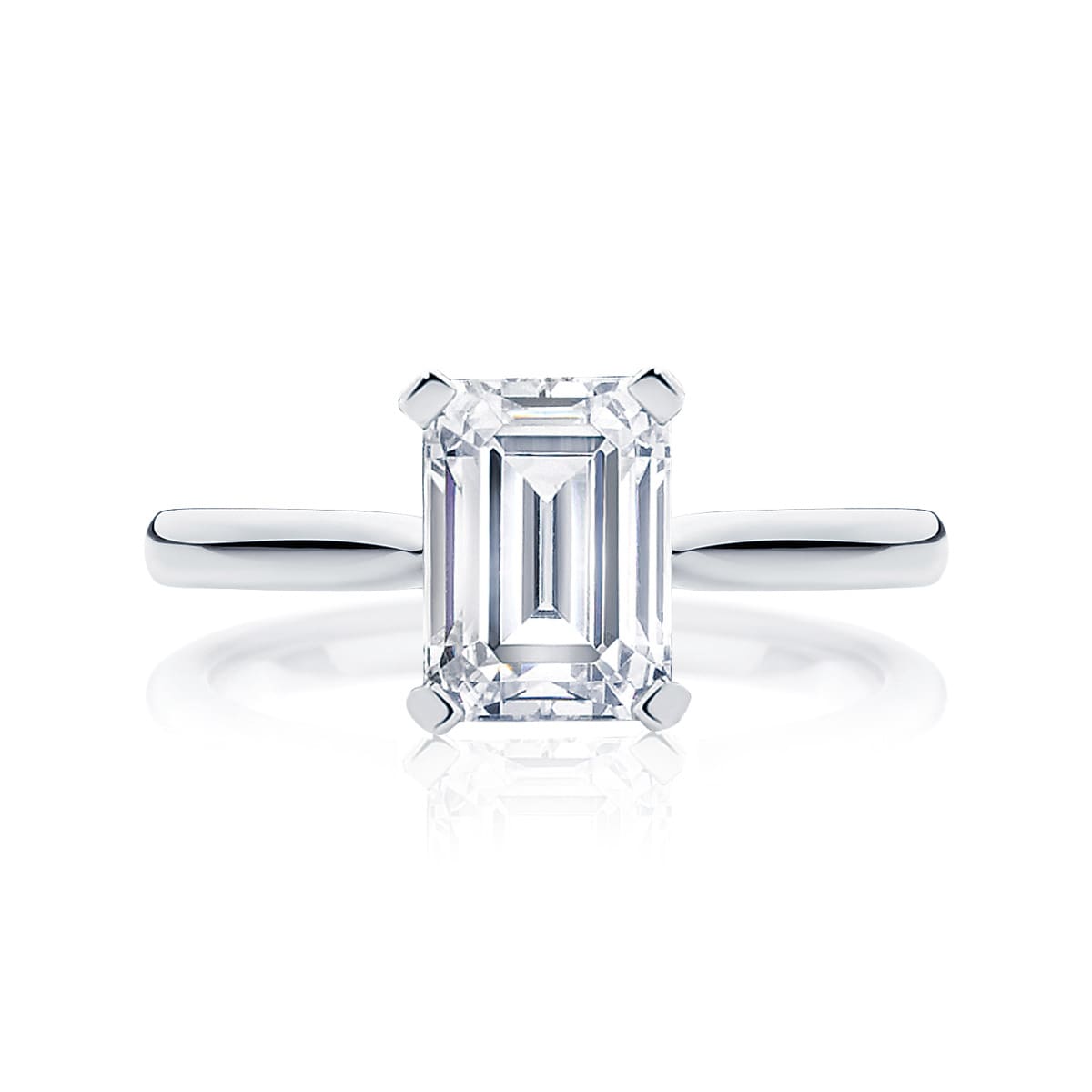 If you're a traditionalist who still wants to stand out, we see you!
An emerald cut diamond is a great way to put a twist on the simple and minimalist solitaire. Our Ballerina (Emerald Cut) is the perfect example of how fantastic this style can look.
The Ballerina is a mainstay in our range of solitaire engagement rings. It is both understated and elegant. Adding an emerald cut diamond to this design really shows off the cut's angular appearance and unmatched sparkle. As with all our designs, the Ballerina is completely customisable. It can be made in a range of metals and may be adjusted to suit most diamond sizes and cuts.
2. The Elegant Sparkle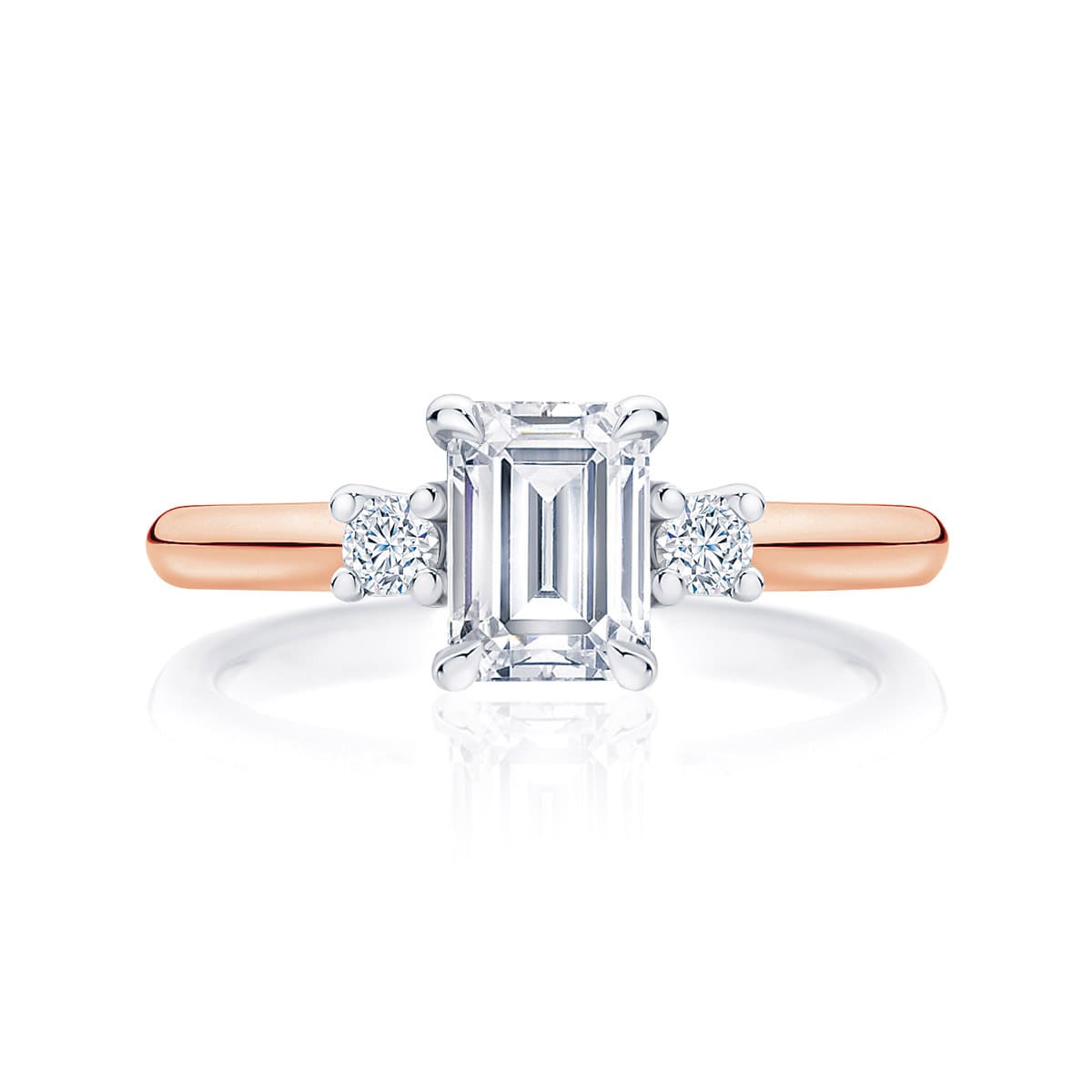 If you're looking for sparkle but want to make sure your emerald cut diamond is still the main event, this one's for you!
Not everyone wants to be a minimalist or go over the top – sometimes between the two is best. In the case of engagement rings, a pair of matched side stones or some small shoulder diamonds are often all you need to show off a stunning centre stone.
Enter the emerald cut variation of one of our most popular designs – the Aurelia (Emerald Cut). The Aurelia is a true classic – delicate, yet abundant in sparkle from its diamond set shoulders. This version combines this timeless design with the distinct look of an emerald cut diamond.
For a side-stone option, the Arcadia (Emerald Cut) is a wonderful choice! The Arcadia is defined by classic simplicity, and this emerald cut variation is just as elegant. It features an emerald cut diamond placed between two round brilliant cut diamonds in a variation on the traditional three-stone setting.
Both the Aurelia and Arcadia are customisable and can be made to suit a range of gemstone types, sizes and cuts.
3. The Vintage-Inspired Glam
If you adore how an emerald cut gemstone looks in a vintage setting, keep reading!
While emerald cut stones look fantastic in many styles, vintage-inspired is where this cut shines the most. This cut's classy appearance suits any antique style. The Eve and Emerald Serenity both showcase how gorgeous an emerald cut stone can look in a vintage style.
The Eve is a delightful number inspired by vintage French designs. It features an emerald cut emerald at its centre. This design also has no shortage of sparkle thanks to its side stones: a pair of pear-shaped diamonds, and gradating set of round diamonds
The Emerald Serenity is a classy Art-Deco inspired design. It features an emerald cut diamond, and drips sophisticated charm. From its sparkling halo to its cathedral style, diamond-set shoulders, this ring is sure to wow! Both the Emerald Serenity and the Eve can be altered to suit a variety of gemstone cuts, sizes, and types.
4. The Striking Statement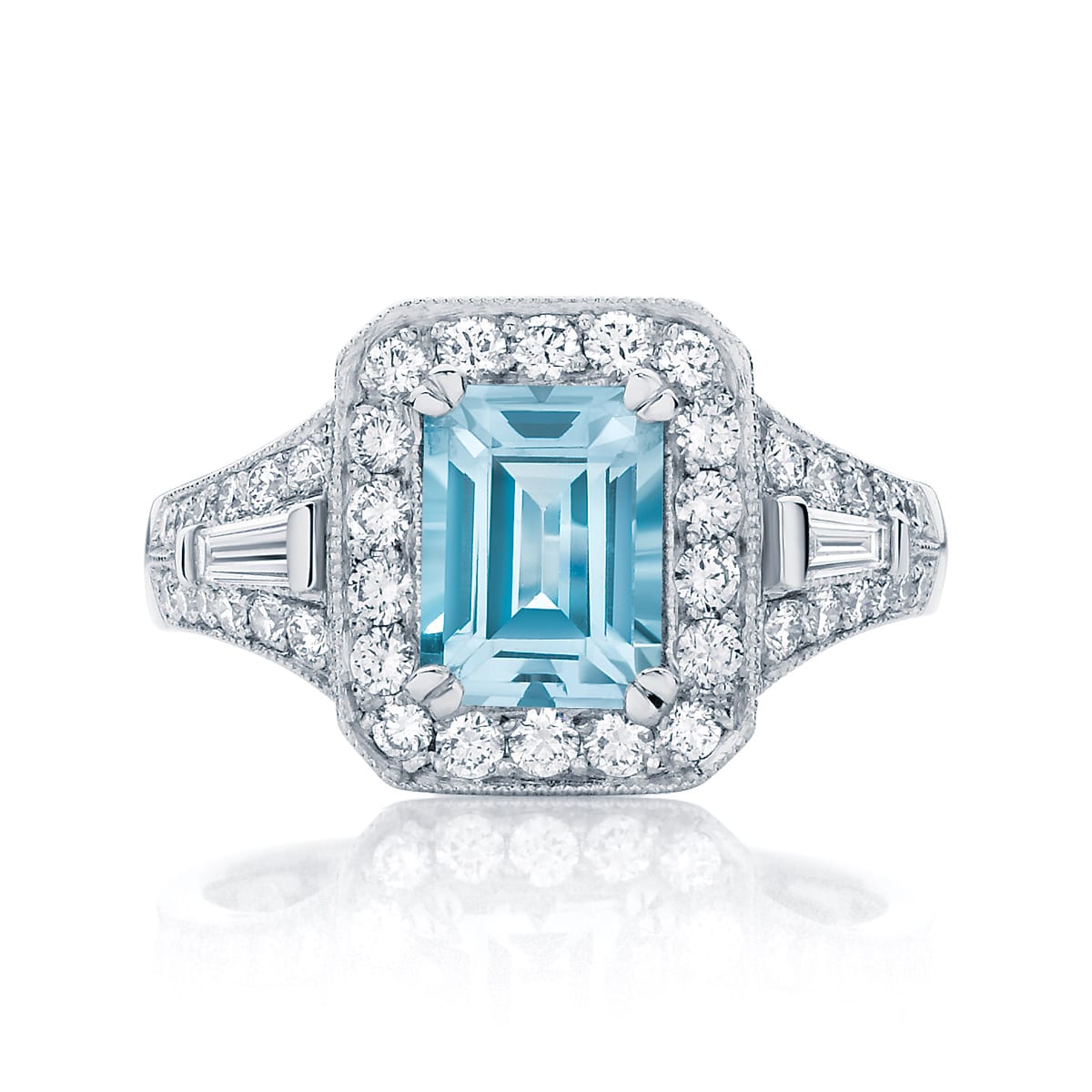 If you're looking for an out-there emerald cut style, we've got you covered!
Sometimes, more is more. If you want to make a statement with your engagement ring, what better way to say it than with an emerald cut centre stone? The shape of the emerald cut is perfect for creating crisp, geometric designs, and striking statement pieces. If this is what you're looking for in an engagement ring, then take a look at the Deco and the Andromeda.
The Deco epitomises art deco design and makes a bold, geometric statement. It shows off the sharp look of its emerald-cut centre diamond like no other, taking full advantage of its angular shape. The clean lines of this engagement ring are sure to show off exactly what an emerald cut diamond can do.
The Andromeda features a stunning emerald cut aquamarine instead of a diamond. The centre stone's form is echoed in its halo and baguette cut side diamonds. This ring is show-stopping, and gorgeously highlights the emerald cut's unique shape.
5. The Bright and Colourful
If you want an emerald cut engagement ring that's a bit more colourful, there's tonnes of options for you, too!
Emerald cuts aren't just great for colourless diamonds! This cut can also be a fantastic option for coloured gemstones. Sapphires, emeralds, garnets, and many other gemstones look amazing in an emerald cut. Swapping to a coloured diamond or other gemstone can also be an excellent way to make your ring unique. The Luna Botanica and Soiree designs are two of our favourite examples of this!
The Luna Botanica features an emerald cut tsavorite garnet, placed between two trilliant cut diamonds. Its unusual combination of fancy gemstone cuts and angles make this a delightfully unique design. This ring is also an excellent choice if you're a big fan of the recent trend towards green centre stones in engagement rings.
The sophisticated Soiree features an impressive emerald cut Australian sapphire. The deep blue colour of its centre stone is contrasted by two trapezoid cut diamonds. Both the Soiree and the Luna Botanica can be customised to create a unique coloured gemstone engagement ring to suit your style.
Is an Emerald Cut Engagement Ring the one for you?
Now that you've seen our favourite emerald cut engagement ring styles, we hope you'll consider this gorgeous cut for your engagement ring!
If you're feeling really inspired, why not get started on creating your own emerald cut ring? Our experienced jewellers can alter any of our emerald cut designs, or can create something completely unique, just for you. We can even use our computer rending design service to show you exactly what your ring will look like before it is made!
Do you love the emerald cut trend? How would you style an emerald cut diamond or gemstone? Do you love any of our favourite styles shown here? Let us know in the comments below!
Related Posts