The Kardashian Engagement Rings
The most photographed (and arguably the most famous) family of all time are the Kardashian's and there are still many people across the globe who are puzzled as to why?
Regardless of what the critics say, there is no denying that the Kardashian's certainly know how to capture attention, set trends and adorn themselves with endless luxury.
It is little surprise that when a Kardashian gets engaged, we quickly see photographs splashed across social media and magazines with critics reviewing their choices and others drawing comparisons between each of the Kardashian rings.
As soon as Kanye proposed, it took no time for comparisons to be made between Kanye's choice and the lavish 20-carat diamond ring that Kim's previous husband Kris Humphries proposed with.
The engagement rings the Kardashian's have received are nothing less than opulent and are the epitome of luxury. Most people will only ever see such decadence in photos and can only dream of having the wealth that just one of those rings holds.
So let's continue to dream and feast our eyes on the luxurious collection of Kardashian engagement ring's so far: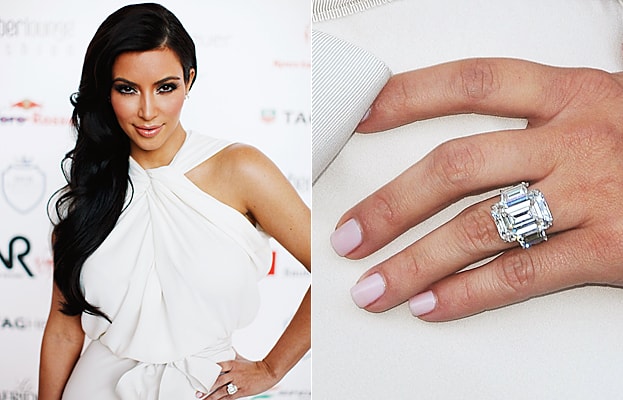 Kim and Kris
Although Kim's second marriage to Kris Humphries was short lived, the reputation of her engagement ring lived on. Humphries made headlines when he proposed to Kim with a 20-carat diamond ring.
Kim and Kanye
Kim and Kanye's flamboyant lifestyle appears to be nothing short of excessive and even a couple of their calibre is able to set new standards. It seems that for Kanye, one engagement ring was not enough for wife Kim. Kanye originally proposed to Kim on her 33rd birthday with a 15-carat diamond ring. Then in 2016, only a few short years later, Kanye did it again and presented Kim with a similar diamond ring, only this time it was bigger, 20-carats in fact.
Khloe and Lamar
Kim is not the only one in the Kardashian tribe to receive an impressive diamond engagement ring. Khloe received a 12.5-carat radiant cut diamond ring from ex-husband Lamar.
Kris Jenner and Bruce Jenner
Although Kris and Bruce's marriage is well and truly over, the ring, that was chosen by Kris after their engagement, is still one of the most expensive in the Kardashian family. Kris's choice of an engagement ring was a custom made 20.5-carat diamond ring.
Related Posts