Our Most Requested Coloured Gemstones This Year
Coloured gemstone engagement rings have never been so popular. In recent years, the blue sapphire has been the dominant choice for sapphire rings with pinks, yellows and greens not far behind. But in 2019 we have seen more and more couples exploring alternative colours seeking out unique options. The most requested coloured gemstones at Larsen Jewellery in 2018 were Teal Sapphires, Peach Sapphire, Blue Sapphires and Grey Spinel.
Teal Sapphires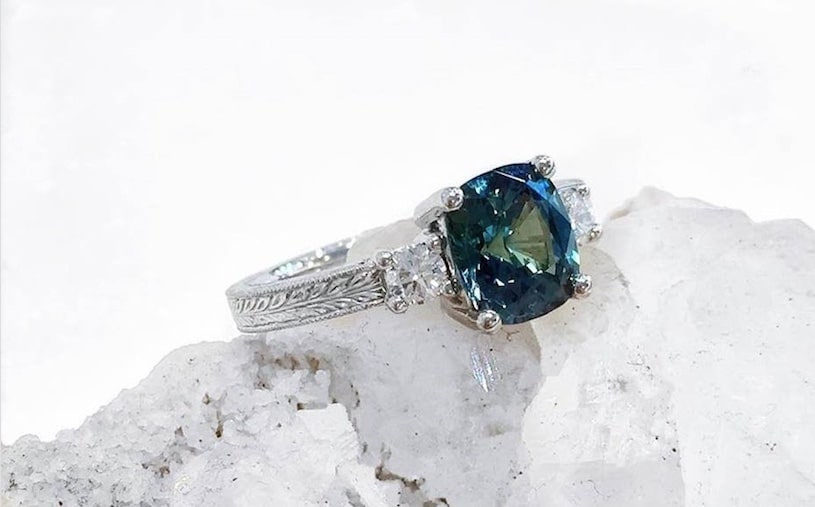 Teal Sapphires took out the top spot as the most popular gemstone of 2018 and it is hardly surprising to see why. Teal sapphires offer a wonderful alternative to the ever-popular blue sapphire. With their deep ocean hues, they are the perfect balance between blue and green, a wonderful option for nature and ocean lovers alike.
The main sources of Teal Sapphires are in Australia, the USA and Madagascar and they offer an affordable option in comparison to the much loved Ceylon or cornflower blue Sapphire.
When choosing a Teal Sapphire it is all about the colour, this comes down to personal preference. We always recommend viewing a gem in different lighting and particularly in natural light so you can see its true nature. When examining a Teal Sapphire, view the individual stone from above and look to find your ideal depth of colour along with just the right amount of sparkle. All gems will vary slightly and there is no right or wrong choice, it is what you are naturally drawn to. The one thing to be sure of is to look at the overall quality of the stone. You will want the stone to have good clarity, free from inclusions that are noticeable to the naked eye and a stone that has been cut well with good symmetry.
Peach Sapphires
Peach sapphires have slowly risen in popularity over the past few years but last year was the year that the peach sapphires overtook pink sapphires in popularity and became one of the most requested coloured gemstones. With this year's Pantone colour being coral, we expect this trend to continue well into 2019.
Each peach sapphire is unique with the dominant hue ranging from orange, pink, gold to yellows. They are one of the prettiest varieties of gemstone reflecting all colours of a sunset and are a perfect choice for the often muted, pastel tones of bridal jewellery. They are one of the most versatile varieties with a shade to suit just about all skin tones and, depending on the hue you choose, they sit beautifully in all metals; white, rose and yellow.
If you are well educated on your sapphire varieties you might be wondering how these differ from the rare Padparadscha Sapphire? Well, there is very little difference indeed. The Padparadscha Sapphire is classed as a peach variety and is one of the most sought after and expensive sapphire varieties. They have a more solid colour profile – an intense pink/orange colour whereas peach sapphires are generally a lighter version of the Padparadscha.
If you have your heart set on one of these varieties, we always suggest allowing time to find the perfect stone. It may take a few viewings until you find the perfect stone for you.
Blue Sapphires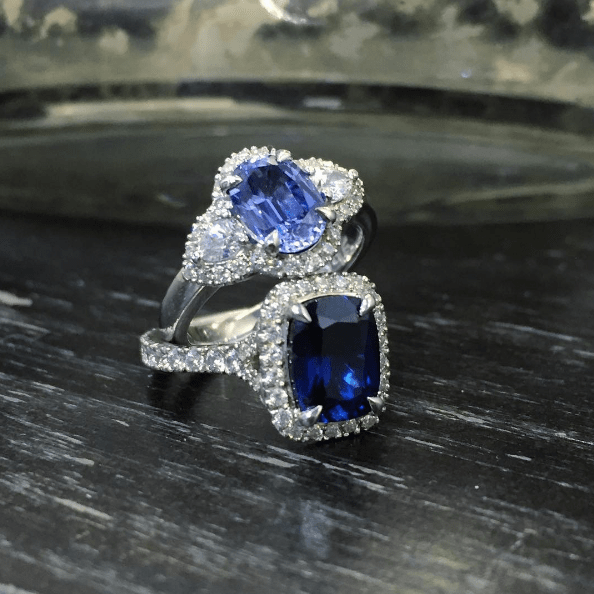 Blue sapphires have been the number one choice for a long time and, although overtaken in 2018, we think they will always remain one of the most popular coloured gemstones available. With so many shades on offer from the exquisite Ceylon Sapphire to the deep Australia Blue Sapphires, there is one for everyone.
Pricing of blues sapphires varies greatly depending on the origin and the hue. Ceylon sapphires are considered the superior option and demand an equally superior price tag. At the other end of the affordability scale, are the Australian Blue Sapphires whose inky blue/almost black tones can create a striking contrast in geometric designs.
Blue sapphires are an obvious choice for those that are inspired by the famous Royal ring but they also look exquisite in modern settings. We love strong, striking shapes such an emerald cut sapphires and the softness of cushion cuts.
Grey Spinels
Grey spinels are one of the dark horses in the world of gemstones. Only recently have they become a more popular choice. A few years back it would almost be unheard of to request for one of these lovely gems. But with the trend for imperfect diamonds and black diamonds on the rise, grey spinels have become a great option.
One thing many are not aware of is how fragile black diamonds can be in comparison to white diamonds. They can be prone to fracturing and chipping. This is why grey spinels are such a wonderful alternative, they are durable and have a rating of 8 on the Moh's Hardness Scale making them an ideal choice for an engagement ring.
If you have an idea for a special piece of bespoke jewellery featuring a coloured gemstone, please contact your closest Larsen Jewellery studio, we would love to help you!
Related Posts